Green proposes 14-14-14 format
Rangers chief executive Charles Green has urged football bosses to reconsider a 14-14-14 format as an alternative to the current league reconstruction plans being discussed.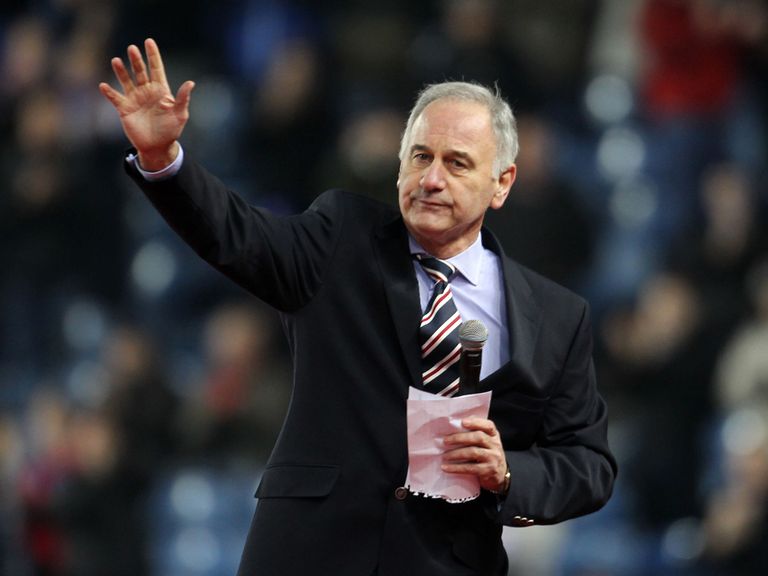 The Scottish Premier League and the Scottish Football League have agreed in principle to a restructuring plan that would see the organisations merge in a 12-12-18 structure.
A vote could take place later this month and, if approved, the new format could be implemented as early as next season.
Green last week hit out at the plans, which would see Rangers remain in the bottom tier of Scottish football for a second season, albeit the potential time-frame for a return to the top-flight would remain the same.
And the Ibrox chief now wants his favoured option to be considered, claiming the vast majority of Scottish football fans do not want the 12-12-18 structure.
He said in a statement on Rangers' website: "The recent widespread debate on the reconstruction of Scottish football has been welcome and I am glad that Ally McCoist and myself have contributed and helped stimulate discussion rather than watch everyone sleepwalk into a solution that very few, if any, football fans across Scotland want.
"I am fully aware that the interests of fans and the duties of directors of football clubs, who have to balance books, do not always align.
"However, it seems absurd that, when most fans are so implacably opposed to the 12-12-18 model, their views are being cast aside.
"To be absolutely clear, it would have been easy for me, on behalf of Rangers, to support this model.
"There is no model on the table that offers our club a potentially quicker route back to the highest echelons of Scottish football.
"However, I believe that while all clubs have to look out for their own interests, the greater good of Scottish football cannot be ignored.
"I would like to set out what Rangers believes to be a workable way forward that may appeal to fans of all clubs.
"First, we think any reconstruction should be implemented not next season but the following season so that every club knows what it is playing for at the start of the season.
"Secondly, we believe that further consideration should be given to a 14-14-14 model, which can be constructed in a way that ensures there is no loss of games but will deliver greater competition through the leagues, particularly with the implementation of play-offs.
"I cannot understand why this model has been so readily discounted when fans are clearly looking for larger leagues.
"I know there are various opinions regarding splits in such leagues but they cannot be any more complicated than what is now being proposed."
Green has claimed he wanted Rangers to quit Scottish football if the current proposals are rubber-stamped.
He added: "I am fully aware of the unique challenges a club the size of Rangers face in Scotland.
"That is why we must explore all options for the long-term, including playing out-with Scotland.
"Of course, that is not something anyone is expecting could happen tomorrow but, over time, things are likely to change in football and we must be ready for such potential outcomes.
"In the meantime, we hope that the powers that be in Scottish football pay heed to the views of supporters who are telling them loud and clear to think again."
Former Celtic winger Bobby Petta remains unconvinced by the proposal currently on the table.
Petta believes the time is right for change and indicated a preference for the option favoured by Green.
He said: "I think restructuring would help.
"It would make the league more interesting and it gives other teams more opportunities to play against Celtic.
"But you want to make sure the gap between Celtic and the other teams is less and that there's more competition.
"I think it's going to help but whether it's going to be a 12-12-18 format, I'm not so sure. It looks a bit odd.
"A 14-14-14 would be a bit more even and would make more sense.
"I think a restructuring of the league would definitely help Scottish football."
However, Petta - who played for the Hoops between 1999-2004 - does not agree with Green's belief that Rangers should quit Scottish football if the 12-12-18 format is implemented next season.
He said: "I don't think it will happen. If it did happen, it wouldn't be good for Scottish football.
"Unfortunately for Rangers, they are in the bottom league and have to work hard to get back on top. I'm sure that will happen.
"But Scotland without those two (Old Firm) wouldn't be good.
"If you talk about Scottish football, you always think about Celtic and Rangers."
Petta believes the demotion of Rangers to the Irn-Bru Third Division in the summer could make Scottish football a less attractive prospect for potential signing targets.
But he hopes Celtic's success in the Champions League - they will play Juventus in the last 16 - can offset any difficulties in attracting top talent to Parkhead.
The Dutchman said: "Rangers being in the Third Division has had an impact on Scottish football but also on attracting players to come over here.
"It's great for Celtic that they are in the Champions League and they have been able to focus on that.
"It's hard to attract players but doing really well in the Champions League will put Scotland back on the map and anything is possible.
"Hopefully they can keep doing what they are doing and it will be possible for them to get the better players to join the Scottish league."
---
Click here for completely free £10 bet with Sky Bet & £5 free every week
---