Green cites cross-border precedent
Rangers chief executive Charles Green claims he could use sex discrimination laws to sue UEFA if they try to block the club's moves to join a cross-border league.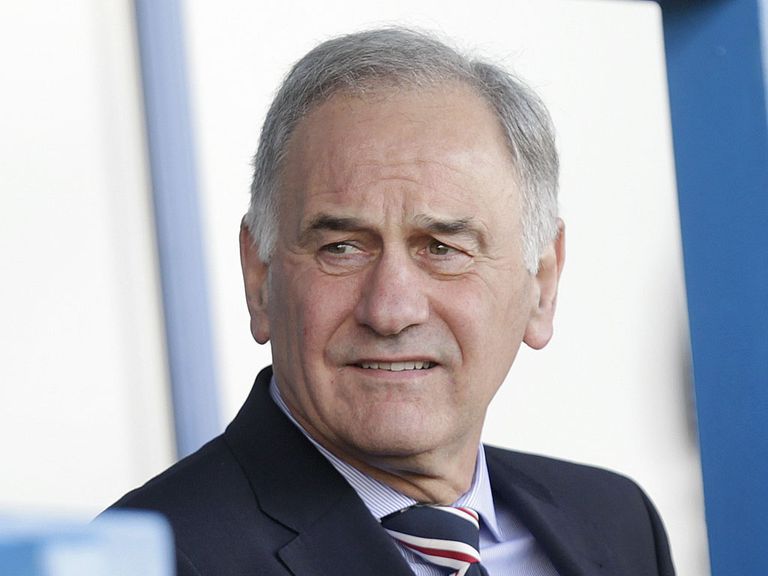 Green wants Rangers to quit Scottish football if plans for a new 12-12-18 league set-up are approved.
The Scottish Premier League and the Scottish Football League have agreed in principle to the restructuring plan, which could be implemented as soon as next season.
Such a scenario would keep the Light Blues in Scotland's basement tier, even if they go on to win this season's Irn-Bru Third Division title.
Green believes he has precedent on his side when he claims the club should be granted access to leagues in other countries.
He told TalkSport: "As the structures stand now, there are not many options. But I'm not one for hiding my light behind a bushel.
"People say you can't go into England because you are not allowed cross-borders (leagues).
"Well there is now a cross-border (league). You have a UEFA-sanctioned professional women's league in Belgium and Holland, so we have a precedent there.
"If there was an opportunity to join a cross-border league and that was challenged by UEFA, I would go to Strasbourg and challenge the sexual equality."
Green also claimed that Rangers could apply to join the English Conference set-up before attempting to rise up the leagues.
And he insisted he would do so with the blessing of the club's supporters.
He added: "I could join the Conference and I would be in a higher league than I'm in. It doesn't matter to me (which league Rangers are in).
"I can tell you this, if the only option is to go into England and start at the lowest level, I believe Rangers fans would support that.
"Nobody can question Rangers fans once they see the attendances.
"I got figures through yesterday and it's only Man United, Arsenal and Newcastle (that have) higher average attendances than Rangers."
Green added: "People say you are not allowed in the English league - well let's then kick Cardiff and Swansea out, because they are playing in a different country.
"People are saying Wales is fine but Scotland is not. We cannot have a situation where one of the Union is annexed by the football bodies but Wales can join. It's rubbish."
Meanwhile, Green revealed today that European club debts of the 'oldco' Rangers have been paid or settled.
He told RangersTV: "What we have done since we came to Rangers was to act properly and not just for the best interests of Rangers but for football as a whole.
"We have a fiduciary duty and a responsibility to our share-holders and we want to run this club honourably and be fully transparent.
"Coming to agreements with all of the European clubs where we paid all of the debts or reached settlements with them is another example of the commitment 'new' Rangers have made and not turning our back or walking away from oldco's responsibilities.
"So we have put down a marker in that regard and what we want to do now is get UEFA and FIFA onside. I have spoken to both organisations informally and in the next few months we will have some formal conversations."
Two Barclays Premier League managers expressed support for Rangers joining English football.
Asked if he would welcome the Light Blues, Everton boss David Moyes said: "Yes I would. I have always thought that both Celtic and Rangers would be great for down here.
"I played for Celtic and I know exactly what it means, and what it would add to the Premier League would be fantastic.
"I'm sorry, because it might upset people in Scotland as it would take two of the best teams out of Scotland.
"But I do think that both the clubs would be great down south.
"I know that if you got both those two clubs down you would certainly need to get bigger stadiums because they would be full with the amount of away supporters who would travel to those games."
On whether such a move would signal the death knell of Scottish football, he added: "It is a bigger discussion than me speaking for two minutes to you just now.
"I don't know - I think Scottish football is actually doing quite well just now.
"There are young players coming through and there are quite a few coming down to England.
"I think the league looks different - Inverness are doing great, Hibs have been having a great season. So there is a lot of good things to talk about in Scottish football.
"I think there is a different look for it because Rangers are out of it right now, so in many ways, possibly, if both the teams were not in it, it would grow again I'm sure, and continue to develop players for Scotland as it has over the years."
Arsenal manager Arsene Wenger said he would not be opposed to Rangers moving to England but feels the game north of the border would suffer without the Old Firm.
He said: "Yes (I would welcome them) but you would not want to destroy Scottish football.
"Rangers and Celtic in England would destroy the Scottish game."
---
Click here for completely free £10 bet with Sky Bet & £5 free every week
---