FA to bid for Euro 2020 final
The Football Association will press ahead with a bid to host the climax of Euro 2020 at Wembley after UEFA announced it will stage the tournament in up to 13 cities across the continent.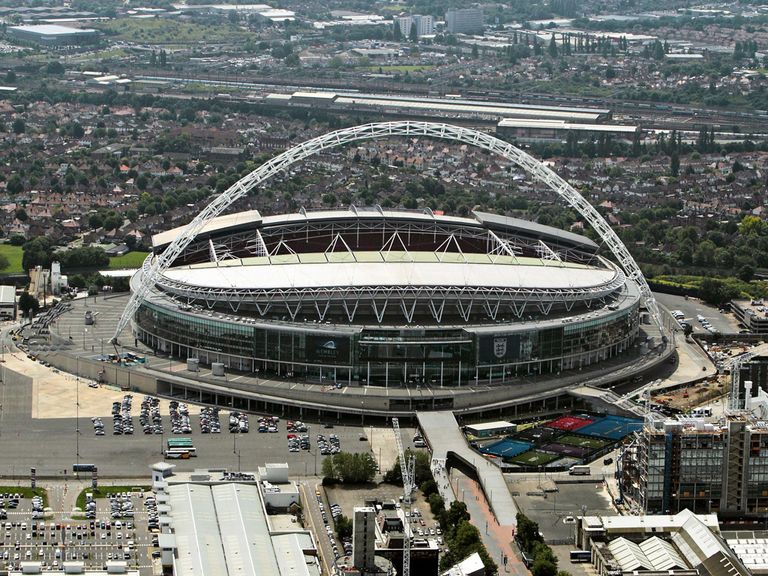 The FA will bid for the final and semi-finals in London, with the final at Wembley, in an eye-catching tournament finale.
Wales and Scotland have also confirmed they will bid for matches - including a possible bid for a final in Glasgow to rival Wembley's - and the Republic of Ireland are also expected to follow suit.
FA chairman David Bernstein said recently that it would "push" to have Wembley Stadium, which is hosting the Champions League final for the second time in three years in 2013, considered for the semi-finals and final.
Bernstein said: "Clearly Wembley is incredibly highly thought of by UEFA and it is something we will push for.
"UEFA want to hold the semi-finals and the final on the same ground, or in the same city and I think we would be on their shortlist - but there would be some strong competition.
"The public want it and we'd want it and it would be wonderful to have it here."
UEFA's executive committee took the decision at a meeting in Lausanne today, but there was one dissenting voice from Turkey's member Senes Erzik - his country had bid to host the tournament alone.
The pan-continental Euro 2020 will be a one-off rather than a model of future events, and aimed to celebrate the 60th anniversary of the tournament and provide opportunities to those countries who would usually be unable to be hosts.
The format and number of cities that will be involved will be decided by UEFA's national teams committee but initial plans involve 12 cities hosting the group and knock-out games, with a 13th for the semi-finals and final.
UEFA general secretary Gianni Infantino told a press conference: "UEFA Euro 2020 will be staged across the continent, in various major cities, following a decision taken today. A 'Euro for Europe' follows an initial idea by UEFA president Michel Platini.
"The response has been extremely positive from all the national associations."
Infantino confirmed there would be no automatic qualification for host countries and that some hosts may even fail to qualify.
He said UEFA would attempt to ensure that host nations played at least some of their matches in their home cities.
"It would be difficult to understand for the fans for a host country if there is no match of their team in their country," Infantino added.
There are logistical issues involving tax laws and fan transport, and UEFA will consider having regional 'hubs' such as Scandinavia for group games.
Jonathan Ford, chief executive of the Football Association of Wales, confirmed it would make a bid with the Millennium Stadium - perhaps as part of a British/Irish hub.
Ford told the Press Association: "This rules us very much in. We now have to see how can this work on a logistical basis.
"If we are part of a hub including Glasgow, Dublin and an English city this could be very exciting."
Ford added that Wembley was "today's first choice" for the final.
He said: "I think they will take that to one of the major, major stadiums and Wembley is today's first choice but 2020 is a long time away."
Wembley could face competition from the Scotland for the final however - but it is more likely Glasgow would bid for group games.
Scottish FA chief executive Stewart Regan told the Press Association: "We would be interested in the final but we first have to find out UEFA's minimum criteria for capacity - if they are looking for stadiums with greater capacity then of course we would be interested in hosting group matches."
Celtic Park has the largest capacity in Scotland at just over 60,000 with Ibrox and Hampden Park also holding more than 50,000.
Regan added: "This is a one-off idea as a 60th celebration of the tournament and will bring football to a number of key cities across Europe. As something different and innovative it does carry a lot of merit."
Infantino said the bidding process for the host cities would start in March and would take a year with decisions made in the spring of 2014.
UEFA also decided that the 2013/14 European women's under-17 tournament will be hosted in England.
Meanwhile, UEFA has announced that the third-party ownership of players will be banned in their competitions - as already happens in English football - by 2016.
The practice, widespread in Portuguese and Spanish football, sees individuals owning the 'economic rights' of players and often securing a large percentage of transfer fees.
---
Click here for completely free £10 bet with Sky Bet & £5 free every week
---