Jagielka keen to lead
Phil Jagielka has revealed his desire to become the new "leader" of the England back-line after John Terry's retirement and Rio Ferdinand's exclusion by head coach Roy Hodgson.
The Everton centre-back is in strong contention to partner his former club-mate Joleon Lescott at the heart of the defence in Tuesday's demanding World Cup qualifier with Poland in Warsaw.
The days of Jagielka turning up for his country knowing that Terry and Ferdinand were cast iron certainties to start are gone.
Now he is challenging Lescott and Gary Cahill for a regular starting spot, and at the age of 30 would like to take on the sort of mantle on the pitch that was the lion-hearted Terry's trademark.
Jagielka said: "Would I like to be leader of the back-line? I'd like to. I've just turned 30 and I'm not exactly a young lad anymore.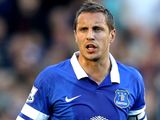 6. Phil Jagielka
| Title | Number |
| --- | --- |
| Appearances | 14 (2) |
| Goals | 0 |
| Assists | 0 |
| Yellows | 4 |
| Reds | 1 |
*Current Season
"I've played quite a few games in the Premier League and the Championship before that to get my experience.
"You can't look too much into it. John's decided to retire now and there's a few of us competing for the two spots available.
"You'll have to wait a little bit longer to see who takes on the mantle of leading the back-four - but I'll be chucking my name in the hat."
Jagielka admits he had "mixed emotions" when hearing of Terry's decision to retire from international football last month.
He said: "If John was here, I would say exactly the same thing. I'm gutted as an England fan. He has been a fantastic player for England, he's put his body on the line for many years now but he had his reasons.
"It was his decision. He wasn't forced as in like a gun to his head or anything.
"But, if you look at it from a purely personal point of view, it was one less person to compete with playing for England.
"It was also an opportunity for me to try and go higher up the pecking order."
Jagielka added: "John and Rio played together for England forever didn't they? They had a great partnership and there were a couple of others behind them waiting for a game.
"You go down a long list of players trying to get your chance but time passes and people have good form, bad form and you get your opportunities.
"I've been around the squad for the last couple of years or so, played a game here and there and I'd like to play on a more consistent basis."
Jagielka admits he feels at home playing alongside Lescott after their spells in the same England youth sides and at Goodison Park.
The former Sheffield United player said: "Myself and Jols met playing football, England Under-19s, Under-20s. Obviously Joleon also had a similar path to me, playing for Wolves in the Championship.
"We made the first team at similar times, often played against each other, there's only a day between our birthdays, so we are pretty much the same age.
"We eventually got to play centre-half together at Everton and it just works, the communication, the way we play. Obviously left-foot, right-foot also helps as well. It just seems to work."
Jagielka was a non-playing member of the Euro 2012 squad but feels the time in Poland and Ukraine was still of benefit to his progression as a player.
He said: "It gave me a month's more air-time of training that I wouldn't have had if I'd not been in and around the squad.
"The manager hopefully saw something he liked, kept me around the squad and has played me a couple of times since.
"I didn't get any minutes on the pitch in the Euros but I got plenty of minutes defending against the best six strikers in training. That helps my case, definitely."
Jagielka insists England will be prepared for the challenge which will be presented by Poland after the 5-0 win over minnows San Marino.
He said: "That's where the professionalism of us all will all come in. We know it's going to be a totally different game. We will be prepared.
"It would be stupid of us to think that these two games are going to be the same. We will watch videos and be prepared.
"It's not like you play 10 games like San Marino and then one against Poland. It's the other way round. You're used to playing these games."
---
Click here for a completely free £10 bet with Sky Bet
---