Lloris denies Villas-Boas unrest
Hugo Lloris insists Andre Villas-Boas did want him at Tottenham and has rubbished claims of any unrest between them.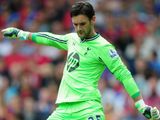 1. Hugo Lloris
| Title | Number |
| --- | --- |
| Appearances | 39 (0) |
| Goals | 0 |
| Assists | 0 |
| Yellows | 1 |
| Reds | 0 |
*Current Season
The France number one and captain signed for Spurs from Lyon on transfer deadline day, but he did not make his Premier League debut until earlier this month having to instead sit on the substitutes bench behind Brad Friedel.
Many in France were shocked by Lloris's treatment and a number of players and managers, including France coach Didier Deschamps, expressed surprise that he was not number one.
But Lloris insists there is no issue with Villas-Boas, telling L'Equipe: "About rumours and what happens inside the club, everything has gone off smoothly.
"There are four keepers at a high level, the coach makes his choices, I have just been hired as part of the future project, but that project starts now. The relationship with Brad Friedel, the keepers' coach and manger are very good.
"I have not signed at Tottenham to play that [substitute] role, but I am at the disposal of the team, I respect everyone, but I came to play.
"Do I have guarantees for the future? No, I have not. The coach will make his choices. I just came in a new club so I am not here to create trouble, but rather to bring solutions."
Lloris denied suggestions he was signed by chairman Daniel Levy rather than.
"Rumours that I am the choice of the chairman not the coach? I talked with the coach and there is no ambiguity. He told me everyone at Tottenham wanted me to come, and in England the manager has a power on that kind of things," he insisted.
"It is just like when I read I should not have joined Tottenham. That never-ending Football-fiction that has set around me is annoying to me. You have to put things into perspective: I just spent four weeks with Spurs and just missed three matches."
And Lloris remains adamant he is happy to have made the move to White Hart Lane.
"To me it was an important choice, a new adventure, a new culture. Indeed I expected to leave [France] much earlier, but you cannot master that as a player," he said.
"I came at the last minute and a team was already set. I came to improve. Indeed, I have a status in France but I will have to show it when I will have the opportunity to play, and I think everything will go back to normal soon.
"When you came in a new universe, you have to prove yourself and that is logical. Things will come naturally, I won't force them. I expected that, because England remains a specific culture. Englishmen want to see you play on their pitches before judging you. But that questioning is fine to me."
Lloris says the game in England is more physical, but he is happy with that.
"There are more contacts on the keepers, the game is much faster, and there are more opportunities," he said.
"There are a lot of contacts indeed, but if I have to undergo some blows I will take them, I am prepared for that."