Martinez lauds his loan duo
Roberto Martinez has admitted his delight as to how well his Everton side - and Gerard Deulofeu and Romelu Lukaku in particular - have progressed this season.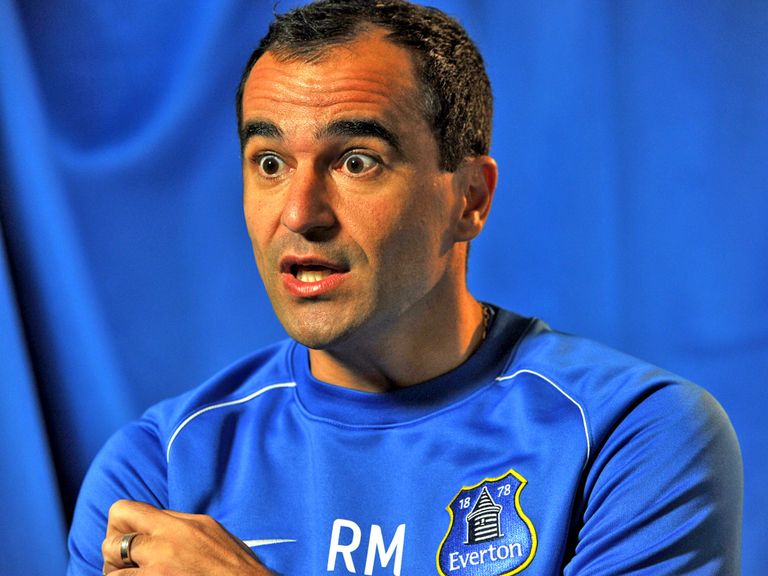 Having won at Old Trafford for the first time in 21 years in midweek, Everton garnered more plaudits with another impressive display in the 1-1 draw at Arsenal on Sunday.
On-loan duo Deulofeu and Lukaku have transformed their attacking options while Ross Barkley continues to win admirers in the middle of the pitch.
Deulofeu has made the headlines with two goals in the last three games and the Everton manager believes there is much more to come from the on-loan Barcelona man.
Martinez told Sky Sports News: "I'm surprised that he's doing it so quickly, that is the truth.
"He has adapted to the physicality of the league. I think it was important for us to bring some young blood into the squad and have a good blend with the senior players. I think that is really important.
"It allows the younger players to produce and Gerard has adapted so quickly. He has been working so hard to try and help the team and he brings something different. He has raw talent and we need that I still think the best of Gerard is still to come.
"He has strong belief in his own ability and we just want him to continue to deliver until the end of the season. Obviously the fans play a huge role in helping the player to settle and feel that they can express themselves on the football pitch."
Lukaku, who has scored 10 times this season since leaving parent club Chelsea, is another player who has helped Everton enjoy such a promising start.
"There is a relationship with Chelsea that is fantastic," said Martinez. "They invested good money to recruit him from Anderlecht a few seasons ago and Romelu has a massive role and all we want is him to have terrific memories of his time at Everton.
"There is a path that we are using to try and develop the player. He is working extremely hard to help the team and develop his career until the end of the season and then we will reassess how he has grown and discuss the situation with Chelsea."
Martinez is optimistic that his side can build on their excellent start and carry their fine form through to the end of the season.
"You take every game one by one but I think the performances recently have deserved the results that they have produced," he added.
"If anything we were really disappointed with certain draws that should have been victories but this week was a very important week in our season.
"We went to Old Trafford and the Emirates, that straightaway puts huge psychological and physical demands on the players. I thought the manner that we coped with and got a win at Old Trafford after so many years was tremendous.
"Then to follow up with a really good performance on Sunday in a really good game of football against probably the outstanding team of the season so far.
"That was very pleasing and shows that we are ready just to kick on and try and fulfil the potential. I always said this squad had great potential to achieve.
"Barkley is a terrific young talent and it is important for us to try and develop youngsters and we are putting a lot of focus on our academy and on our youngsters.
"Until the end of the season all players will be trying to impress the England manager and Ross is no different. At 20, he has many years ahead of him. He is a real diamond of English football and we are very proud to have him at Everton."
---
New Sky Bet customers: Free £30 matched bet
---