Brilliant Bayern set standard
Nick Hext says all the credit must go to Bayern Munich after the vintage 3-1 Champions League victory over Manchester City.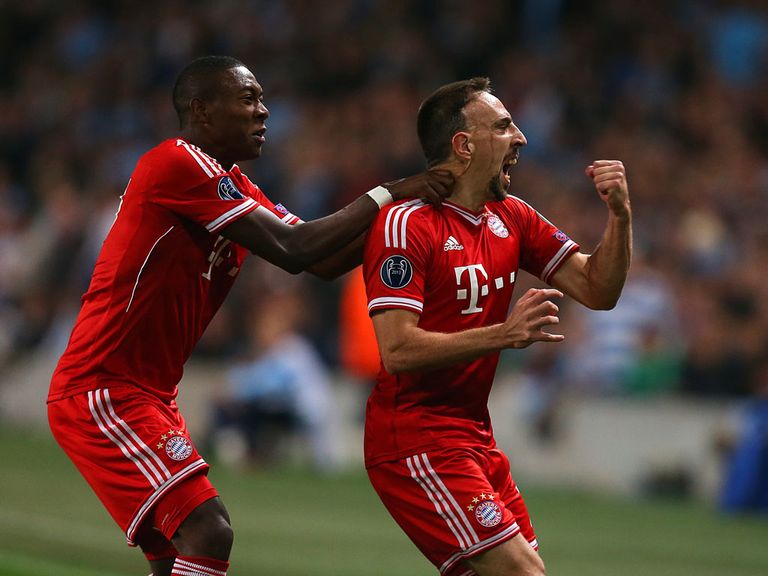 Sometimes you just lose to a better team.
That should be the reaction of Manchester City fans to the 3-1 defeat against Champions League holders Bayern Munich.
There were undoubtedly deficiencies in City's play but the reason for this loss was more about Bayern's sheer class rather than any unsolvable problems for the home side.
The Germans absolutely bossed the contest up until the final stages and it wasn't just down to one star player with Philipp Lahm, Bastian Schweinsteiger and Arjen Robben the key men at the absolute peak of their powers.
Manuel Neuer has also clearly taken the mantle of world's top goalkeeper. The Germany number one's save to deny James Milner was simply stunning and his distribution is one of the main reasons Bayern are able to build attacks from back to front with seemingly no effort.
Bayern were fantastic last season. No doubt about that whatsoever as you don't win the Champions League, Bundesliga and German Cup by being pretty good and getting a bit of luck.
Pep Guardiola's arrival, though, looks to be bringing even more to the party.
There was always a plethora of players available for a pass on Wednesday night and the visitors were constantly two or three moves ahead of City as home players were pulled towards the ball and out of position.
It was like watching Ronnie O'Sullivan at his best on the snooker table. You knew he was in complete control of the cue ball and there wasn't a single thing his befuddled opponent could do about it.
"This was already a special team but the interesting thing now will be to watch whether one sensational season for Bayern can turn into a dynasty of success to leave the Allianz Arena trophy cabinet busting open."

The first half stats show just how Bayern dominated.
Bayern attempted 325 passes to City's 148. Bayern completed 273 of those passes to City's 86. Bayern had 67 per cent of possession to City's 33 per cent. Bayern took nine shots to City's two and, of course, Bayern scored one goal to City's zero.
That illustrates the utter dominance of the away side as the hosts were left chasing shadows in the manner of a lower league side trying to bridge the gap to a big gun in a one-off cup tie.
But that wasn't expected to be the case.
City have a squad packed with star names and shouldn't be overawed any longer in their third season of Champions League football when sides like Bayern come to town.
The pressure was put on Manuel Pellegrini's men every time they got the ball. Because the visitors were enjoying such lengthy spells of possession City knew they couldn't afford to give it away cheaply or they would be stuck trying to keep track of play again.
That showed throughout as the groans came from the crowd whenever a pass went astray and there were also the amount of stupid offsides to consider as City racked up 10 to Bayern's zero.
Sergio Aguero, Edin Dzeko and the like were keen to impress but not clever enough to hold their position and give themselves the chance to get a run at goal with the game in play.
The good news is Alvaro Negredo was impressive when he came off the bench and scored with a tidy finish. He dominated Rio Ferdinand and Nemanja Vidic during the 4-1 Manchester derby demolition to help further prove he has to be part of City's first-choice XI.
David Silva's return is clearly a plus point for Pellegrini but the Joe Hart situation will start to weigh heavily on the manager if the England international's inconsistent form becomes even more of a distraction.
Hart won't be dropped yet. He was clearly at fault for the opener but Gael Clichy was the main culprit for the second goal and the third had the entire City defence with plenty to question themselves about as Robben waltzed through.
| Team | Versus | Team |
| --- | --- | --- |
| Man City | v | Everton |
| West Ham | v | Man City |
| CSKA Mosc | v | Man City |
| Chelsea | v | Man City |
| Newcastle | v | Man City |
| Man City | v | Norwich |
| Man City | v | CSKA Mosc |
| Sunderland | v | Man City |
| Man City | v | Tottenham |
It won't be in first but City will have to perform awfully in games against Viktoria Plzen and CSKA Moscow to miss out on finishing second behind Bayern in Group D.
They just aren't up against the collective force that Real Madrid, Borussia Dortmund and Ajax posed last term and reaching the knockout stages for the first time quite clearly counts as progress.
Bayern will obviously be in the last 16 but don't go thinking they are entirely perfect - Guardiola was very quick to point that out in his post-match press conference.
City's rally in the final stages showed the defence at sixes and sevens, although it has to be remembered that this spell of pressure came when 3-0 down and after Schweinsteiger and Robben had both been taken off.
One thing abundantly clear from the win at the Etihad is Bayern's need to be more clinical in front of goal.
Thomas Muller's role up top allows others to shine by playing off him but it would be fascinating to watch this team with the option of a top-class forward in it.
Remember at stages during the summer when Wayne Rooney was linked with a move to the Allianz Arena? It would have been very exciting to see the England forward in his current form as part of Guardiola's side.
Bayern are not certainties to retain their European crown but are worthy favourites and Guardiola is clear about the central factor in the defending champions' football philosophy.
"The ball is the centre of our idea."
That couldn't be argued with by anyone who saw this Manchester masterclass.
---
Sky Bet Free Bet Club: £10 free bet - £5 free every week
---