'Moyes Time' hope for Man United
Nick Hext reflects on Manchester City's impressive 4-1 destruction of Manchester United.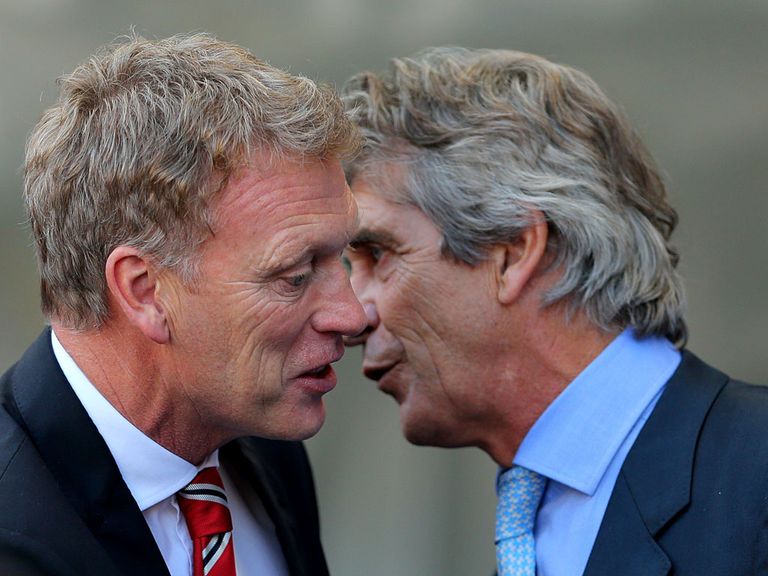 The grumpy man next door has finally gone and the noisy neighbours felt free to turn up the volume as loud as they liked.
Manchester City made a big derby-day statement before with the 6-1 demolition of United at Old Trafford in October, 2011 but the characters in the dug-out have now changed and Sunday's 4-1 Etihad Stadium drubbing is what Manuel Pellegrini hopes will become an early symbol of his reign.
The Chilean's ambitions for City are now up in lights. That is some going as it takes most managers more than six games into their tenure to enjoy a victory like this one.
It has to be said United were awful - abject until 4-0 down - but that isn't to take anything away from the hosts.
Sergio Aguero when he plays like this is virtually unstoppable but the list of impressive performers goes all the way down the team-sheet.
Yaya Toure looked back to his best form from the season before last, the importance of Vincent Kompany in the heart of the defence can't be overstated and the new boys all came to the party.
Jesus Navas ran up and down the right flank all game to show just why he is absolutely vital to his side's attacking play and Alvaro Negredo's physical presence was the perfect foil for Aguero's constant menace.
There will be matches where Fernandinho will play a more prominent role but it didn't need to be his moment.
The damage was done by the force of the collective.
Pellegrini was clearly feeling on top of the world in his post-match press conference but there was no hyperbole and admitting that this was a 'very big psychological blow' over United was as triumphalist as he got.
There was certainly nobody suggesting that a summary of a "very good day" for his team was overstating proceedings.
We are still very early in the season but this was City's chance to get on the front foot and you can be sure Messers Mourinho, Wenger, Villas-Boas and Rodgers all paid very close attention.
Pellegrini doesn't have his men streets ahead of the competition just yet but they are worthy title favourites - 7/4 with Sky Bet - and mean serious business.
United aren't feeling quite as chipper.
David Moyes' assertion that Wayne Rooney was "arguably the best player on the pitch" is slightly overstating it but the resurgent forward was his side's one class act.
Danny Welbeck - replacing the hugely-missed Robin van Persie - had no impact on the contest and it was a mistake to have Michael Carrick and Marouane Fellaini sitting so deep in the first half as City attacked at will.
You also don't have to be a defensive mastermind to know that leaving Aguero unmarked twice on the edge of the six-yard box is going to lead to trouble.
His two goals from the edge of the six-yard box prove that.
Moyes tried to brush off the defeat and put the blame once again on the tough start the fixture gods have given United.
That isn't fooling anyone.
The Red Devils need to do better than one point from the three matches against Chelsea, Liverpool and City. That is the case whatever time of the season it is.
United's fans didn't turn on Moyes but patience is a commodity that can't be found in modern society and modern football.
Just ask Paolo Di Canio, Alex McLeish, Tony Pulis and company as they wait for their next turn on the management carousel.
The City fans certainly don't fear United any longer and wouldn't have chanted 'there's only one Alex Ferguson' with the same gusto as they mocked Moyes during the second half.
"Sir Alex's legacy, as expected, looms large for Moyes. Everything he does is compared to the man who moved out of Old Trafford this summer after 26 years in charge and on the back of a 13th Premier League title."

You only need to look at the mediawide prominence given to Ferguson's comments about Rooney at the end of the week to see that.
United fans should continue to revere their departed leader but Moyes is the here and now. He can only operate on his own terms and whether that brings success will be seen in time.
The Red Devils don't want to fall into the trap of another set of Reds by following the Labour Party in dwelling on the departure of a high-profile figurehead.
You have seen in the last few days that the front of the newspapers have been dominated by tales of former long-term ruler Tony Blair, moneyman Gordon Brown and all the old gang from the end of the 90s and turn of this century.
This is before a party conference - the political version of a high-pressure cup tie - and you can only imagine how distracting it would be for United if everyone was talking about Ferguson, David Gill and the like before a massive match in 2018.
Things aren't that bad yet but Moyes and current Labour leader Ed Miliband need to do the same thing and make their words and, of course, more importantly their actions matter more than those from the past.
City have the current advantage over their rivals but will be wary of United after past experience of Old Trafford comebacks.
Will the future follow recent history with 'Moyes Time' given the opportunity to become the new standard?
---
Sky Bet Free Bet Club: £10 free bet - £5 free every week
---