Bale out, good times in?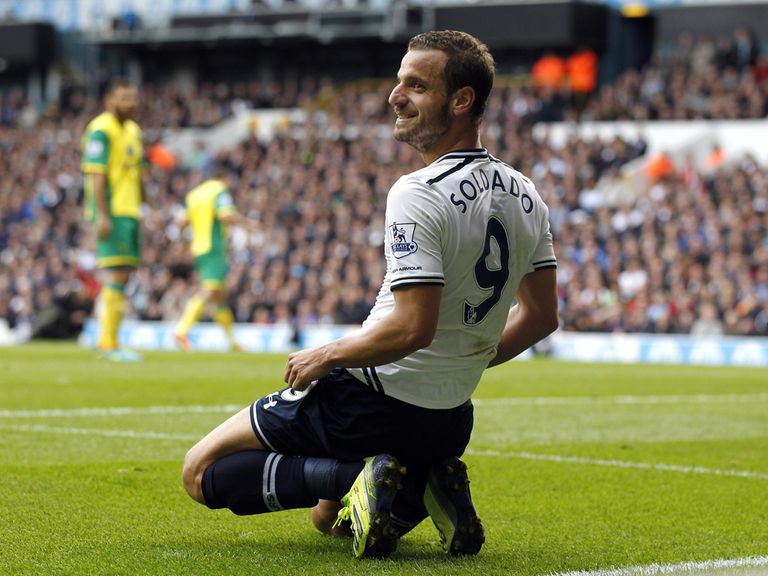 Our Nick Hext looks at what the future holds for Tottenham after the post-Gareth Bale era started with a 2-0 win over Norwich.
Can you lose your best player but become a better team?
That is the question Tottenham fans ponder following Gareth Bale's blockbuster world-record move to Real Madrid and the resulting string of new faces arriving at White Hart Lane.
The signs from Saturday's very comfortable 2-0 home win against Norwich certainly suggest that a Baleless Spurs can go that one step further and finish at least in the top-four.
Christian Eriksen, still only 21 but with a wealth of experience from his time with Ajax, fitted in ideally as what Andre Villas-Boas called a "pure number 10".
Norwich boss Chris Hughton was certainly impressed, saying: "I've seen a lot of him. He will be a real star."
Eriksen's presence provides a major new outlet for Tottenham's attacking play and that is in conjunction with the other impressive acquisitions bolstering the squad.
Roberto Soldado's arrival is definitely the most obvious to give AVB's men an extra edge.
Neither Emmanuel Adebayor or Jermain Defoe have proved themselves up to the quality required for a first-choice lone striker but Soldado most certainly will.
The £26million signing from Valencia has four goals from his opening five games in a Tottenham shirt and you can clearly see that his presence allows the players behind him on the field to shine that little bit more.
There will be a heck of a lot bigger tests than that provided by a very poor Norwich side but the contributions of two-goal Gylfi Sigurdsson, Andros Townsend, Eriksen, Mousa Dembele and the dominant Paulinho were all impressive.
Townsend in particular is something of a renaissance man.
He ended last season with a few decent performances during QPR's slide towards relegation, his ninth loan spell following time at Yeovil, Leyton Orient, MK Dons, Ipswich, Watford, Millwall, Leeds and Birmingham, but his summer wasn't much fun as he served a four-month ban for breaching betting regulations.
Now the 22-year-old is in the England squad and firmly in the first-team picture at White Hart Lane.
That's a decent turnaround in fortunes.
Paulinho's early performances suggest he will be a very welcome addition to the Premier League.
Not many British fans knew about the hustle and bustle of the all-action midfielder until this summer when he played a key part in taking hosts Brazil to Confederations Cup glory.
That form has already been transferred over to his new challenge in England and he has a World Cup on home soil to relish at the end of the campaign.
"Bale is a special player - although it will be interesting to see if the highlight reel moments continue in his new surroundings - but if you compare this Tottenham squad to the one that ended last term it is undoubtedly stronger."

Sandro's return to action helps prove this. The Brazilian has shown himself to be a terrific Premier League performer during his White Hart Lane stint and time is on his side to get back up to speed.
Dembele and Paulinho aren't a bad pair keeping the centre of midfield ticking along!
The massive boost Soldado's arrival brings has already been discussed and the real wild card - if you can call a £30million signing that - is Erik Lamela.
Not too much is known by Premier League defences about the Argentina international. He netted 15 goals in 33 appearances for Roma last season and AVB must like what he sees.
I can't glean too much from his brief cameo at the end of Saturday's contest but it will be incredibly interesting to see if the 21-year-old is the player to bring the X-Factor that Bale has taken with him to Madrid.
The Welsh wizard will be missed.
You just have to look at his goals and influence from the last couple of seasons.
Recent sporting history though contains examples of teams who have pushed on without an absent major star. Look at Yorkshire in cricket's County Championship this season without England's golden boy Joe Root, Team Sky didn't suffer from Sir Bradley Wiggins not defending his Tour de France title and Manchester United have won the Premier League twice since Cristiano Ronaldo made his move to Real Madrid.
| Team | Versus | Team |
| --- | --- | --- |
| Tottenham | v | Tromso |
| Cardiff | v | Tottenham |
| A Villa | v | Tottenham |
| Tottenham | v | Chelsea |
| A Mak'kala | v | Tottenham |
| Tottenham | v | West Ham |
| A Villa | v | Tottenham |
| Sh Tiraspo | v | Tottenham |
| Tottenham | v | Hull City |
| Everton | v | Tottenham |
There are of course examples to the contrary but a stronger and more cohesive unit can become a more effective force after the exit of a headline-making performer.
I haven't mentioned Spurs' backline but you can all see it's pretty solid.
You can make a case for Hugo Lloris being the Premier League's best goalkeeper (although there are others who can legitimately be discussed in that argument) and Brad Friedel isn't a bad deputy.
Jan Vertonghen is the pick of the defence but Michael Dawson will always deal with the rough and tumble of the Premier League and Kyle Walker is continuing to improve.
The big question mark is over the left-back spot with Danny Rose looking to make the place his own after spending last season on loan at Sunderland.
He may or may not prove to be the long-term answer but I definitely reckon he's a better bet than previous incumbent Benoit Assou-Ekotto.
Tottenham's main problem is maths in the hunt for a Champions League return. Five (possibly six if you reckon Liverpool's resurgence will last the season) doesn't fit into four.
Manchester United, Manchester City, Chelsea and Arsenal all have their flaws but are they large enough to let Spurs overtake them?
The challenge for AVB is to get his new collection of all the talents performing that little bit better and most importantly find a better level of consistently than last season.
The Portuguese said it best himself after beating Norwich: "The Premier League is about how consistent you are at the top level".
Very true.
I have no doubt the ability is in Tottenham's squad to gatecrash the top-four - maybe even ruffle a few feathers a little higher than that - but will the quality performances be there every game?
AVB hopes so and the early signs are very promising.
---
Sky Bet Free Bet Club: £10 free bet - £5 free every week
---