Transfer Focus: Edinson Cavani
Transfer Focus looks at Edinson Cavani as Europe's top clubs battle it out for his signature as the window officially opens.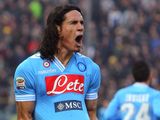 9. Edinson Cavani
| Title | Number |
| --- | --- |
| Appearances | 22 (2) |
| Goals | 20 |
| Assists | 1 |
| Yellows | 3 |
| Reds | 0 |
*Current Season
Edinson Cavani has emerged as one of the most sought-after players in this summer's transfer window, which has now officially opened, and there are a plenty of clubs rumoured to be chasing his signature.
The Napoli striker ended last season as the top scorer in Serie A and that hasn't gone unnoticed by Europe's top teams.
Chelsea are Sky Bet's 1/6 favourites to sign the Uruguayan after plenty of backing from punters but don't rule out Real Madrid at 3/1 as new manager Carlo Ancelotti looks to bolster his ranks.
Manchester rivals City and United could also enter the running so there is a long way to go in this battle. The perfect time for Transfer Focus to investigate...
Who Wants Him?
Chelsea (1/6 to sign Cavani this summer with Sky Bet): We all know Jose Mourinho is back in charge at Stamford Bridge and there has yet to be a marquee signing arriving with him. Cavani would certainly fit the bill and the Blues are clearly in need of a striker with Demba Ba and Fernando Torres the two men battling at the head of the attack for the second half of last season. Roman Abramovich clearly has the funds to test Napoli with a big-money bid and that might well be enough to take the Uruguayan to London.
Real Madrid (3/1): The Spanish giants could represent the value here as they search for star names to bolster their already stellar squad. Gareth Bale and Luis Suarez have been two of the other players linked with a move to the Berbabeu and I would be very surprised if one of those two men or Cavani doesn't arrive there this summer. There have been some kind words about Real from the striker - as you will see further down this feature - so it's certainly a switch he would welcome.
Manchester City (6/1): Napoli president Aurelio De Laurentiis says unsuccessful talks have been held with City over Cavani's future so we know the interest is there. Fernandinho and Jesus Navas have both already arrived at the Etihad Stadium this summer so there is definitely a push to allow new boss Manuel Pellegrini to make his mark. City - like with Chelsea and Real - clearly have the funds to make a deal happen so can't be ruled out of the chase.
Manchester United (33/1): Speculation over a move to United featured in Paper Talk last week and that will make the 12/1 appealing to many. United already have Robin van Persie, Javier Hernandez, Danny Welbeck and Wayne Rooney - whose future admittedly is up for discussion - as attacking options so space would need to be created in the squad. Cristiano Ronaldo is the main man being linked with an Old Trafford switch and you can't see David Moyes being able to add Cavani in addition to the Portuguese. A move for the Uruguay international is definitely an outside chance at this stage.
Also available with Sky Bet: Bayern Munich (40/1), Juventus (40/1), PSG (40/1), AC Milan (50/1), Barcelona (50/1), Inter Milan (50/1), Arsenal (66/1), Atletico Madrid (66/1), Anzhi Makhachkala (80/1), Liverpool (80/1), Tottenham (80/1), Zenit St Petersburg (80/1).
Sky Bet's Stuart Dallimore says: "We've seen Chelsea punted fairly steadily throughout the week as Cavani's next destination.
"In particular last week we took some fairly chunky bets at odds against forcing us to move into odds on prices; but we still saw money for him last night at as low as 1/4.
"We're currently 1/6 and it won't take many big bets at this sort of price before we decide to pull this market."
The Stats
2012/13 season 45 games, 39 goals - includes three Serie A hat-tricks for Napoli, coming in matches against Lazio, Roma and Inter Milan. He also scored a sensational four goals in the 4-2 Europa League win over Dnipro in November.
2011/12 season 49 games, 29 goals - the striker scored a hat-trick in the 3-1 Serie A victory over AC Milan in November and also struck five goals in the Champions League - including a double in the 2-1 success at home to Manchester City.
International record 54 games, 17 goals - there was a great start to the forward's senior Uruguary career as he scored on his debut in the 2-2 draw against Colombia in February, 2008. His most recent two international goals came in Sunday's 2-2 draw against Italy, which required a penalty shoot-out for the Azzurri to secured third-place in the Confederations Cup.
Cavani Facts
Cavani's hero growing up was Gabriel Batistuta, another striker from South America who made a big impact in Italian football
Cavani was the top scorer in the 2007 South American Youth Championship as Uruguary finished third
Cavani joined Palermo from Uruguayan club Danubio in January, 2007 and scored on his debut for the Serie A outfit against Fiorentina
Cavani finished the 2010/11 season - his first with Napoli - behind Antonio Di Natale as the second top scorer in Serie A
There was revenge for Cavani last season as he finished above second-placed Di Natale to end the Serie A campaign as top scorer with 29 goals
What Cavani Says
June 2013: "In this moment, everything is under pressure. Everything can be misunderstood. I prefer being calm. I go forward with my mentality. At the beginning of the Confederations Cup, I did not believe the market rumours would have given me trouble. But, at the end, I admit they have disturbed me a little." Sky Italia
June 2013: "My father has talked about Real? I want to point out that these words are not coming from me. I've asked my parents a thousand times not to say any more. They can only hurt me. I belong to Napoli as it stands and that depends on the club. If another option presents itself, we will evaluate it. I will make myself clear on this point too - I've always said they're (Real Madrid) one of the best clubs in the world. We've all dreamed of playing for them, as we have with Barcelona, but now I'm at Napoli and very proud of the fact. If I leave the blue shirt behind one day, I will only do so to join a big club. Obviously there would be some fans who would understand and others who wouldn't. But I don't want to slip out of a back door, I want to walk out of the front door, on the day that finally happens." La Repubblica
June 2013: "I am very calm. Real Madrid are a beautiful team, every player dreams of playing there when he is a child. Those are things that they are talking from behind, as it will soon be seen. But officially nobody has talked with me. I am for now a Napoli player and I am focused on the Confederations Cup. What the clubs decide doesn't depend only on me, but also on other factors which will be talked about once the tournament is over." El Partido de las 12
June 2013: "I don't know if they (Manchester City or Chelsea) made an offer for me, I just know that to be coached by someone like Manuel Pellegrini or Jose Mourinho would always be a pleasure. And when the time is right it would be great to play for one of these teams, because when I was a child I imagined doing it - but now I am only thinking about Uruguay. In my career I have always had to deal with rumours of me signing for another team and I just have to keep my feet on the ground."
---
Get £60 from your free £10 bet with Sky Bet if Cavani joins Man City
---
What Others Say
June 2013, Napoli president Aurelio De Laurentiis: "There is no need to have a face to face with Cavani. If a club offers 63million Euros then we would allow him to leave. The release clause will have been activated. It's not fair that Cavani has distractions while he is playing in an important tournament like the Confederations Cup. Should we receive an offer, then fine. If this offer doesn't arrive the Cavani will stay in Italy with us. The only meeting I've had has been with Manchester City, but the offer was inadequate."
June 2013, Napoli managaer Rafael Benitez: "We want Cavani to stay at Napoli. We would be really happy if that's how it works out. If he leaves then it would only be because someone has matched the release clause or comes up with an irresistible offer. Cavani knows how much he is loved and how valuable he is to the city and to the team." Corriere dello Sport
June 2013, Napoli president Aurelio De Laurentiis: "I don't think Cavani will leave on August 10, when his buyout clause expires. I'm confident in him, because I consider him a real man. He won't make me a joke of me. Should Cavani want to leave, he will decide it after a long period of reflection. But by July 20 we will probably know everything about his future." Radio Rai
June 2013, Napoli president Aurelio De Laurentiis: "Manchester City do not have money to pay for Cavani becasue they say we won't pay that. Abu Dhabi (City's owners) say they would never pay 63m euros for Cavani. With Edinson nothing has changed. Headlines I've read in the papers did not represent his words exactly. He could never deny the importance of a club like Real Madrid's, but don't forget that he made his name at Napoli. If a club like Anzhi (Makhachkala) enquire about him, maybe he says no, but other clubs like Bayern (Munich), Barcelona or Real Madrid could persuade him to leave. He knows that he has a contract and an obligation to us, and there is a buy-out clause. Cavani knows that at Napoli he is the most important player. I do not know whether, at Real Madrid or in other teams, he will be as important."
June 2013, former Manchester City manager Roberto Mancini: "When I was at City I often spoke about Cavani with the management because he was somebody who could have been targeted. However, I don't know now whether he is of interest in the club's new technical project." Manchester Evening News
June 2013, Luis Cavani (Edinson's father): "Cavani's intention is to play for Madrid. He is excited about it and is very willing to see it through. He has told the family in private that he wants to join Real Madrid but if he declares it publicly it will annoy Napoli. There has been contact with Real Madrid's lawyers and now we are waiting for the two clubs to meet. I hope it happens and that talks take place as soon as possible. Who wouldn't want to play for Real Madrid? It's not just up to Edi. They are talking about 65 million euros and Napoli won't negotiate for any less." Futboleros
June 2013, Berta Gomez (Edinson's mother): "Edi is dealing with Real Madrid and City. In two or three weeks, we will know their fate and be able to say more. In any case, I assure you Edinson loves Naples and, if he goes, he will never forget the love and affection of the people."
Paper Talk
Daily Mail, July 1 - Chelsea have offered £42.5m to Napoli for Edinson Cavani and want Manchester City target Bruma.
Mail On Sunday, June 30 - Chelsea have made a fresh bid of £45m for Edinson Cavani.
Daily Mirror, June 28 - Jose Mourinho is ready to switch his sights back to Borussia Dortmund striker Robert Lewandowski if Edinson Cavani slips through Chelsea's grasp.
Daily Star, June 27 - Napoli boss Rafa Benitez has warned Chelsea they will have to make an irresistible offer to land Edinson Cavani.
Daily Star, June 26 - Chelsea have told Napoli they will only pay a maximum of £40million for striker Edinson Cavani.
Daily Mirror, June 25 - Manchester United are making a record-breaking £50million move for Napoli hitman Edinson Cavani.
---
Get £330 from your free £10 bet with Sky Bet if Cavani joins Man United
---
Daily Mirror, June 19 - Chelsea will hold crunch talks with Napoli in the next 24 hours to try and bring Edinson Cavani to Stamford Bridge.
Daily Star, June 19 - Edinson Cavani is set to snub Manchester City in favour of Real Madrid.
Top Tweets
Sky Bet, June 29 (@SkyBet) - Edinson Cavani now 1/4 to join #CFC after being heavily backed for a move tonight. Will he make the switch
OptaJose, June 25 (@OptaJose) - 12 - Edinson Cavani has scored more headed goals than any other player in the Serie A since he signed for Napoli. Instinct
WhoScored.com, June 25 (@WhoScored) - Edinson Cavani: Only Álvaro Negredo (29) missed more clear cut chances in Europe's top 5 leagues last season than Cavani (26)
OptaJoe, June 7 (@OptaJoe) - 78 - Since joining Napoli in July 2010 Edinson Cavani has scored 78 Serie A goals; more than any other player in the league. Matador.
Video
June 2013 - Cavani plays down talk linking him with Chelsea
---
Click here for completely free £10 bet with Sky Bet
---