Tevez proud to be Juve's number 10
Carlos Tevez spoke of his pride after being handed the iconic number 10 shirt upon signing a three-year contract with Juventus.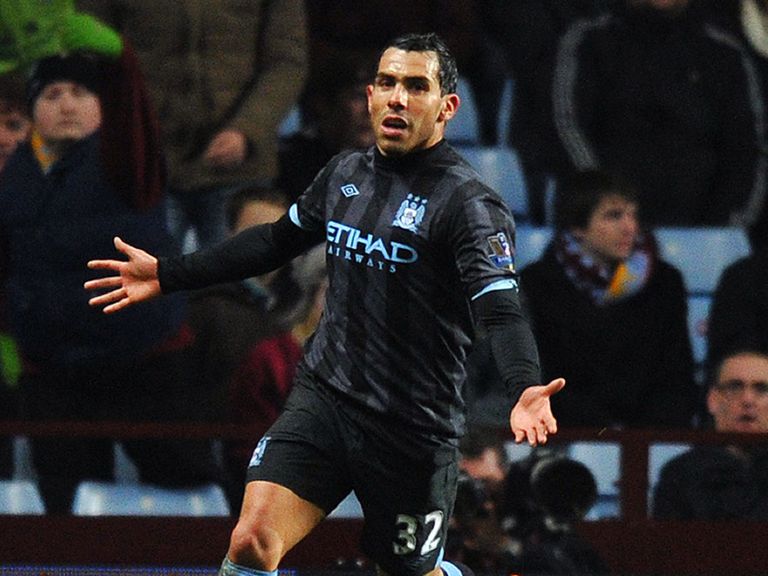 The Argentinian completed a move to the Serie A champions last night following four seasons with Manchester City, and even before completing his medical in Turin he was pictured on the balcony of Juve's headquarters holding a number 10 jersey aloft.
The shirt - made famous by Michel Platini, Liam Brady and Roberto Baggio - has been unclaimed since veteran striker and former Bianconeri captain Alessandro Del Piero left Turin for Sydney FC last summer.
Tevez's transfer fee has not been disclosed but it is reported Juve have paid City an initial £10million, rising to £12million with add-ons.
The 29-year-old told juventus.com: "I'm absolutely aware of the great effort Juventus Football Club has made to bring me here.
"I feel the responsibility of wearing this number and I am aware of the great responsibility of representing Juventus and playing for the club so this number is certainly a great challenge.
"Top players have worn it before and I was number 10 with Boca (Juniors) before, and (Diego) Maradona played in it too, so the great responsibility is now that I'm going to play in this great club so certainly the greatest challenge is to do my best.
"Obviously I didn't want to forget Del Piero who was the last player to wear number 10. He is a person and player that I greatly respect and who certainly represents an emblem and symbol of esteem.
"It is a great pleasure and honour to wear this jersey with his number."
Tevez has taken a brief break from his summer holiday in Argentina to join Juve and upon his arrival at Milan's Malpensa airport yesterday afternoon he was mobbed by around 200 Bianconeri fans.
He is expected to return to South America after today's unveiling to complete his holiday before joining new coach Antonio Conte and his team-mates for pre-season training on July 12.
"I feel the Italian supporters are really similar to the Argentinian ones because they really get involved with the club," he added.
"So I was not really surprised by the great welcome I received yesterday and I know that the Juventus supporters have showed great love and affection from the very beginning."
Tevez's agent Kia Joorabchian says that the Argentine striker turned down a number of other clubs before deciding to join Juventus.
Speaking to Corriere dello Sport, Joorabchian said: "Carlitos wanted Juventus and I'm sorry if AC Milan are angry for this.
"Anzhi wanted him too and there he would have earned much more.
"But he pointed to a club with a great history, rich traditions and of course with important ambitions and projects.
"There was also the Monaco (interest), with which we met and we talked about, but in the end Carlitos has chosen Juventus."
AC Milan vice-president Adriano Galliani insists he is not bitter over Carlos Tevez's decision to sign for Juventus.
The Rossoneri have made their desire to sign the Argentinian striker from Manchester City public since January 2012, in the months that followed Tevez's public fallout with the club over his refusal to warm up in a Champions League match.
Galliani had hoped to persuade Tevez to ignore Juve's overtures in the last few days, but the 29-year-old signed a three-year deal at the Juventus Stadium this morning.
The Milan chief stressed he had no regrets over withdrawing from the race given there was no space for the player in the squad.
He told La Repubblica Sport: "That transfer's not wiped the smile off my face. I don't want to repeat myself but we have five strikers in the squad already so in terms of numbers and quality we're more than covered.
"None of them were leaving the club so we couldn't move forward with the negotiations. Our policy is that if no one leaves, no one comes in.
"He's said that Juventus wanted him more than Milan did? Tevez is right, because no one has left. We had to pull out because no one has left."
Galliani identified another City alumnus, Mario Balotelli, as the crown jewel in Milan's five-pronged attack, which also comprises Stephan El Shaarawy, Giampaolo Pazzini, Robinho and M'Baye Niang.
Following Balotelli's withdrawal from Italy's Confederations Cup squad due to a muscle injury, Galliani said: "I heard from him yesterday. He's got a first grade tear so he should be out for about 15 days.
"And he is not for sale, he is absolutely not for sale. That's for sure.
"I don't want to offend anybody else but he is our star. We are going to build our future around him."
---
Click here for completely free £10 bet with Sky Bet
---