Transfer Focus: Cesc Fabregas
Cesc Fabregas has started to attract plenty of attention as both Manchester United and Arsenal are heavily linked with a move to bring the midfielder back to the Premier League from Barcelona.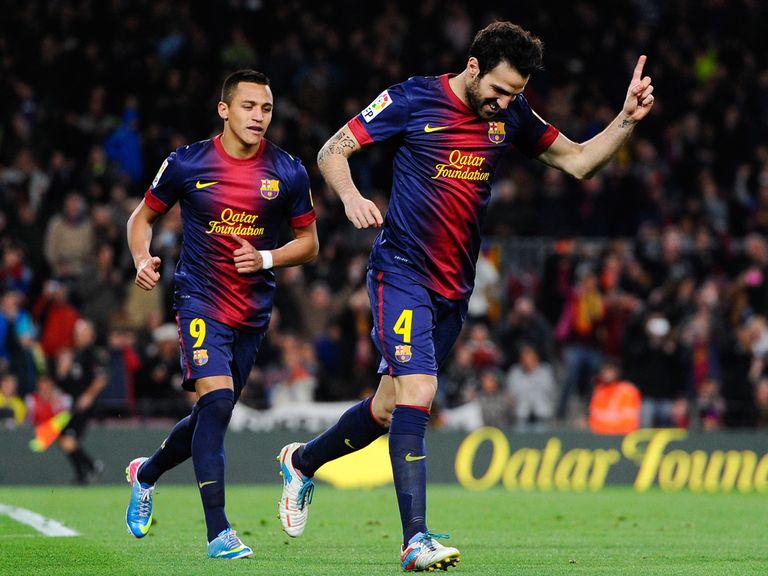 The Spain international is fondly remembered by fans at the Emirates Stadium from his first spell with the Gunners and Arsene Wenger definitely knows what a difference the 26-year-old would make to his squad.
Manchester United may not have pleasant memories of Fabregas to look back on but they remain an attractive destination for any player as David Moyes takes over as manager from the retiring Sir Alex Ferguson.
Other clubs could be tempted to join the chase but will anyone be able to tempt Fabregas away from Barcelona. Transfer Focus investigates...
Who Wants Him?
Manchester United (13/8 to sign Fabregas this summer with Sky Bet): Manchester United head the betting in Sky Bet's next Cesc Fabregas club market and it's easy to understand why. The Red Devils have been mooted as a possible destination for the midfielder for some time now and there's no doubt they need to increase their midfielder options. Everton's Marouane Fellaini has also been touted as a transfer target and it would seem likely that at least one of the players will arrive at Old Trafford this summer.
Arsenal (15/8): Fabregas' first spell at Arsenal lasted from 2003 to 2011 and there's no doubt he would be warmly welcomed backed. Plenty of press reports have seen the Gunners linked with a summer of big spending and the return of their former midfielder would certainly send a big message to the rest of the Premier League. Fellaini - like with United - has also been touted as a possible target so it's not beyond the realms of possibility that one of the pair ends up at the Emirates Stadium and the other at Old Trafford.
Also available with Sky Bet: Chelsea 33/1, Juventus 33/1, Manchester City 33/1, PSG 33/1, Borussia Dortmund 50/1, Real Madrid 50/1.
Sky Bet's Paul Wiggins says: "The Cesc Fabregas market has been all about Manchester United and Arsenal. We have seen a pretty equal spread of business across the two with us taking the view that United are in more need of a creative spark in midfield currently, especially after the retirement of Paul Scholes.
"Arsenal seem to be linked with more defensive midfield players which may mean a role further forward for Jack Wilshere if he can shake off his injury problems."
The Stats
This season 48 games, 13 goals - Fabregas was part of the Barcelona squad as they ended the season with the Primera Division title. He scored the first hat-trick of his career in the 5-0 victory over Mallorca in April.
2011/12 season 48 games, 15 goals - Fabregas' first season with Barcelona after his move from Arsenal saw the club win the top prize in the Copa del Rey and FIFA Club World Cup. He scored his first goal for the club in the 2-0 victory over Porto in the UEFA Super Cup.
International record 79 games, 13 goals - there has been plenty of silverware during Fabregas' Spain career with European Championship success in 2008 and 2012 sandwiching World Cup glory in 2010. He set up the extra-time winner for Andres Iniesta in the 1-0 win against Holland in the World Cup final.
Fabregas facts
Fabregas joined Arsenal from Barcelona in September, 2003 at the age of 16
Fabregas became Arsenal's youngest ever player when he played in the League Cup game against Rotherham in October, 2003 at 16-years-old and 177 days
Fabregas then became Arsenal's youngest ever goalscorer when he struck in the 5-1 victory against Wolves in December, 2003 to reach the quarter-finals of the League Cup
Fabregas was nominated for the PFA Player and Young Player of the Year Awards for the 2006/07 season but both prizes went to Cristiano Ronaldo
Fabregas was named in the team of the tournament selected by UEFA's technical team at Euro 2008 and 2012
Fabregas became the first player in Barcelona's history to score in all four of his first Primera Division matches
What Fabregas Says
June 2013: I have not opened my mouth once. It has taken a lot for me to get where I am and I am not thinking about throwing it all away for nothing. If they (Barcelona) said that they didn't want me that would be another thing, what I really want is to triumph at Barca, that has been dream since I was small. The important thing in life is to accept the good and also bad moments when they happen. If they (the crowd) whistle me I have to accept it. I am the first person that knew it would be the biggest challenge of my life (to play at Barcelona). I only want to play. Barca is my home, I have always dreamed of triumphing here. Up until now everything has gone well. The important thing is to work and work so that you enjoy it more than you don't." Marca
September 2012: "There's no such thing as a great substitute in the world of football - I couldn't tell you what makes a great substitute. I always wish my team-mates well and put a happy face on. If I have to take my unhappy face home then so be it, but I would never let my team-mates or manager see it. I've always said that I play for the best team in the world, but I came here to compete, to learn and enjoy, not to sit wracking my brains. I am delighted to be a part of this team, but when a coach tells me I have to go, I will go - but I will not make it easy for him to do so, by any means. I will keep going, looking forward to the time that things change. I came here to see out my career." Marca
What Others Say
June 2013, Arsenal manager Arsene Wenger: "I think at the moment he's lacking the confidence of being a regular player. Recently he has not been that. Cesc is such a passionate player, a player of such quality, that it must hurt him not to play in every single game. That's what he misses. When you come in and out you never play with full confidence." Al Jazeera
May 2013, Spanish football expert Guillem Balague: "He is surprised by the rumours that are so strong in England. The club has definitely told me this evening that they have got no intention whatsoever of selling him. His buyout clause, in case anybody is interested, is 200million Euros, which is a little bit expensive. In any case it is a deterrent for people to come and try to poach him away. If anything was going to happen it would be in the future, maybe next year who knows, but what seems certain is that both the club and himself have decided he will stay at Barcelona for at least one more season." Sky Sports News
January 2013, Arsenal manager Arsene Wenger: "I'm not convinced that he won't come back here one day. He is really an Arsenal man. He loves Arsenal and watches every game of Arsenal. But of course Barcelona was his home town where he grew up and you have to accept that will come into it, especially with them having the best team in the world. [Fabregas would not come back] in the next two, three years, certainly not, because he is linked with Barcelona. But maybe later."
Paper Talk
The Times, June 11 Manchester United will "move heaven and earth'' to lure Cesc Fabregas from Barcelona this summer, according to a club ambassador.
Daily Star Sunday, June 9 Manchester United target Cesc Fabregas will only play for Arsenal if he ever decides to quit Barcelona.
The Sun, June 8 Manchester United boss David Moyes is ready to outgun Arsenal in a £40million bidding war for Cesc Fabregas.
Mail On Sunday, June 2 Cesc Fabregas will meet Barcelona manager Tito Vilanova this week for talks about his future, with Manchester United, Manchester City, Arsenal and Chelsea all interested in signing him.
Daily Mirror, May 31 Cesc Fabregas will decide his Barcelona future next week - but still dreams of an Arsenal return.
Daily Mail, May 31 Manchester United could be forced to pay an inflated price for Cesc Fabregas, with Barcelona obliged to give the midfielder half the fee under the terms of his transfer to the Nou Camp.
Daily Mirror, May 30 Manchester United could make a £30m bid for Barcelona's former Arsenal midfielder Cesc Fabregas.
Daily Mail, May 30 Manchester United and Manchester City are battling it out to bring former Arsenal midfielder Cesc Fabregas, 26, back to the Premier League from Barcelona.
Sunday Express, May 26 Manchester United are planning a shock £25million move to bring Barcelona midfield star Cesc Fabregas back to the Premier League.
Top Tweets
OptaJoe, June 6 (@OptaJoe) - 70 - Cesc Fabregas made 70 assists in the Premier League, more than any other player during his seven seasons in the league. Return?
Spanish football expert Guillem Balague, June 4 (@GuillemBalague) - Just to clarify. Cesc 100% not leaving FCB. What he is after is more love from his club. But he's not leaving.
OptaJose, June 1 (@OptaJose) - 10 - Cesc Fabregas is the only Spanish player to have more than 10 goals and 10 assists in La Liga this season (11 and 11). Versatile
Cesc Fabregas, May 11 (@cesc4official - the man himself) - Today is a great day, the result of a brilliant season! I am really happy I can celebrate my first Liga title! #ForçaBarça #LigaBBVA
OptaJose, April 6 (@OptaJose) - 1 - Cesc Fabregas is the 1st Spanish player to score a hat-trick for Barcelona in La Liga since Luis Enrique versus Athletic in 2001. Lavish
Video
April 2013 - The Revista team and Fabregas' former Arsenal team-mate Philippe Senderos discuss whether the midfielder will be making a return to the London club
---
Click here for completely free £10 bet with Sky Bet & £5 free every week
---