Robert Lewandowski Transfer Focus
Our Transfer Focus feature looks at Robert Lewandowski as Bayern Munich, Manchester United and Chelsea are linked with the striker.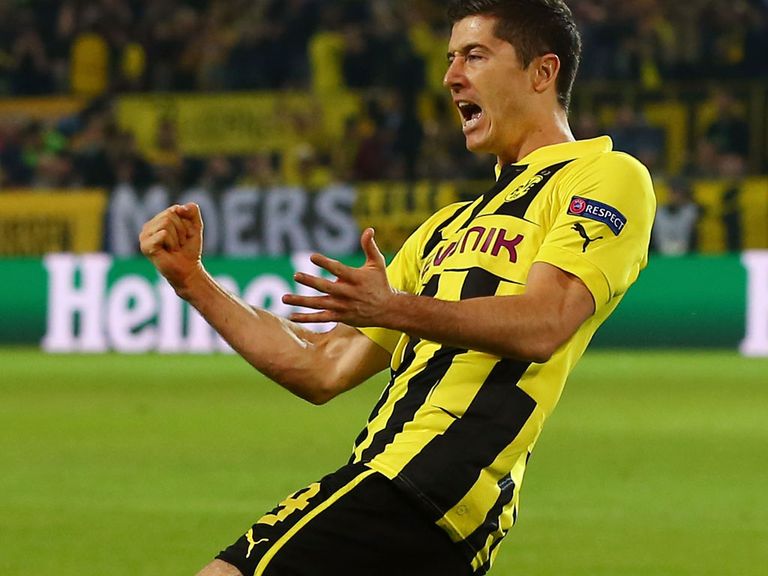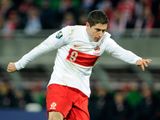 9. Robert Lewandowski
| Title | Number |
| --- | --- |
| Appearances | 38 (2) |
| Goals | 33 |
| Assists | 4 |
| Yellows | 4 |
| Reds | 0 |
*Current Season
Robert Lewandowski is one of the men of the moment after his four goals in the first leg of Borussia Dortmund's Champions League semi-final against Real Madrid helped fire his side to Wembley.
His future has been subject to speculation all season with both Bayern Munich and Manchester United long-term admirers of the Poland striker.
Chelsea appear to have joined the chase if recent rumours are to be believed and Jose Mourinho - heavily linked with a return as Blues manager in the summer - was full of praise for the forward after his Madrid side's Champions League humiliation.
Dortmund have already been hit by the news midfielder Mario Gotze will join Bayern in the summer but is another one of their star names heading for the exit door?
Who Wants Him?
Bayern Munich (1/3 to sign Lewandowski this summer with Sky Bet): Bayern have been leading the chase for Lewandowski all season and acquiring his signature along with that of Gotze would severely weaken rivals Dortmund. There is also definitely space in the Bundesliga champions' squad for a new striker with Mario Gomez and Mario Mandzukic not setting the bar as high as the top-notch midfielders in the ranks. Pep Guardiola will be the man in charge at the Allianz Arena from the summer and that will surely be an attraction for any player on the move. Could it swing the balance in Bayern's favour as this transfer saga comes to a conclusion?
Manchester United (3/1): Rumours of United's interest in Lewandowski just won't go away with Sir Alex Ferguson commenting on the striker last month. It would need a shake-up in the Red Devils' attacking options with Robin van Persie, Danny Welbeck, Javier Hernandez and Wayne Rooney - check out our previous Wayne Rooney Transfer Focus - unlikely to all be kept happy if the Pole does arrive at Old Trafford. That doesn't mean a transfer won't occur - we saw last summer how the arrival of van Persie sent a message to the rest of the Premier League heavyweights - but other things need to happen if the speculation is to become reality.
Chelsea (10/1): Chelsea have added themselves as a late runner in the scramble for Lewandowski's signature with the potential return of Mourinho to Stamford Bridge adding further intrigue to the speculation. Press reports have suggested 'The Special One' wants Lewandowski to make the move to London in the off-season and the Blues certainly need a new striker. Fernando Torres has failed to fire since moving south from Liverpool and Demba Ba can't be expected to get all the goals. Dortmund's finest could be just the man for Chelsea but Radamel Falcao and Edinson Cavani have also been linked and they won't all join the same club.
---
Get £100 from your £10 bet with Sky Bet if Chelsea sign Lewandowski
---
Also available with Sky Bet: Manchester City (28/1), PSG (28/1), Real Madrid (28/1), Arsenal (33/1), Tottenham (40/1), Juventus (40/1).
Sky Bet's Joe Petyt says: "The Lewandowski market has been one of our most popular so far this season and really seems to have caught the attention of our customers after his performances against Real Madrid.
"Bayern Munich remain big favourites at 1/3 but with Dortmund seemingly reluctant to lose another player to their big rivals most of the big teams across Europe have been backed at big prices.
"Manchester United are 3/1 second favourites but the big mover has been Chelsea (10/1 from 25/1) amid rumours that Jose Mourinho wants to make him one of his first signings should he return."
The Stats
This season: 47 games, 35 goals - includes four goals in Dortmund's famous 4-1 victory over Real Madrid and doubles in four games in a row back in November against Augsburg, Greuther Furth, Ajax and Mainz
Last season: 46 games, 27 goals - Lewandowski was one of the key figures in Dortmund's Bundesliga success and scored a hat-trick against Augsburg in October 2011 before goals for Poland against South Korea and Belarus in his next two games
International record: 53 games, 17 goals - Lewandowski scored on his Poland debut when he came on as a sub against San Marino in September 2008. He netted the first goal of Euro 2012 when the co-hosts drew 1-1 against Greece before departing the tournament at the bottom of Group A
Lewandowski Facts
Lewandowski's father Krzysztof was a Polish judo champion and played football in the country's second division, his mother, Iwona, played volleyball for AZS Warszawa and his sister, Milena, has played volleyball for Poland Under-21s
Lewandowski's fiancée Anna Stachurska won the bronze medal at the 2009 Karate World Cup
The Icelandic ash cloud or financial constraints (Sam Allardyce can't remember which) stopped Lewandowski joining Blackburn in 2010
Lewandowski was the Polish Player of the Year in both 2010 and 2011
Lewandowski scored a hat-trick in the 5-2 victory over Bayern Munich in the 2011/12 DFB-Pokal final to earn Dortmund's first Bundesliga and DFB-Pokal double
What Lewandowski Says
February 2013: "I knew I wouldn't leave Borussia this winter, that is why I kept my distance from most of the news. I might have been nervous if that was my only source of information." Regarding his Dortmund future, he added: "I can't answer that question. Everything is possible. I'm not ruling out any possibility right now." Przeglad Sportowy
October 2012: "I didn't even know Sir Alex Ferguson was in the stands against City (Champions League game v Manchester City at the Etihad Stadium) but it wouldn't influence me at all. I haven't got plans to change clubs. I have a contract with Borussia and I focus on that. I focus on being at my best in every single match. I want to play the best season of my career. I haven't had the chance to play in England but, maybe, one day. What I like about British football is that it is fast and hard. For sure it would be interesting but there's no straight answer for the moment."
September 2012: "I have two years left on my contract, and this is well a long time. I do not need to make a decision today. Not if I am to stay on, not if I am to leave. There is no decision time-limit for me. I do not know what will happen at the end of this season. I do not rule anything out. Ruling out something would not be professional behaviour I think. But my main focus at this point in time is my progress and the progress of Borussia Dortmund. If there is an enquiry (from Bayern Munich) it is always something of interest for me. You simply have to look into it. It is such a big club in Bundesliga." Bild
What Others Say
April 2013, Bayern Munich statement: "FC Bayern, contrary to these reports, do not have any contract with Robert Lewandowski."
April 2013, Lewandowski's agent Maik Barthel: "We are in agreement with a club and have the right to change this summer. All the claims of Dortmund are met." Bild
April 2013, Manchester United manager Sir Alex Ferguson: "Big signings? You are normally talking about forwards but it's complicated enough as it is with the forwards I've got." On his interest in Lewandowski, he added: "Yeah, but Bayern Munich are strong with that too. We just have to wait and see where we are in terms of if we win the league. Then it may be different."
Paper Talk
Daily Star, May 6 Borussia Dortmund are desperate for Chelsea to beat off Bayern Munich and buy their star striker Robert Lewandowski.
Daily Star Sunday, May 5 Sir Alex Ferguson looks to have been snubbed in his bid to lure Robert Lewandowski to Manchester United for £25million.
Daily Mail, May 3 Jose Mourinho will try to tempt Borussia Dortmund's 24-year-old striker Robert Lewandowski to join him at Chelsea if he returns to Stamford Bridge.
Daily Telegraph, May 3 Manchester United will face competition from Real Madrid to sign Borussia Dortmund striker Robert Lewandowski.
The Sun, May 2 Robert Lewandowski is ready to snub Manchester United and join Bayern Munich instead.
Daily Star Sunday, April 28 Manchester City want to unleash a new £75million strike force on the Premier League next season in Edinson Cavani and Robert Lewandowski.
---
Get £280 from your £10 bet with Sky Bet if Man City sign Lewandowski
---
The Mail On Sunday, April 28 Manchester United will try to exploit the bitter rivalry between Bayern Munich and Borussia Dortmund as they look to sign Robert Lewandowski.
The Sunday Times, April 28 Sir Alex Ferguson hopes to cherry pick from Borussia Dortmund's outstanding young side by luring midfielder Ilkay Gundogan and striker Robert Lewandowski to Old Trafford.
The Independent, April 28 Manchester United will use funds from a series of lucrative commercial deals to press ahead with plans to sign Borussia Dortmund striker Robert Lewandowski.
Top Tweets
OptaJoe, April 30 (@OptaJoe) - 52% - Robert Lewandowski has been involved in 12 of Dortmund's 23 goals in the Champions League this season (10 goals, two assists). Vital.
Graham Hunter, April 26 (@BumperGraham) - The fact that @SteveArchibald8 nearly brought Lewandowski to Spurs from Poznan for 5m won't surprise anyone who knows him. Got a great eye
---
Get £400 from your £10 bet with Sky Bet if Spurs sign Lewandowski
---
Gary Neville, April 24 (@GNev2) - @AndrewLysaght: @GNev2 Do you think BD can keep hold of their best players considering Götze's gone and the rumours about Lewandowski? No
David James, April 24 (@jamosfoundation) - What an amazing CL semi! 4 goals from 2 defensive errors and 2 shanked shots! Lewandowski's touch and finishing has been immense!
---
Click here for completely free £10 bet with Sky Bet
---