Mbia denies sending tweet
QPR midfielder Stephane Mbia has denied using Twitter to try and orchestrate a move away from the recently relegated club.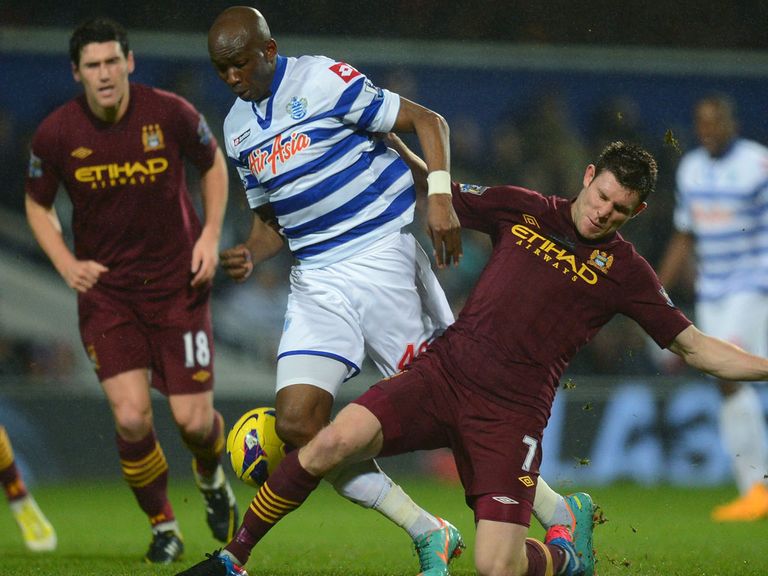 Rangers' two-year Barclays Premier League stint was brought to an end with a draw at Reading last weekend and manager Harry Redknapp has already claimed he wants to clear out a lot of the current squad and rebuild over the summer.
Mbia moved to QPR from Marseille last summer and it appeared he had contacted Joey Barton, who moved to the Ligue 1 club on loan as part of the deal, on Twitter to ask if he would like to swap clubs.
But both the player and representatives of QPR have claimed Mbia's official Twitter account had been hacked and the Cameroon international had no idea of the incriminating messages.
A public message was sent from Mbia's account to Barton, seemingly suggesting he was looking to leave Loftus Road during the summer.
It read: "So... Seriously @Joey7Barton do you want rechange your seat with me ? #qpr #om"
Ian Taylor, the club's head of media and communications, said he had spoken to Mbia and released a statement via the social networking site.
It read: "The club is aware of tweets from the official twitter account of £QPR midfielder Stephane Mbia today
"Stephane Mbia has informed the club he is not responsible for these tweets.
"The club will continue to investigate and deal with the issue internally."
Mbia also tried to clear up the matter: "I do not know how this happened," he told the Guardian.
"Someone must have got hold of my login and password because I did not write these things.
"This was not me. I did not write the tweets, and I have made people at the club aware of that.
"I saw the messages this morning and spoke with the club about them, but now I see there are more appearing in my name."
Barton, who was sent off on his last appearance for QPR and was handed a subsequent 12-game ban, has repeatedly told of how he is enjoying his time in France with Marseille and was quick to respond to Mbia's request.
"How do I answer this politically? Er...Nope #allezLOM," he replied.
"If you go down with a team, you should stay and help them up mate. They need you all to stick together and help them back."
It is the second time in a fortnight that the club have had to issue a statement regarding the behaviour of their players on social media outlets.
Two weeks ago pictures of Rangers goalkeeper Julio Cesar sporting a Chelsea shirt at the birthday party of compatriot and Blues' defender David Luiz started circulating online.
At the time, Taylor said: "The club is aware of an image of Julio Cesar circulating on social networking feeds today.
"The image, which appeared on an Instagram account, has since been deleted. The club will be dealing with this issue internally."
QPR are currently bottom of the Premier League having collected just 25 so far this season, with fixtures against Newcastle and Liverpool remaining.
Rs boss Redknapp suggested the current squad could end up fighting off back-to-back relegations rather than challenging for an immediate return to the top flight and is likely to oversee mass changes to the playing staff over the course of the summer.
Although Mbia has now denied sending the Tweets it remains to be seen if he will be one of the players who depart over the summer as he is likely to be one of the top earners at the west London club.
---
Click here for completely free £10 bet with Sky Bet
---