Maloney glad to make amends
Shaun Maloney felt he owed Wigan his last-gasp equaliser at QPR on Sunday after 'one of his poorer performances for the club'.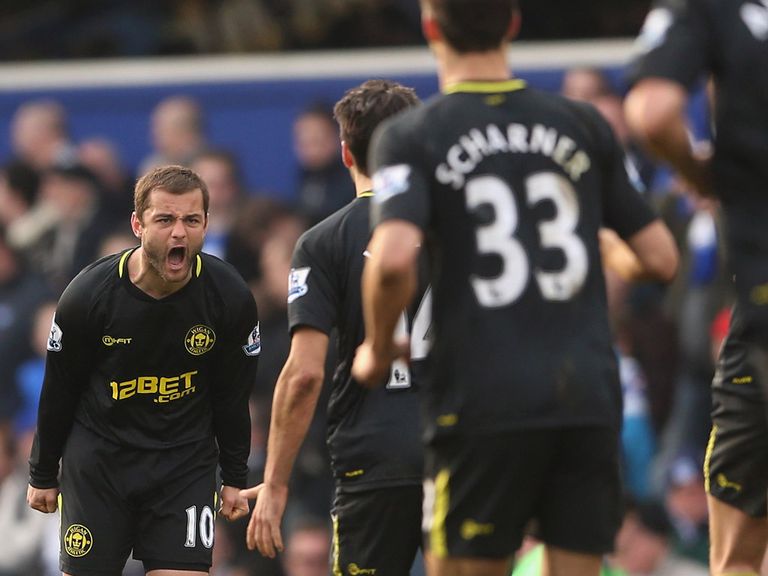 Maloney rifled home a free-kick deep into injury time for Latics after they had toiled for against 10 men for 70 minutes to secure a point that was insufficient to lift them out of the bottom three
It was his fifth goal of the season and the 30-year-old Scot was pleased to have delivered after producing what he considered to be a sub-standard display at Loftus Road.
"It was needed because it was one of my poorer performances for the club, so I needed to do something to try and rescue the match. Fortunately the free-kick went in," he said.
Maloney was hardly alone in his frustration as most of Wigan's players struggled alarmingly as they failed to take advantage of Bobby Zamora's 21st-minute dismissal for kicking Jordi Gomez in the head.
"After the game we realised that for 85 minutes or so it was a disappointing performance from us. Our manager told us that at half-time," Maloney said.
"It wasn't quite good enough from us for large parts of the game. It wasn't because of nerves.
"When they went down to 10 men they shifted into two banks of four with the loan threat up front. It probably had the opposite effect on us, we took our foot off the gas.
"We didn't want to, it's just something that spread throughout the team, particularly the forward players, myself included.
The passing and movement off the ball just wasn't good enough."
Wigan's bid to spend another season in the Premier League is interrupted on Saturday by their FA Cup semi-final against Millwall at Wembley.
Maloney hopes Sunday's disappointing afternoon against QPR will offer a reminder of what will be required against the Championship side if the Latics are to reach the final.
"It would be great if we can get back to the type of performance we showed against Norwich and Newcastle. If we do that we'll have a better chance of winning," he said.
"Millwall are in the division below so people will make us favourites. That's just something we have to embrace.
"We need to match the workrate of Millwall, which is something we didn't do against QPR. We need to improve on yesterday's performance.
"The cup is very important, but it hasn't been mentioned too much at the club until this week. It will be a big occasion.
"The main priority of our season is to stay in the Premier League, but as you get further in the cup each round becomes more important."
It was a sickening climax for QPR manager Harry Redknapp, who now has only six matches to bridge the seven-point gap to safety with three of those games to be played without the suspended Zamora.
Redknapp admits the outlook is bleak for Rangers, who deservedly went ahead through Loic Remy's 86th-minute strike.
"It's going to be hard. If we had got three points with 10 men it would have given us a massive boost and you would have thought we could still win four games," he said.
"What did Wigan do to deserve to win? They kept the ball and passed it in front of us, but what has our goalkeeper had to do?
"You have got to keep going and keep trying - what else can you do?"
---
Click here for completely free £10 bet with Sky Bet
---