McCulloch: A win for the team
Lee McCulloch has revealed how a few home truths at half-time inspired Rangers' comeback in Saturday's 3-1 win over East Stirling.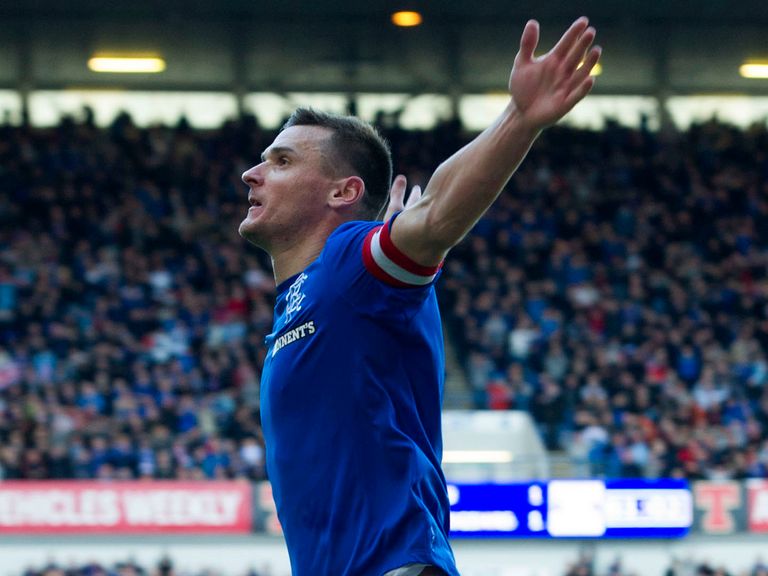 Lee McCulloch
| Title | Number |
| --- | --- |
| Appearances | 0 (0) |
| Goals | 0 |
| Assists | 0 |
| Yellows | 0 |
| Reds | 0 |
*Current Season
The Glasgow giants headed into the break at Ibrox trailing to an Andrew Stirling strike and in danger of suffering an upset as they edge closer to the Irn-Bru Third Division title.
McCulloch felt too many players were trying to steal the headlines for themselves and the skipper let his feelings be known in the dressing room.
Rangers then hit back through a McCulloch goal and a double from Andy Little to secure the points in the second half.
The Gers captain said: "In the first half it was a team of individuals but I thought in the second half we played as a team better.
"That showed in the result and the performance. The boys were having a wee go at each other at half-time, which was needed. We knew it wasn't good enough.
"After having a chat with each other, it showed in the second half, when we came out to play some good stuff at times."
He added: "I think the most important thing is team performance. In the first half, I think there were a couple of individuals trying to make the headlines with shots from the byline and stuff like that instead of playing as a team and wanting to win as a team.
"It's not an individual game and I think that annoyed a couple of people. In the second half, we played as team."
The visit of the Shire was McCulloch's first outing since early January after being sidelined with an ankle problem.
He said: "It felt great to be back. I was a bit nervous before the game.
"I was out for about seven weeks and only had two days training so I felt a bit tired with 10 minutes to go but I really enjoyed it."
The victory followed an eventful week for Rangers, which saw them found guilty of breaching Scottish Premier League rules over non-disclosure of payments to players between 2000-2011, with the oldco fined £250,000.
But they were celebrating after the independent commission ruled no sporting advantage was gained, meaning the Light Blues avoided the ultimate sanction of being stripped of up to five titles.
McCulloch says a win was important to cap an important few days for Rangers - but claimed taking a step closer to wrapping up the championship was the main motivating factor.
He said: "I'm sure it's been a good week for the fans and it's been a good week for the players and the staff and everybody.
"But the most important thing was keeping this title charge going and looking to win the league."
Shire boss John Coughlin had nothing but praise for his players despite the defeat.
He said: "I thought we were excellent.
"We knew there was a storm coming in the second half because the Rangers fans would not be happy being a goal down to the Shire.
"But I thought we enjoyed the game and passed it about well."