Anichebe - Jelavic needed a rest
Everton striker Victor Anichebe believes he has learned greatly from fellow forward Nikica Jelavic, but sees no irony in the fact he has replaced the Croatian in the team.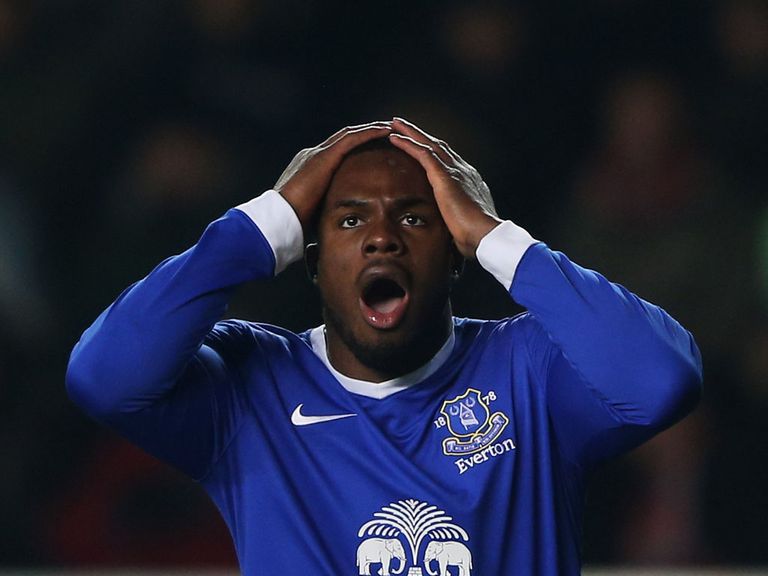 Anichebe was preferred to Jelavic for the second successive match and responded with a goal in the Toffees' last-gasp 3-3 draw at home to struggling Aston Villa.
Manager David Moyes said Anichebe has earned his place on merit - and his fifth goal in eight league starts appeared to back that up - as Jelavic has lost his way in front of goal with his last top-flight goal almost two months ago.
But Anichebe believes that is only a temporary situation and it is more important everyone plays their part as Everton bid to qualify for the Champions League.
"I wouldn't look too far into him not playing," Anichebe said. "Nikica has been unbelievable since he came to us and his record speaks for itself (18 goals in 45 appearances).
"I was injured for two months and he took the burden on his own and he has been playing on his own every game.
"There comes a time when you have to take him out because he is pretty tired but the best of him will come.
"He has been playing for a long time on his own. Now I am back it is probably good time to give him a rest.
"I talk to him all the time and some of the positions I am getting into is because of him, he has helped me get into more goalscoring positions.
"We can play together. If he doesn't play, if I don't play, it is not a big deal."
Anichebe produced the first-half equaliser to Christian Benteke's strike, but Gabriel Agbonlahor's header and then a second for Benteke put Everton under real pressure.
However, Marouane Fellaini popped up with two of his own, the first assisted by Anichebe and the second in the third minute of added time, to snatch a point.
"With the way we are pushing for fourth spot we are disappointed with the result," Anichebe added. "But to come back to 3-3 was a great team performance.
"You can see the frustration with the fans, they expect us to win all the time and it is a big burden to have but I am sure we are up for it.
"I am pleased with the goal. I seem to be able to do that skill well and the players look for me in those positions but without the pass I wouldn't have been able to score so I give credit to Kevin Mirallas as well.
"People say to me 'This is your chance, take it' but I don't look at it like that, I look at it as us all together as a team.
"We (him and Jelavic) give each other confidence and a push to do well.
"But the most important thing is the team keeps pushing and it shows how far we have come that we are so disappointed with a draw against Villa."
Moyes believes Anichebe's form is down to improved self-belief.
"I think there have been a lot of times when Victor has been questioned and maybe even our faith in him at times," he said.
"But I hope he has seen we always believed there was a really good player in there if we could get it out of him.
"He has been needing support from the crowd because for a long time I think he was probably believing they weren't behind him or didn't value him as a player and maybe some of the things he has done on the pitch you wouldn't have (done so).
"But we have tried to keep with him and work with him and he made a big contribution, scoring a goal, was a threat and was challenging high up the pitch.
"He is doing really well for us at the moment. We have brought him in and given Jela a breather and I think Victor is deservedly playing up front at the moment by how he is doing."
Aston Villa boss Paul Lambert praised his own two-goal striker Benteke, who took his Premier League tally into double figures.
"He's only 22, just turned 22. For someone who has just come into British football he's been exceptional," he said.
"I probably got criticised for signing him because he wasn't a name, no-one had heard of him, people thought 'What's Aston Villa doing signing him?' I'm pretty sure he's put that to bed.
"The frustrating thing is we didn't win having scored three goals but if we play like that we will win more games than not."
---
Click here for completely free £10 bet with Sky Bet & £5 free every week
---