Leeds land Barkley on loan
Everton teenager Ross Barkley has moved across the Pennines to join Championship club Leeds.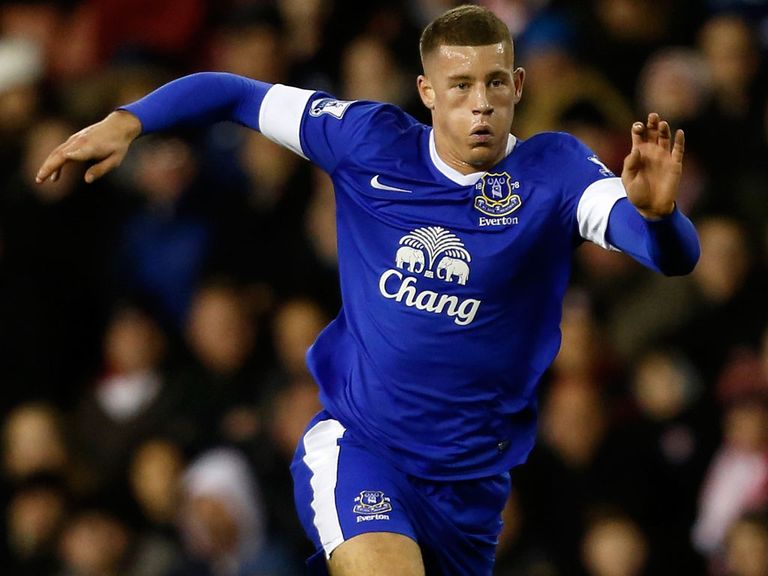 The midfielder will stay at Elland Road for one month in the hope of securing a run of first-team football.
The 19-year-old has already had a loan spell at Sheffield Wednesday this season, playing 13 times and scoring four goals.
Barkley has made just two appearances for the Toffees this current campaign both as a second-half substitute.
He could feature in Saturday's local derby at Barnsley.
Meanwhile Leeds manager Neil Warnock admits he's made enquiries about "seven or eight" new players this month.
Warnock, who has completed the permanent signing of Michael Tonge from Stoke as well as drafting in Barkley on loan, is hoping to strengthen his squad further for a concerted promotion push during the second half of the season.
The club's new owners GFH Capital confirmed money would be made available for new players this month when they completed their takeover just before Christmas and Warnock will meet with chief executive Shaun Harvey on Friday to further discuss his recruitment strategy.
Warnock said: "The squad itself is in tip-top shape, we just need that little bit which we're looking for, to bring in to give us more strength from the bench and a bit more positivity from the side areas.
"But it's a nightmare for managers this transfer window really because I've already spoken about seven or eight players and they're not for sale, no matter what the agents told me, that they were all available.
"They tell you he's available and he'll cost you this, but when I speak to the managers I find out none of them are available. So that shows you how difficult it is. That's seven or eight players on my list and not one of them is available, they're not going to let any of them go."
"Me and Shaun are having a meeting (on Friday) specifically to go through one or two things that have cropped up and that's the way forward.
"We've got to try and come up with people who are available or who we can get out for a transfer fee. We're actively looking, absolutely and waking up thinking about it as well and thinking about it last thing at night. It's a nightmare for managers.
"We're looking for another couple to mix things up, to change things and there always the most difficult ones to get."
Meanwhile Warnock is hoping to move several more first-team squad members out of Elland Road having already offloaded Andy Gray and Patrick Kisnorbo.
Defender Paul Connolly and versatile left-sided player Danny Pugh are among those who could be next to find new clubs.
Warnock said: "We've had a couple of enquiries for Connolly and one or two of the youngers lads, but there's not an awful lot left unless somebody comes in for the fringe players.
"We've had one or two enquiries about Danny Pugh. Danny is considering his options. He'd like to stay in the Championship if he could, but there's one or two clubs looking at him and there may be one or two who aren't available now, but who may become available if and when we sign one or two of our targets.
"That's the case everywhere and it usually all comes down to the last day of the transfer window.
"Andy (Gray) never got a look in really because Becchio has done so well, but I can't fault him. He's been a super pro and I said to Phil Parkinson last week that he'll do their club a lot of good.
"He's still got ties at Leeds and I think he'd like to do some coaching here with the academy at a later date and he's more than welcome. He's conducted himself excellently."
---
Click here for completely free £10 bet with Sky Bet & £5 free every week
---