Ronaldo wouldn't celebrate
Cristiano Ronaldo has claimed he will not celebrate should he score for Real Madrid against Manchester United.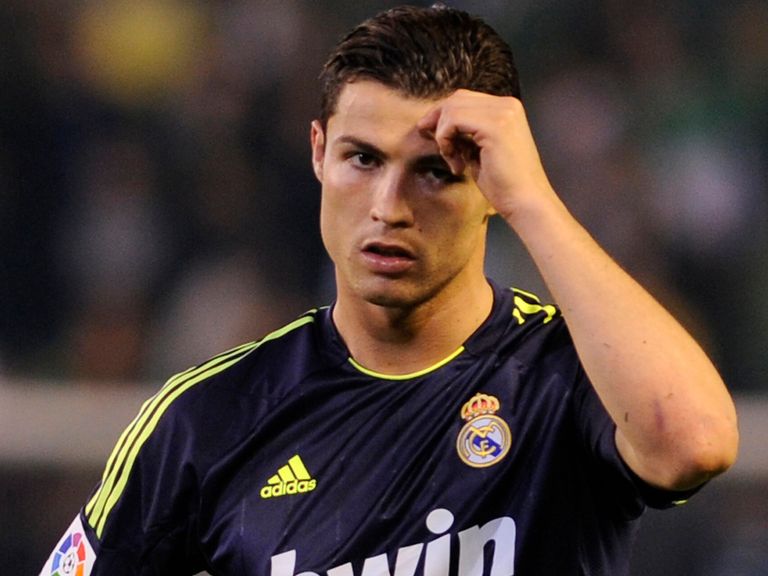 7. Cristiano Ronaldo
| Title | Number |
| --- | --- |
| Appearances | 31 (0) |
| Goals | 24 |
| Assists | 8 |
| Yellows | 5 |
| Reds | 0 |
*Current Season
The forward is set for a reunion with the club he left in 2009 in the last 16 of the Champions League next year.
Ronaldo, who spent six years at Old Trafford, winning the Premier League three times and the Champions League once, will take on his former employers at the Bernabeu on February 13 before returning to Manchester on March 5.
"If I score against United I won't celebrate," the Portugal international told Spanish newspaper AS.
"I still talk to (Sir Alex) Ferguson. I miss him a lot, like I do Manchester United. I felt very happy there, it was like a family.
"I spent six great years there and I am still friends with my former team-mates.
"It is thanks to Manchester United that I am enjoying football at Real Madrid. Without them I wouldn't have become the player I am today."
Meanwhile, Patrice Evra has told Ronaldo he needs to return "home" to Old Trafford if his talent is ever to be fully appreciated.
By the time United and Real collide next year, it is likely Ronaldo will have once again missed out on the major individual prizes.
Even at Real, it seems Ronaldo does not feel his contribution has been recognised despite scoring an incredible 170 times in 169 appearances.
It leads Evra to conclude his one-time team mate needs to rejoin United if his stellar talent is ever to receive true recognition.
"I have been in touch with him many times," Evra told MUTV. "He still loves Manchester United and misses Manchester United.
"He has done some incredible things for Real Madrid, he broke all the records, but they didn't show him the respect he deserves.
"When Ronny was here, he got the love from all the players, the manager and the fans. He is a winner. But he likes people to like him. He misses Manchester United because it was his house.
"I always say I hope he will come back because this is his home. If he wants to win the Golden Ball (Ballon d'Or) he has to come back to Manchester United."
Ronaldo won the prestigious individual award in 2008, when he contributed an incredible 42 goals to United's Champions League and Premier League double season.
Since then, Lionel Messi has dominated the individual prizes. But, whilst Evra is not dismissing Messi's ability, he is adamant Ronaldo is better.
"Ronny is an incredible player, the best in the world," he said. "He is better than Messi.
"It is not because he is my friend or that I played with him but he has everything.
"Messi is unbelievable but Ronaldo does it on his own. In Madrid he has to score the goals and create them.
"At Barcelona, Messi has Xavi and Iniesta."
Yet Evra is not worried about facing his former training ground partner.
Indeed, he quite fancies his chances.
"I hope he plays on my side," said Evra. "He knows from training what a tough defender I am. I know how to catch him.
"I know he can make the difference at any time but the emotion means it will be really difficult for him."
---
Click here for completely free £10 bet with Sky Bet & £5 free every week
---