Laudrup heaps praise on Messi
Swansea City manager Michael Laudrup has hailed Barcelona superstar Lionel Messi as a player "out of this world".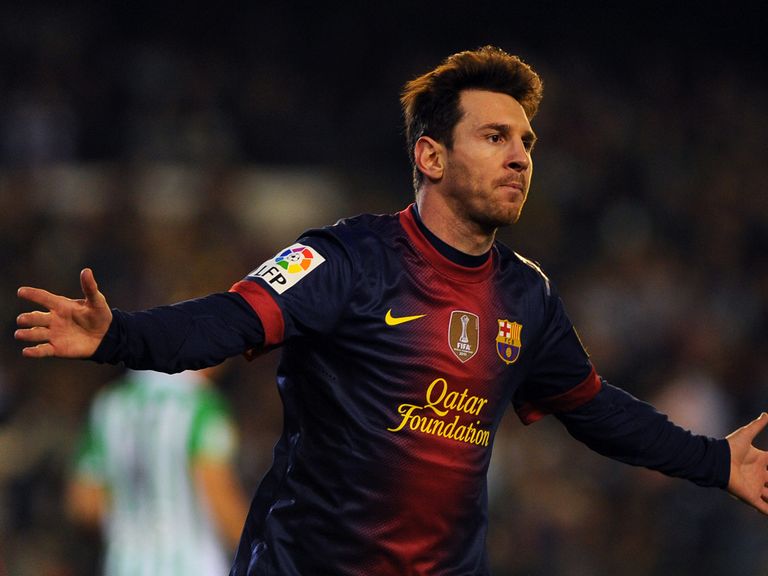 Messi recently broke German striker Gerd Muller's record of 85 goals in a calendar year that had stood for 40 years.
And Swansea City manager Laudrup, who enjoyed a glittering playing career with Barcelona, winning four successive Primera Division titles, believes Messi deserves all the accolades currently being showered on him.
"He is out of this world, a class for himself," said Laudrup.
"He is already, for me, one of the top players of all-time, and let's see if he will be maybe number one. He is up there with the greatest - Maradona, Pele and all those.
"What is so great about Messi and Barcelona is the mix they have. They can play the possession game, they are the best in the world at that.
"And they can play 10 against 11 while Messi is walking around, and then they give him the ball and he plays one against three, four or five, then he rests again.
"When you have a team that has the ball 70 or 80% of the time like Barcelona, he can rest, and then when you give him the ball he is just out of this world, scoring goals and making passes for goals."
Laudrup's team could come up against a rumoured transfer target for Barcelona, Welshman Gareth Bale, when the Swans tackle Tottenham at White Hart Lane on Sunday.
Bale is currently battling a hamstring injury and might not start the Barclays Premier League clash, but Laudrup has no doubt about his ability.
"I always prefer to see the best players on the pitch. For football, it is always good to see the best players play," he added.
"What he (Bale) has is that he's a fantastic physical player. His runs with the ball are incredible because he doesn't lose pace over a distance. He starts and he maintains it.
"With space, he is one of the best. It is not the same when there is no space, because you can't run with the ball, but even then, he is a good player."
Asked how Bale could fare at the likes of Barcelona or Real Madrid, Laudrup said: "It is very difficult to say. It is a completely different type of football.
"If you play in Barcelona or Real Madrid, you don't play on a pitch 105m x 68m, you play in the last 20-25 metres of the pitch.
"If you have seen some Barcelona games, they play 19 players in nothing, so you don't have space. You can't run.
"If he does go to Spain and play for one of the top two teams there, then that part of his play would be very difficult. It will be a different way of football, but if you have quality I think you will always adapt."
Swansea will face a side this weekend who Laudrup believes will challenge strongly for fourth spot in the Barclays Premier League, and therefore Champions League qualification.
But he is also backing his team to give a strong account of themselves after reaching the Capital One Cup semi-finals earlier this week with a 1-0 victory over Middlesbrough.
"At this moment, they (Spurs) are my favourites for the fourth position, which would be the last Champions League spot," Laudrup added.
"They have a very good squad, a really good team.
"I just hope going into the semi-final would compensate for the tiredness from Wednesday, and I hope we overcome that and the players can give another good away performance.
"We will go for it. We have confidence, and that is one of the main things in football.
"We have to be 100% focussed the whole time, otherwise we will struggle. The team will be focussed, and I am confident we will have another good performance."
---
Click here for completely free £10 bet with Sky Bet & £5 free every week
---