Whelan in contention for Stoke
Stoke boss Tony Pulis hopes Glenn Whelan will be fit enough to make his return for the Potters when they take on Sunderland this Saturday.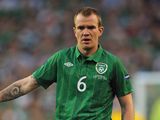 6. Glenn Whelan
| Title | Number |
| --- | --- |
| Appearances | 26 (3) |
| Goals | 0 |
| Assists | 0 |
| Yellows | 4 |
| Reds | 0 |
*Current Season
Whelan, who picked up a hamstring injury against Liverpool earlier this month, returned to training on Thursday after he missed the Republic of Ireland's World Cup qualification games and Stoke's 4-2 defeat by Manchester United last weekend.
"We will see how Glenn is between now and kick-off," Pulis said.
"He has had this injury for a couple of weeks now and we are hoping to get him back into things again.
"He has returned to training again today having not trained during the rest of the week, so we will have another look at him tomorrow and then assess what we are going to do on Saturday."
Whelan's return could mean Michael Owen might be demoted from the bench.
Owen was a substitute against former club United last weekend but Pulis denies he sees him only as a bit-part or impact player.
"Michael came on and was unlucky not to score as Robin Van Persie made a good clearance," Pulis said.
"He's got better, he's got stronger again, but it's time and we'll use Michael as we'll use Matty Etherington and Deano (Dean Whitehead) and people like that.
"Everything will be down to what we think is right for the team. It won't be down to the individual.
"The most important thing is that we get him to a level of fitness so if or when he does start he gets through it and onto the next game.
"I'm not saying he's going to be an impact player. I'm hoping he will play a big part but we have to get him fit first."
Stoke are now approaching a much more appealing run of fixtures after a tough start to the season.
The Potters have already faced Arsenal, Manchester City, Chelsea, Liverpool and Manchester United but will now embark on a less daunting-looking sequence of fixtures - Sunderland, Norwich, QPR, West Ham and Fulham.
However, despite the calibre of opposition so early in the season, Pulis thinks his side are worth more than the eight points they have on the board.
"We're disappointed we haven't picked up more points because I think our performances have been better than the return of points that we have got," Pulis said.
"But we've done very well. What we need is to get a few results now and push on from there."
The points haul might not be what Pulis had targeted before the first batch of games, but the Stoke boss revealed his other priority, alongside earning points, is evolving the style of football his side plays.
Described as "jolly green giants" by Sir Alex Ferguson for their use of height and aerial tactics, Pulis denied he pays attention to external comments as he focuses on his long-term plans to improve the Stoke side.
"It makes no difference to me," Pulis said. "Sticks and stones will break your bones but words will never hurt you.
"That's the way I was brought up so you have to respect and understand that people will have their opinions. In this country everyone has got their opinion and there are enough vehicles to use to get that across.
"What you have to do as a manager is be focussed on what you're trying to do as the person in charge of your team and your club.
"If you look at what we've done in the past seven years since we've come back it's been pretty exceptional, irrespective of what people say.
"We'll do what we have to do for the best of the football club.
"It takes time to evolve and to get better and to do that you have to get better players into your football club and better players technically.
"We've played some good stuff this year but I think we played some good stuff last year. We're evolving without a question of a doubt but we also have to get results. It's finding the balance and striking the balance."
---
Click here for a completely free £10 bet with Sky Bet
---