Agbonlahor happy at Villa
Striker Gabriel Agbonlahor insists he has no desire to leave Aston Villa and set his sights on experiencing more derby joy in Sunday's home clash with West Brom.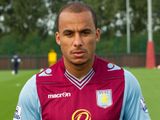 11. Gabriel Agbonlahor
| Title | Number |
| --- | --- |
| Appearances | 4 (7) |
| Goals | 0 |
| Assists | 0 |
| Yellows | 1 |
| Reds | 0 |
*Current Season
Erdington-born Agbonlahor has an impressive scoring record in clashes with Villa's local rivals since making his debut six years ago.
He has seen other big name players such as Gareth Barry, James Milner, Ashley Young and Stewart Downing quit Villa in recent seasons.
But Agbonlahor, who scored twice in the midweek Capital One Cup success over Manchester City, is content with life under Paul Lambert.
Agbonlahor said: "Will I ever leave? You can never say never, but as long as the club want me here - I've got two years and an option for another year - then I will stay.
"If the club wants to keep me and I'm happy, I will stay at the club for the rest of my career.
"You can say I haven't had a move, I haven't had this or that, but I'm happy to be at Aston Villa.
"If those players (Milner, Young, Barry, Downing) had been homegrown players, you never know what their choice would have been.
"For me even if a big club had come in for me, they would have known that I wanted to stay here. It's different for me."
Agbonlahor is often the target for rival fans in derby clashes but admits it spurs him on.
He said: "As you know, I get a lot of stick from the fans with the songs that they sing, but that doesn't bother me.
"I think when you hear the fans giving you some stick, you just want to shut them up.
"You hear a lot when you're playing, you hear fans saying that he's not the same player that he used to be.
"But, for me, that just urges me on and hopefully the performance against Manchester City will shut a few people up."
Agbonlahor has no doubts that the group of foreign players brought in by Villa this summer will appreciate the significance of the derby.
He said: "People ask whether derbies mean more to a homegrown player and you could say that.
"But, before the game, it is drilled into the players what a derby is like.
"They will have played derbies in the past for other teams so they know what it is like and what to expect."
Agbonlahor can see similarities between former Villa boss Martin O'Neill and Lambert who regards the Irishman as his mentor.
The Villa striker said: "I think you can see a lot of similarities, especially as he (Lambert) had a spell with Martin so he's obviously picked up a few things.
"You can tell what he is like on the touchline, similar to what Martin was like when he was here, jumping up and down.
"I think he is passionate about the game like Martin was. It can help, if you get that encouragement from the side especially with a lot of the younger lads.
"There are also similarities between now and the start of Martin's time at Villa. We had signings then that were young like we have made now."