Hodgson offers advice to Sterling
England boss Roy Hodgson has warned Raheem Sterling to ignore the hype and concentrate on getting into his squad on merit.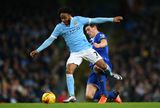 31. Raheem Sterling
| Title | Number |
| --- | --- |
| Appearances | 32 (3) |
| Goals | 6 |
| Assists | 9 |
| Yellows | 6 |
| Reds | 0 |
*Current Season
After consulting with Sterling's club boss at Liverpool, Brendan Rodgers, Hodgson drafted the 17-year-old into the squad for Tuesday night's World Cup qualifier with Ukraine at Wembley following a spate of withdrawals.
He is acutely aware of the attention that will follow given Sterling's age and the fact he has only made seven senior appearances for the Merseyside giants.
"When you bring in a young player who has only burst on to the scene in the last couple of games, I'm causing headlines to be written," said Hodgson.
"I understand and take that responsibility.
"I've spoken to Brendan Rodgers and explained the thinking behind him coming in. I'll also make it clear to Raheem.
"He will be pretty lucky to get close to the field because there were plenty of players who were chosen in front of him.
"I can only hope he takes it in the right way. He mustn't think he's become part of the set-up and has made it.
"He has to try, next time, to make sure he is one of the original 23."
Skipper Steven Gerrard has seen Sterling emerge through the youth ranks at Liverpool and has already warned the teenager off pursuing any international ambitions with Jamaica, the country of Sterling's birth.
He has no doubts the youngster will eventually become an England regular.
For now though, he is backing Hodgson's call for calm, pointing out he went through exactly the same process before the first game of his England career against Ukraine in 2000.
"I was invited to come and train with the senior group by Kevin Keegan along with Gareth Barry, to see how it all works," he said.
"It took a lot of pressure and nerves away when the step up came for real.
"It will be interesting to see how it works with Raheem.
"He is a quiet kid, who wants to learn and listen - and it won't be too long before he's a regular in this squad - he is that good, and has that talent.
"But we shouldn't build up too much expectation."
Theo Walcott's withdrawal with a virus triggered not just Sterling's call-up, but also those of Jake Livermore and Adam Lallana.
However, as Livermore won his first cap against Italy last month and Lallana, at 24, has already assumed the captaincy of Southampton, it is Sterling's selection that attracts most attention.
"It's meteoric, his rise," said Hodgson. "We're talking about a young and precocious talent."
Yet, as Gerrard offers an example of one of the obvious successes as he prepares to make his 99th appearance, others have not been so successful.
David Bentley made his England debut in 2007 at 23, having been described as having the potential to be another David Beckham by Steve McClaren.
But within a year, Bentley's international career was over and last week he was loaned out to Russian outfit FC Rostov.
"I remember him breaking on the scene as a talented winger, so that might be true," said Hodgson, when asked if Bentley had been a victim of excessive hype.
"But its not an English thing.
"When people come on the scene, it's normal they're going to excite the general public and get the attention.
"But if they're going to be real players, they'll come through it. You have to deal with the hype."
In all probability, Sterling will play no part on Tuesday therefore John Terry's absence with an ankle injury is more significant as it means either Phil Jagielka or Gary Cahill will become the only change from the side that defeated Moldova so comfortably on Friday.
The other nagging fear must be the virus that left Walcott being "violently sick" and also laid Daniel Sturridge low will claim further victims ahead of what will be a much tougher test against a side who felt they were unlucky to lose against England at Euro 2012 when they had a perfectly good goal disallowed.
"This game will be a bigger and tougher test," said Gerrard.
"If we stand off them and give them too much respect, they have players who can hurt us."