Woodgate eyes promotion at Boro
Jonathan Woodgate is refusing to dwell on missed opportunities as he targets a return to the Premier League.
The 32-year-old defender has headed back to Middlesbrough in the search for regular football after seeing a career which has taken him to some of the biggest clubs in Europe blighted by injuries.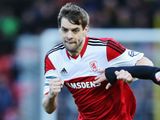 Jonathan Woodgate
| Title | Number |
| --- | --- |
| Appearances | 0 (0) |
| Goals | 0 |
| Assists | 0 |
| Yellows | 0 |
| Reds | 0 |
*Current Season
Had Woodgate, widely accepted as one of the most gifted home-grown defenders of his generation, enjoyed better fortune, he would certainly have added dozens more England caps to the eight he claimed.
However, despite the problems which sidelined him during his spells with Newcastle, Real Madrid and Tottenham, he insists he does not feel he has been robbed of his best days.
Woodgate said: "No. I have been lucky. I am a professional footballer who has played for some good teams and I am playing for Middlesbrough again, like any other young lad from Middlesbrough would want to do.
"I am lucky, that's how I look at life. I'm a professional footballer.
"What can you do about it? You have just got to get on with it and come back fighting, be resolute and show that you can play again.
"It's just one of those things, you have to cope with it mentally."
Woodgate spent the summer mulling over his options before deciding to re-join home-town club Boro, where he enjoyed a successful first spell after initially joining on loan from Real during the summer of 2006.
On that occasion, he returned to England desperate to re-ignite his career after a frustrating spell in the Spanish capital.
This time around, he believes his mission is markedly different, although his hunger for success, albeit initially on a different scale, remains undimmed.
Asked about his ambitions for the term of this three-year contract, he said: "Ambitions? Loads.
"I want to get Middlesbrough into the Premier League - that would be a great success - and I want to play as many games as I can for the club and be successful with Middlesbrough.
"It would be a massive achievement for every one of the players to get Middlesbrough back into the Premier League, where everyone wants them and where the team should be.
"It would be probably my biggest achievement."
Woodgate's comments came as he was presented to the media along with fellow signings Grant Leadbitter, Stuart Parnaby and Emanuel Ledesma.
Manager Tony Mowbray is delighted to have been able to add a player of proven quality and experience to a squad he is confident can make an even bigger push for promotion after last season's seventh-placed finish.
Mowbray said: "We all sit on a Saturday or Sunday night and watch Real Madrid play - I know I do every weekend - and to think he has been in that arena, and yet here we are.
"In footballing terms, he is still relatively young. As a central defender, I know I played my best football around the age Jonathan is, after 30 years old.
"I played until I was 37 and in that context, he has got five years left at the top, and hopefully playing in the Premier League for a good few of those years.
"We have to get over the hurdle in front of us, of course, but I am delighted and I hope the people of Teesside are delighted that Jonathan has made this commitment to come back and help his home-town club get back to the Premier League.
"Not just for, hopefully, his performances on the field, but his experience of what it takes to be a top footballer.
"Just sitting and chatting, he has played with Zinedine Zidane and the original, Brazilian Ronaldo - it puts into context the quality of players, and to hear him talk, generally the best players have been the best professionals, who come in every day and do it right.
"Hopefully he brings those sort of qualities on to our training pitch, into our dressing room, around the football club and teaches the younger players that's what it takes to be a top pro."