Buffon: England hit by strong league
Italy skipper Gianluigi Buffon has claimed the Premier League is "no longer very faithful" to the England national team.
As the Azzurri prepare to face Spain in the Euro 2012 final in Kiev on Sunday, England's players have embarked on their summer holidays, beaten once again at the quarter-final stage.
The past 48 hours have been spent debating whether 37-year-old David Beckham should be allowed a career swan song at the Olympics in Team GB.
It does seem priorities have got slightly skewed somewhere.
And Buffon, who is looking to add another major international tournament to the World Cup in won in 2006, feels the answer lies in the Premier League's desire to attract the best players in the world.
The Italy skipper buys into the theory it is the best league. Indeed, he looked set to join it at one point when Manchester City were offering him big money to make the move from Serie A.
But Buffon does not feel that is the best way forward for the national side.
"Having a competitive league doesn't necessarily mean having competitive players," he said.
"For a number of years now, the English league has had the best football and is the best league in terms of quality.
"The money that's in the game means they can go and buy anyone from all over Europe or the world.
"This can happen in Spain and Italy as well as England but the league in England is no longer very faithful to what the national side needs.
"With this footballing globalisation, it's very difficult. You struggle to have players from your own country playing in the top league."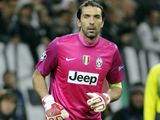 1. Gianluigi Buffon
| Title | Number |
| --- | --- |
| Appearances | 33 (0) |
| Goals | 0 |
| Assists | 0 |
| Yellows | 1 |
| Reds | 0 |
*Current Season
Yet Buffon does not write the Three Lions off completely.
Having been part of the Italy side that knocked England out of the quarter-finals on penalties last Sunday, he is acutely aware of how close Roy Hodgson's men came to going through.
It is a sadly familiar story.
England have now gone out of six competitions on penalties, including three at the quarter-final stage.
"The England national side has its own strengths and they're a lot more physical than other sides," said Buffon.
"But England aren't very lucky. They've lost on penalties in the last five or six times, so the margins between winning and losing are very thin indeed."