Bologna picked up three vital Serie A points in a relegation scrap with Palermo which included four red cards.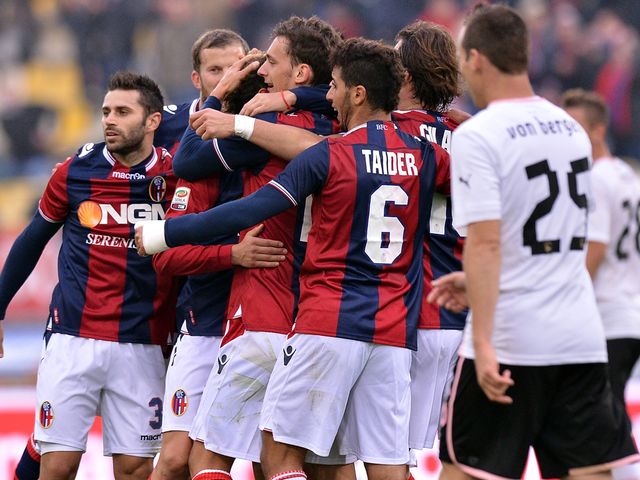 Alberto Gilardino put Stefano Pioli's side in front in the 22nd minute with Manolo Gabbiadini making it two from the penalty spot just before half time.
Another penalty scored by Alessandro Diamanti early in the second half completed the scoring, but the referee's work was only just beginning as he first sent of Samir Ujkani for giving away the spot-kick.
He was followed by Edgar Barreto, Saphir Taider and Carlos Labrin, in chronological order, with Bologna ending the game with 10 men and three points and Palermo finishing with eight and zero.
Palermo had the first two chances of the game, both from the feet of Kurtic, but his first effort was saved at the second attempt by Gianluca Curci while his second missed the target completely.
Gilardino was only inches away from latching onto a ball forward from Diamanti in the 21st minute, but he took his next chance of the game to put Bologna ahead a minute later.
He received the ball on the edge of the penalty area with his back to goal, but was able to turn and send in a shot which took a deflection on its way into the top-left corner.
Gilardino nearly made it two five minutes later, but his shot was saved by Ujkani with the rebound missed by Gabbiadini.
Pioli was forced into an early change with Curci unable to carry on due to a muscular injury, so Agliardi replaced him, but his team ensured he was not tested much by keeping the ball at the other end of the field, and scoring a second before the break.
Massimo Donati raised his hand to touch the ball inside the penalty area and the referee pointed straight to the spot with Gabbiadini stepping up to send the ball into the bottom-right corner of Ujkani's goal.
Ujkani's day was over soon after the interval when he brought down Gilardino to give away the second penalty of the afternoon, earning a red card.
Donati was sacrificed with Benussi taking his place in goal, but he could not prevent Diamanti from making it three for Bologna and effectively securing the points.
Barreto had other ideas and his shot hit the post in the 66th minute, but he then followed Ujkani into the dressing room early, picking up a second yellow card for a foul on Diamanti right in front of the referee, giving Bologna even more control of the match in the 72nd minute.
Taider spoilt the afternoon for the Rossoblu when he too picked up a second yellow card in the 78th minute to leave only 19 men on the field.
And that figure became 18 when Labrin earned a straight red card for a dangerous foul on Archimede Morleo, leaving the Sicilians with only eight men.