Post-match reaction to MK Dons' 4-0 victory over Manchester United.
Capital One Cup. Click here to bet.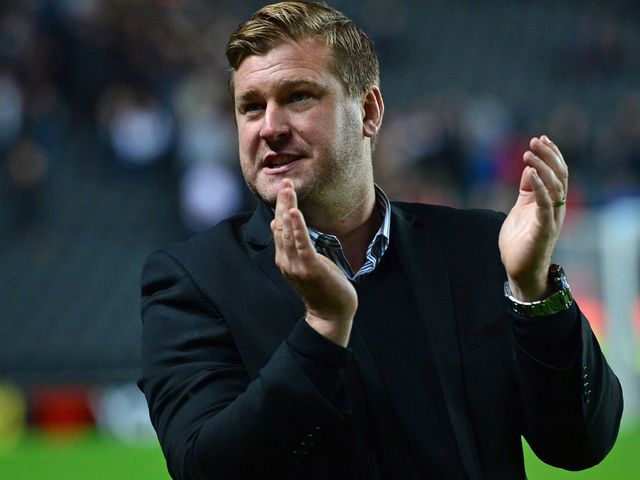 Manchester United's humiliating 4-0 defeat to MK Dons came as no surprise to Louis van Gaal, who insisted he needs time to turn things around at Old Trafford.
United suffered one of the most embarrassing defeats of their long and proud history on Tuesday night when they were knocked out of the Capital One Cup with ease.
Will Grigg and Benik Afobe scored a brace apiece to send the 20-time English champions crashing out of the competition at the home of the Sky Bet League One outfit, who were only formed 10 years ago.
It was the latest sorry episode in an increasingly worrying debut campaign for the Dutchman, who is without a win in three matches.
But with so many injuries in a squad already short of quality players, Van Gaal almost seemed to expect a drubbing.
"I am not shocked," the Manchester United manager said.
"Milton Keynes played very well, very aggressively.
"And we had nine injuries. We also had to play within 48 hours so I could not play with the same squad as on Sunday (when United drew at Sunderland)."
The main reason why Van Gaal was not surprised at his team's inept performance was because he is well aware of their defensive frailties.
United announced the £59.7million signing of Angel di Maria before kick-off, but it became clear from this performance that they desperately need defensive reinforcements.
Jonny Evans, who captained a team containing 10 changes, handed the Dons the lead when he passed straight to the opposition in his own penalty box.
And the Northern Irishman, seen as one of the most experienced members of the team, then put Michael Keane under pressure with a bad pass in the build-up to the second goal. Grigg was the man to capitalise on both occasions.
"We made errors in building up situations in the first phase, and when you make errors like that you give the match away," said Van Gaal, who admitted he played a role in the defeat by pushing for a win in the second half.
"I am a coach who always takes risks," he said. "And at half-time I changed how we played."
The defeat brought back uncomfortable memories for the United fans who recall their team's last venture into the League Cup at the second round stage in 1995, when they lost to York.
Being a fan of United's arch-rivals Liverpool, MK Dons manager Karl Robinson took particular delight in the shock win - and was surprised how easy it was.
"I am shocked," the 33-year-old said.
"If I made that many changes I would have had to play some under-16s.
"For the first 15 minutes they dominated us. They were running past us at speeds we have never seen before.
"But once the players got to grips with the game, I felt comfortable.
"Nick Powell is a player they have spent a lot of money on, he is a number of years older. Then you have Anderson and (Shinji) Kagawa, who have obviously been there and done it and a kid of 18 years of age (Dons midfielder Dele Alli) just ran past them.
"It is an evening we will never forget."
Robinson thinks the aura surrounding United, champions of Europe just three years ago, will keep diminishing with every bad result.
"It will do that," he said.
"As a young fan of Liverpool growing up I have seen the demise of Liverpool to an extent.
"People do go through periods where things don't go quite right for you."