Roy Hodgson cut a grumpy figure as he defended his England side following their drab 1-0 win over Norway, which came in front of a record low crowd.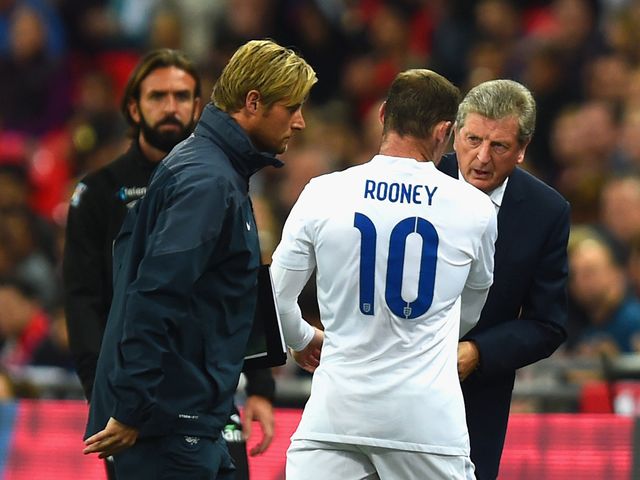 Just 40,181 turned up to the national stadium to watch England register the narrowest of wins thanks to Wayne Rooney's 69th minute penalty.
It was the lowest England crowd at the new Wembley by more than eight thousand.
Those who stayed away sent a message to the England manager - that he needed to win back their trust following a disappointing World Cup campaign.
There was little sign of a rapid recovery on Wednesday as England put in a slow-paced and inefficient display just five days ahead of their first European Championship qualifier in Switzerland.
Hodgson, who has never been a fan of statistics, was annoyed when it was put to him that his team had registered just two shots on target.
"Two shots on target? Don't give me that one," the England manager snapped.
"What about all the ones they threw themselves in front of?
"Don't hit me with statistics. When we had that much possession, and you talk about two shots on target?"
Norway goalkeeper Orjan Haskjold Nyland had nothing to do until he picked the ball out of the net following Rooney's spot-kick half-way through the second half.
His next duty was to stop a fizzing shot from Danny Welbeck, the second half substitute who injected energy and purpose into an otherwise lifeless England performance.
Hodgson was adamant his team did not perform too badly though.
"I thought the performance was quite good," he said.
"I was pleased with the first half, we probed well, put in some good movements.
"I was disappointed with the start of the second half when we didn't do anything like as well for the first 15 minutes, but then we changed things, changed the formation slightly, and finished the game strongly."
Rooney admitted his performance had been lacklustre.
"I thought I could have done better. We all could have done better," Rooney told ITV1.
"It's a night, first game after the World Cup and it was important that we got the win tonight, especially going into the game on Monday.
"In the first half we moved quite well but they made it difficult for us and sat back and created a few opprtunities in the first half.
"In the second half we started really sloppy and that was disappointing as we wanted to go out and really take the game to them.
"We got the win in the end and there are a lot of young players in this team and we will learn. They are still learning."