Mikel Arteta believes Arsenal could be about to enjoy a successful season after the Gunners breezed to a 3-0 victory over Premier League champions Manchester City in the Community Shield.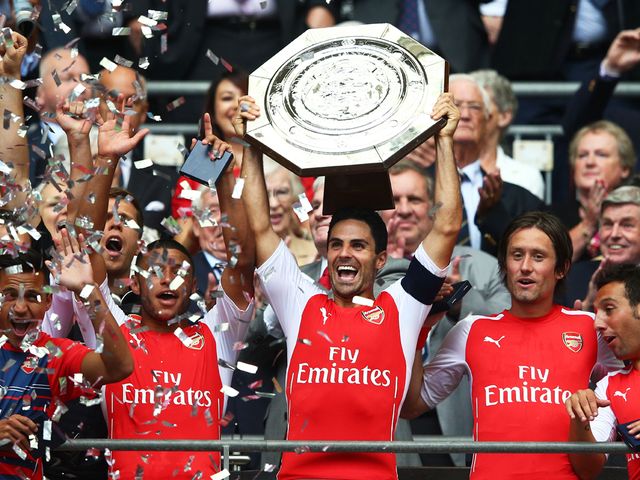 Goals from Santi Cazorla, Aaron Ramsey and Olivier Giroud meant Arsenal followed up May's FA Cup final triumph over Hull with another Wembley win to clinch the first silverware available in the 2014-15 campaign.
Spanish midfielder Arteta played alongside summer recruits Alexis Sanchez and Calum Chambers and agreed that Gunners are looking in good shape before next week's league opener against Crystal Palace.
Asked if thought the London club could challenge for further honours, he told BT Sport: "I hope so. I think we're looking very good with some very good signings so that's only going to strengthen the team.
"We worked really hard in pre-season and hopefully we're ready to start.
"When you look at the bench and all the options we have to change the game, as I said, I hope it's going to be a good season. We ended last season well with the FA Cup so hopefully we'll continue well.
"In the first half we had 20 or 25 minutes where we were outstanding and we passed the ball around very quickly and looked a threat every time.
"We've got pace up front now and it makes a big difference so we're really happy to get another trophy."
Midfielder Ramsey, who doubled Arsenal's advantage over City with a goal shortly before half-time, said the Gunners have learned how to avoid suffering repeats of last season's humbling defeats to City (6-3) and Liverpool (5-1).
"In games last season we've been guilty of conceding on and it's difficult enough to play against these teams, let along going one or two goals down in the first minutes," said the Welshman.
"It's important just to stay in the game, to stay patient and for them to open up and us to capitalise on that.
"The team has a good team spirit and we all get along really well now and everybody wants to work hard for each other.
"The thing we need to improve on is the big games, so hopefully we've learned our lesson and we can go into this season and give it a really good go."
Arsenal manager Arsene Wenger felt his side were worthy winners.
"The first half was very exciting," the Frenchman said.
"We had the complete performance in the first half. In the second half our togetherness and the third goal got us through."
Wenger was pleased with the defensive display, praising Calum Chambers, Kieran Gibbs and Mathieu Debuchy.
Chambers played at centre-back following his summer arrival from Southampton.
"He had an outstanding performance," added Wenger, who revealed Laurent Koscielny suffered an Achilles injury, the extent of which is still to be determined.
Thomas Vermaelen joined Barcelona on Saturday after being permitted to leave by Wenger "before the end of (last) season".
Wenger, who is continuing to look for another defender, added: "If I can find another one (defender) I will do it, but to find another one of that quality will not be easy.
"He (Vermaelen) had the choice between two big clubs, two massive clubs. It means these clubs have looked everywhere as well. That means it is not easy to find (a defender)."
The Belgian's last act as club captain - a status inherited by Mikel Arteta - was to lift the FA Cup in May, ending Arsenal's nine-year trophy drought.
Wenger, whose side play Crystal Palace on Saturday, said: "I would love to win one every week. Unfortunately it's not possible. Let's just win the next game.
"To win today gives us a positive platform to prepare.
"It was important for our confidence to win the game and it was even more important to have a big part in the game with quality.
"That is a comfort to me to see that we can produce the kind of quality we have produced for some long patches in the game.
"But now the Premier League starts and we have to start well at home."
Manchester City manager Manuel Pellegrini refused to offer England goalkeeper Joe Hart guarantees over his number one status after the FA Community Shield defeat to Arsenal.
Hart was an unused substitute as Willy Caballero was preferred in the Premier League champions' starting XI for the 3-0 Wembley loss to FA Cup winners Arsenal.
"All the 22 players that we have in our squad must demonstrate who is number one in all the positions," Pellegrini said.
"The goalkeeper and the other positions of the team are exactly the same.
"Joe finished last season playing very well. We'll see next Sunday which 11 starts against Newcastle (in their Premier League opener)."
Pellegrini insisted he selected players who had been available throughout the summer and that the season curtain-raiser was another opportunity to assess his squad, with a decision to be made next week on whether those back from World Cup duty can play at St James' Park.
He said: "It was not the day today to make pressure for different players. It was one game more for pre-season.
"We have seven players who have just worked for five days. They were not considered for this game.
"We have another five players who have just worked for eight or nine days.
"It's difficult to be ready in two weeks. Aguero, (Pablo) Zabaleta, (Martin) Demichelis, Kompany, (Bacary) Sagna, Fernandino just arrived seven days ago. They started working on Monday.
"They will have 15 days before we start the Premier League so we'll see during the week which of them are ready and which of them are not ready."
City had four Englishmen on the bench, but none in the starting XI.
Nationality will not come into Pellegrini's thinking during the season.
He said: "It doesn't matter if they're English players, American players, Spanish players. For me it's exactly the same.
"In every competition we play I'll play the team that I think is best to win that game."
Pellegrini was encouraged by the second-half showing after a poor first 45 minutes.
He said: "We had two different faces. First half we didn't play with the pace we did the whole pre-season and Arsenal scored two goals because we didn't defend very well.
"The second half we played well, with possession of the ball, we had chances to score. It was really near to the team that I saw in pre-season.
"It is always bad to lose, but we don't need to worry."