FIFA has announced it will investigate the Luis Suarez alleged biting incident in Uruguay's 1-0 victory over Italy.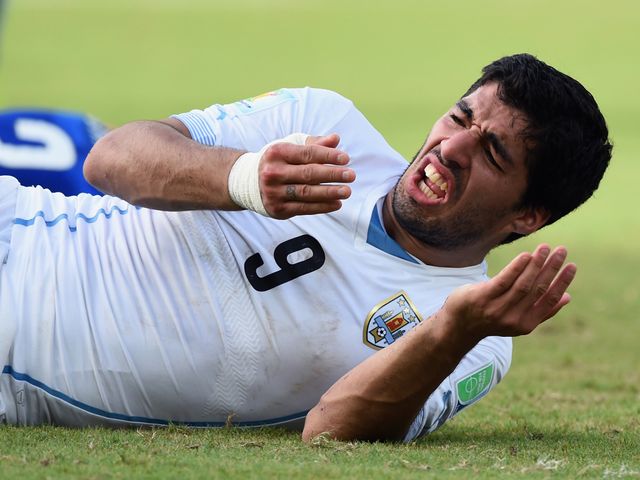 Suarez appeared to have bitten Italy's Giorgio Chiellini towards the end of Uruguay's victory.
A FIFA spokesperson told Press Association Sport: "We are awaiting the official match reports and will gather all the necessary elements in order to evaluate the matter."
FIFA's disciplinary code sets a maximum ban of 24 matches or two years, but the longest ban in World Cup history was eight games for Italy's Mauro Tassotti for breaking Spain's Luis Enrique's nose in 1994 with an elbow.
Suarez has twice been banned for biting opponents - for 10 matches in 2013 for biting Chelsea's Branislav Ivanovic and in 2010 he was given a seven-game ban while playing for Ajax for biting PSV Eindhoven's Otman Bakkal.
FIFA's disciplinary code allows action to be taken retrospectively via video evidence even if the incident has been seen by the referee.
Article 77 of FIFA's disciplinary code states the disciplinary committee is responsible for "sanctioning serious infringements which have escaped the match officials' attention" and "rectifying obvious errors in the referee's disciplinary decisions".
Italy boss Cesare Prandelli - who went on to resign - confirmed he had seen the bite marks.
He said: "I didn't see Suarez biting him but I saw the bite-marks on his shoulder but the referee's assistants were so busy they didn't see anything.
"It's a shame, it's a real shame that it turned out like this."
Chiellini said it was "ridiculous" that Suarez had not been sent off while Italy's Claudio Marchisio was for a high foot on Arevalo Rios.
Chiellini, who showed the referee the bite marks, said: "The disparity in judgement has been evident.
"Marchisio's sending off was ridiculous but more so the fact that Suarez wasn't sent off.
"There's an inclination to protect star players but the referee should have shown him a red card."
Uruguay manager Oscar Tabarez claimed that Suarez "is the target of certain sections of the press" and insisted he had not seen a replay of the incident.
"I would like to see it (a replay of the bite) first," said the manager.
"If it happened then I think the referee had to have seen it first. I didn't see the incident and I don't want anyone to speak for me about it.
"Suarez, in addition to errors that he may have made, is a target for certain sections of the media."
Tabarez faced repeated questions about Suarez's bite, but refused to criticise his star man.
"If we believe people are attacking him, as has happened in this press conference, then we're going to defend him," he said.
"He's a vital player, a very important person to the group."
Suarez said in quotes carried by the Spanish newspaper El Pais: "I was relaxed because I knew we'd have chances. And then came the goal.
"Uruguay is celebrating, we have qualified and now we are going to celebrate this moment because next we have to start thinking about our next opponents.
"The truth is that the team worked incredibly hard and we deserve it.
"After making a bad start to the group against Costa Rica, the best we deserved was this and we showed that we deserve to stay in this World Cup.
"The heat was incredible and we were worn out."