Post-match reaction to Aberdeen's 1-0 victory over St Mirren.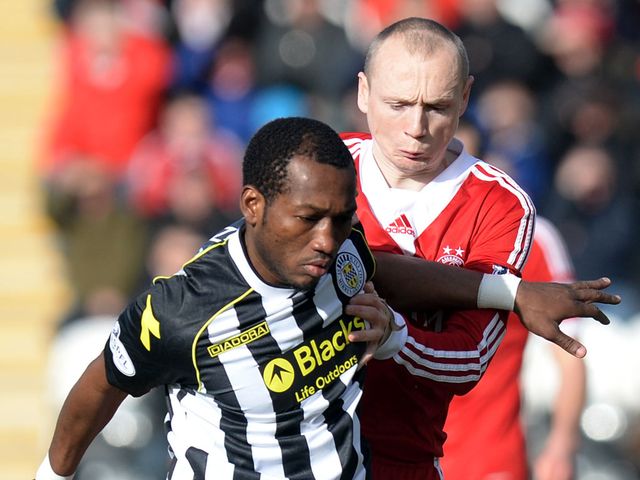 St Mirren manager Danny Lennon bemoaned his side's luck following their 1-0 home Scottish Premiership defeat at the hands of Aberdeen.
Lennon felt referee Calum Murray's decision to award the visitors a penalty with 10 minutes remaining - converted by Adam Rooney - was the wrong one, with Eric Djemba-Djemba's foul on Peter Pawlett right on the edge of the penalty box.
"Again it's another big decision that's gone against us I feel," said Lennon.
"The viewers at home will have the opportunity to debate whether it is inside or outside the box, and it's a big call from Calum with the position that he's in.
"I've only see it the once there and as I said, it feels like a decision that's gone against us."
While Lennon was hesitant to criticise the referee too harshly given that even television pictures had proved inconclusive, he was less ready to forgive Djemba-Djemba for his moment of madness in committing the challenge on Pawlett.
"I can't condone an experienced player like Eric making a challenge like that," Lennon said.
"You've got to be 99 per cent sure that you're going to take some bit of the ball when you go to ground like that, particularly at that stage and at that area of the game there.
"But that's where we are, and I certainly believe it was the right performance from us today but the wrong result.
"There were a lot of pluses for us today. I thought right throughout that we dominated and won a lot of individual battles today in terms of our character and our fight, the application and the hunger from the players, and we nullified an in-form Aberdeen side.
"It's a tough one for us today in terms of what we put in, but if we have that level of commitment and application from now until the end of the season we'll be fine."
With Aberdeen manager Derek McInnes rushing off at full-time to take in Dumbarton's match at home to Falkirk, assistant manager Tony Docherty was left to disagree with Lennon's assessment of the penalty decision.
"I've seen it again and I think it was on the line, so I think it was a decent call by the referee," said Docherty.
"I can understand maybe Danny disagrees but I've watched it back a couple of times slowed down and I thought it was right on the line.
"I think [Djemba-Djemba]'s forcing the referee to make a decision and I think he's a very good referee who handled the game extremely well today.
"It went for us today, and we've come away from a difficult venue against a very dogged team who were set up to be that way and come away with three points, so we've done our bit."
Docherty believes his squad are now adopting a winning mentality against opponents who set out to stifle them.
"We knew that if teams do that we need to have another way of winning, and I think we found that today we had another way of winning the game and that's important," Docherty said.
"I thought we showed a real mentality. It was always going to be difficult to come down here against a St Mirren team that we saw from the last time we were here would be biting and scratching and wanting to win the points.
"We knew it was going to be a difficult game and I think the term 'winning ugly' would probably come into that. I didn't think we played at our best, but sometimes when you're not at your best and you still manage to get that win that's really important from a team point of view."
---
New Sky Bet customers: Free matched bet up to £30
---