Post-match reaction the 0-0 draw between Nottingham Forest and Ipswich.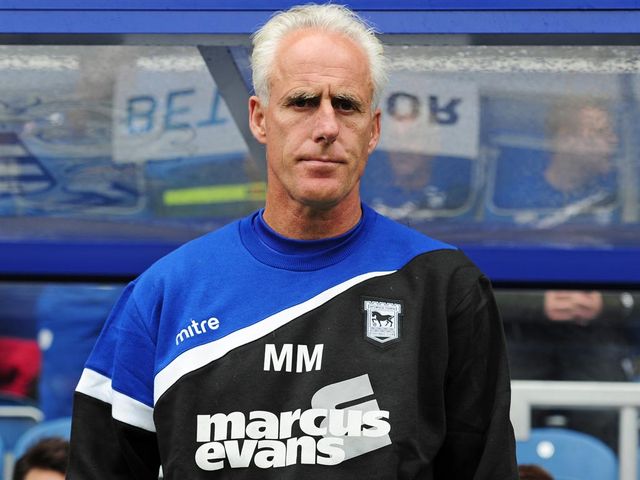 Mick McCarthy lauded referee Scott Mathieson for getting the game's vital decision right in Ipswich's goalless draw at the City Ground.
Mathieson refused to buckle under the influence of a partisan crowd and give a penalty when Nottingham Forest's Simon Cox went down in the box, allowing Ipswich to return home with a deserved point.
The home fans amid a 20,000 crowd were baying for the match official to point to the spot, after the striker had gone down as keeper Dean Gerken slid in at his feet.
It looked a clear penalty at the time but replays showed that the Forest man had begun to fall before any contact was made - and McCarthy insisted that a referee deserved rare praise.
"It was a fabulous decision. He got it right," said the Ipswich boss.
"He got the decision correct and he should be lauded for that. It is not me seeing things through rose-coloured specs.
"He will be getting dog's abuse over the decision. When I saw it, I thought it was a stonewall penalty. There are lots who would have given that decision in front of that end.
"I have seen it and it was not a penalty. I am sure Billy (Davies) and those connected with Forest will moan about it. But he was on his way down, he did not catch him.
"(Cox) was offside as well, to be quite honest, so all in all it was a good decision.
"Should (Cox) have been booked? I don't think that every foul or every time somebody goes over should be a booking. It is up to the referee. But I guess he could have been.
"He probably got away with one, just as much as we got away with one. He knocked it wide of Gerken and he pulled out of it.
"It was a great point, that is my assessment, it was a terrific away point."
Opposite number Davies, who saw his side drop out of the play-off places, refused to be drawn on the decision, saying only: "These things happen, some you get, some you don't. It is what it is."
Instead, he felt his side's failure to claim three points for a fifth consecutive home game was down to missed chances.
"We played against a side that is on fire. I thought for the majority of the game, we controlled it and 90 per cent of our play was good," he said.
"But, ultimately, football is all about chances - and you have to take your chances.
"We are creating a lot of chances. We are looking for the final piece of the jigsaw puzzle, that we will eventually get. I see the players doing it in training but, at the moment, it is just not going for them in front of goal.
"It is just that last piece of the puzzle that is letting us down at the minute. We will encourage the players, to find that missing piece of our play that will get us three points."
---
New Sky Bet customers: Free £30 matched bet
---