Post-match reaction to Southampton's 2-0 victory over Everton.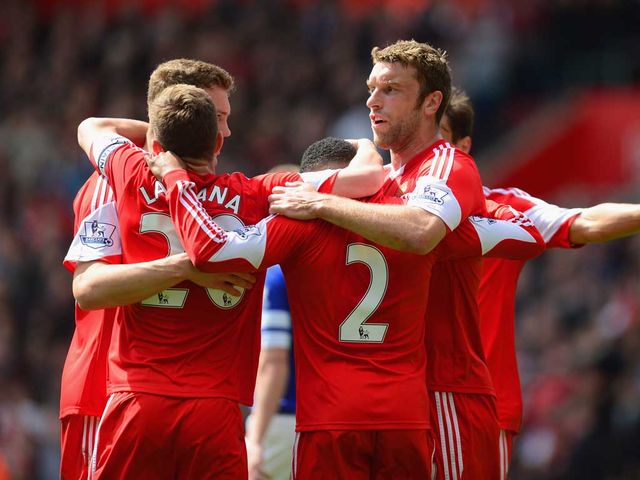 Roberto Martinez still believes Everton have a chance of sneaking into the Champions League despite falling to defeat at Southampton.
Own goals Antolin Alcaraz and Seamus Coleman proved the difference at St Mary's, where the 2-0 scoreline flattered the under-performing visitors.
The result leaves Everton's hopes of a top-four finish looking remote, with Arsenal now having the opportunity to move four points clear with victory over Newcastle.
Getting a helping hand from the side bottom of the Premier League form table on Monday looks unlikely, yet Martinez believes they can still make the top four.
"Well, obviously it's clear that you want to get as many points as you can," the Everton boss said.
"For us, that doesn't change in the same way after beating Man United last week didn't mean we were going to get into the top four.
"Eight wins or 24 points out of 30 is a phenomenal run and we're going to give everything we've got for the next six points. That's the only focus we've got before May 11 and see where it takes us."
Asked if he will be watching Monday's match at the Emirates Stadium, Martinez said: "I watch all football. It's not for any particular reason.
"I always felt that to get into the Champions League is going to take a lot of points. Anything between 72 to 75 so that doesn't change anything in terms of what we need to do.
"We need to try and win every game we have. Sixty-nine points for us with two games to go is a phenomenal return.
"The squad is not going to be affected. It is the opposite, we're going to get galvanised and ready for Saturday and facing Manchester City at Goodison.
"If you look historically, it's only once that the fourth place went for 76 points over 15 years.
"In terms of points, if we can reach around 72 to 75 points then it's a remarkable achievement."
While proud of his side's efforts over the course of the season, Martinez cut an understandably frustrated figure after the match.
The Spaniard bemoaned the timing and nature of Southampton's goals, before calling referee Michael Oliver's decision to book Leon Osman after taking a tumble over Dejan Lovren "cheap".
Martinez felt his side should have instead had a penalty, although Southampton counterpart Mauricio Pochettino felt similarly aggrieved at the officials missing four potential spot-kicks.
Still, it did not harm Saints in the end and the victory saw the club equal their best ever Premier League tally of 52 points with two matches to spare.
"I thought overall we need to congratulate the players and all the staff because we have equalled the maximum number of points this club has achieved in the Premier League and that takes an amazing achievement," Pochettino said.
"I'm just really happy for the players and everyone involved with this club.
"It's also true that we still have two games and why not try to get two more victories out of these two games. That's what we want to do.
"In the overall analysis of the season we are having a fantastic season and we are very pleased with how the season has gone."
This was a fine end to a week in which speculation over the future of Southampton's players and Pochettino led executive director Les Reed to make a statement dismissing such reports.
However, the fact captain Adam Lallana, linked heavily to Manchester United, side-stepped questions over his future after the match will no doubt add fuel to the speculation.
"I don't really think it's the right moment right now to be talking about the future," Pochettino said of Lallana's future.
"We have just won a game 2-0 and we should be talking about that.
"When we lose we spend an hour talking about how we've lost and now we've won and we want to enjoy this moment.
"I want to congratulate the players for what they've done and just overall feel joy and feel happy and feel satisfied at the victory."
Southampton boss Mauricio Pochettino was delighted after leading the club to their best ever Premier League points tally of 52."There were many positives aspects from the win today," said Pochettino, who refused to discuss the futures of highly-rated duo Adam Lallana and Luke Shaw."In the overall analysis, we just followed our style; we played in the way we know how to play, it worked for us to play a team that is fighting to get into the Champions League as well."I want to thank the players, the medical staff and overall the entire club because we matched our record in the history of the Premier League."Lallana, who has been linked with a move to Manchester United this summer, also sidestepped questions over his future with Southampton, but was pleased to get the win."I just want to concentrate on the last two games of the season and then we'll sit down in the summer and see what happens," he said."I just want to enjoy my football, that's when I'm at my happiest - when I'm playing well. Playing in a great youthful team like this, I feel like one of the experienced players nowadays."Right-back Nathaniel Clyne added: "We just went out there and attacked. We had nothing to lose, we just played our game and we enjoyed it today. We created a lot of chances and we got two goals."