Post-match reaction to Sunderland's 2-1 victory over Chelsea.
Premier League. Click here to bet.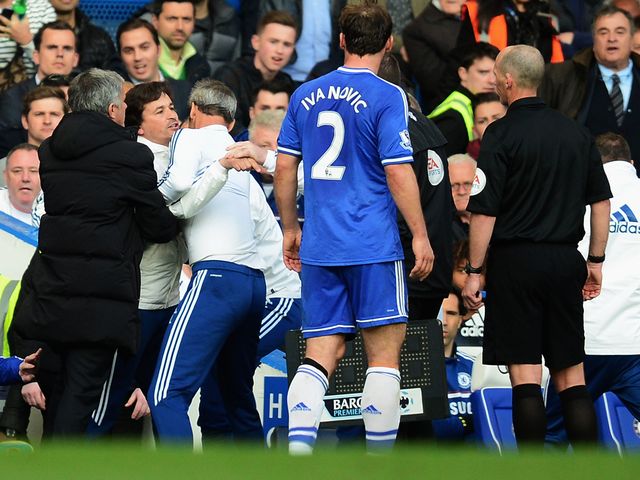 Chelsea boss Jose Mourinho fired a thinly-veiled criticism at the officials after his unbeaten home record in the Barclays Premier League was ended by Sunderland.
The Blues title bid was severely dented as Fabio Borini converted a late penalty after Cesar Azpilicueta tackled Jozy Altidore in the area.
There did appear to be contact between the players before referee Mike Dean pointed to the spot.
Mourinho, though, appeared frustrated by Dean's performance throughout, before also seemingly criticised referees' chief Mike Riley in a short and curt post-match interview with Sky Sports.
"I just want to say four things and I'm sorry because if you ask me more questions I'll repeat exactly the same thing," said Mourinho, who had not spoken at his previous three press conference following his fine for entering the pitch during a defeat at Aston Villa last month.
"Congratulations to my players because they gave what they have and what they don't have.
"Congratulations to Sunderland, because they won.
"Congratulations to Mike Dean because he made a fantastic performance and congratulations to Mike Riley, because what they did during the season was fantastic for the way the championship is going.
"Congratulations to all of them and I have nothing more to say."
Chelsea's defeat hands the league title initiative to Liverpool, who can scramble five points clear of the Blues at the top of the table with victory at Norwich on Sunday.
Chelsea assistant coach Rui Faria was dismissed by referee Dean for overzealous abuse of fourth official Philip Dowd during the second half.
Faria had to be pulled back from Dowd by Mourinho, who at one point grabbed his assistant's hair.
Chelsea's Portuguese backroom staff member was clearly incensed by the decision to award a penalty against Azpilicueta for felling Altidore.
Borini's cool finish sealed a priceless victory for the Black Cats, who retain hope of beating relegation.
Former Chelsea midfielder Poyet believes the "special" victory can inspire Sunderland to avoid the drop, admitting Borini's penalty could be the title race's "key moment".
"At five o'clock on Wednesday we were dead, then we got a point against Manchester City, now we have three here, and now we have a chance," said Poyet.
"We tend to perform against the top teams, and this is nice, and pretty special for me as well.
"If we don't stay up now it would be a shame.
"I never, ever would have expected to get a penalty here, but I think it was fair.
"I would have reacted the same [as Mourinho] if it was against my team; it could be the key moment for the title.
"But I understand, if it was against me and I lost a penalty I would be fuming for sure."
---
New Sky Bet customers: Free matched bet up to £30
---