Arsenal manager Arsene Wenger hailed Jack Wilshere as the "complete midfielder" after the England man fired the Gunners into the fourth round of the FA Cup with a superb late winner against Swansea at the Emirates Stadium.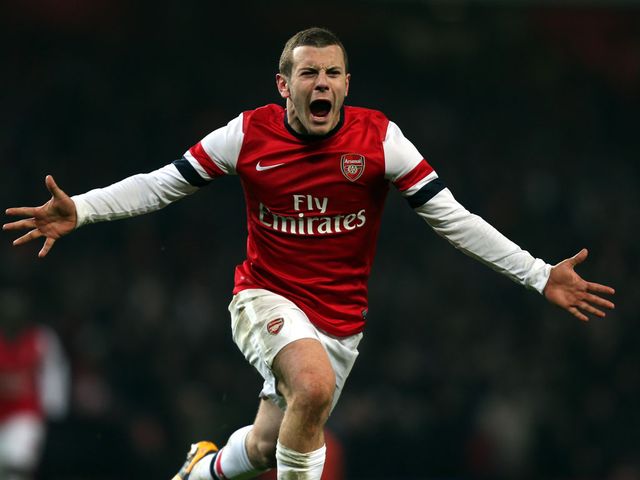 The 21-year-old - out for almost 18 months with ankle and knee injuries before returning to action this season - capped a man-of-the-match display to finally beat inspired Swansea goalkeeper Michel Vorm with a 20-yard strike on 86 minutes to set up a trip to Brighton and keep alive hopes of Arsenal's first trophy since 2005.
The Gunners were much improved from the lacklustre 2-0 Barclays Premier League defeat to Manchester City on Sunday, and but for a combination of poor finishing and brilliant defending would have had tonight's replay wrapped up well before Wilshere's fine late effort.
"Jack was outstanding tonight," Wenger said. "He played in a different position, a bit higher up and it suited him well. I didn't expect him to be this good at this stage.
"I always thought that if we could get Jack back to a reasonable level by January we will have done well, but he is ahead of what I could imagine.
"He is back to what he was before the injury, I think so, yes.
"A complete midfielder can defend and attack and Jack can also dribble and give a final ball so the closer players like him are to the goal the better it is for them.
"He has quality and enthusiasm and a love for the game, which is the most important thing for me."
With France striker Olivier Giroud returned to the starting line-up and England forward Theo Walcott switched back to the right flank, Arsenal opened up full of the kind of movement which had been lacking against City.
However, until Wilshere's goal the finishing was lacking or Arsenal were foiled by brave Swansea defending.
"It was unbelievable that we couldn't score but we got it in the end. We persevered and we were rewarded," Wenger added.
"Overall we gave a good performance and it is important that we develop like that as a team. We were dangerous everywhere."
Walcott saw several goalbound efforts blocked and also should have been given a penalty when nudged over by Chico in the second half before shooting wide.
Wenger hopes a contract extension with Walcott can be pushed through sooner rather than later and
maintains that is his focus rather than delving into the January transfer market.
"Let's first try to finish the deal with Walcott," he said. "I hope it will be soon, very, very soon now. I cannot tell you much more."
Wenger insists Arsenal must continue to battle on all fronts, as they prepare to take on Chelsea at Stamford Bridge at the weekend before a Champions League showdown with Bayern Munich next month.
He added: "I wouldn't like to think the Premier League is less important now, we have to fight to get back into a better position.
"If we were about to play the final it would be our best chance of a trophy, but we have just won one round.
"We go to Brighton next and we will play with full power, but for us there was more at stake than just the FA Cup, it was to win again after we lost such a big game on Sunday.
"We have to try to stay in as many competitions as possible."
All is not lost this season for Swansea either, with Michael Laudrup's men looking to reach the Capital One Cup final at Wembley as well as consolidate their place in the Premier League.
This clash could have been different had a first-half header from former Gunner Kyle Bartley gone in off the bar rather than bouncing away.
"We tried, we defended well, at times heroic," said Laudrup, who made six changes to his side and started with leading scorer Michu on the bench.
"They had two or three chances where you say 'It's only a matter of time when they score'.
"If they score a few minutes from the end you think it could have gone into extra-time, but they deserved the win in the end.
"I want to win every game and the players want to, but it's not possible for anyone. It's not a question of saying it doesn't matter and I am disappointed."
---
Click here for completely free £10 bet with Sky Bet & £5 free every week
---