Eden Hazard will not face criminal charges after appearing to kick a ball boy during Chelsea's Capital One Cup semi-final second leg tie at Swansea, both clubs have confirmed.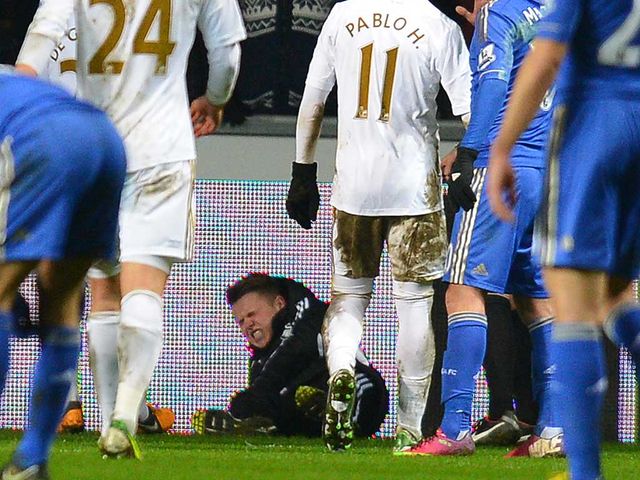 The astonishing incident, the latest to blight Chelsea's season, happened with just over 10 minutes remaining of the tie, which the Blues lost 2-0 on aggregate.
The game was goalless on the night and Hazard lost patience when the ball boy refused to hand over the ball after it had gone out of play for a goal-kick.
The ball boy fell to the ground as Hazard attempted to get the ball from him with the Blues forward then trying to kick it from under him but instead he appeared to make contact with the youngster.
Several Chelsea players went to tend to the ball boy, who was left holding his ribs, before referee Chris Foy produced a red card.
The ball boy was quickly ushered away from the tunnel area after the final whistle having been interviewed by police officers.
A Swansea spokesman confirmed no action would be taken, and that Chelsea had invited the 17-year-old, who has been a ball boy at the Liberty Stadium for six years, into their dressing room.
He said: "The police have interviewed the boy and his father and there are no charges going to be pressed, as far as they are concerned that is the matter closed.
"The ball boy has been into the Chelsea dressing room after the game and shaken hands with Eden Hazard. The likes of John Terry and Frank Lampard were exemplary in their behaviour in welcoming him into the dressing room.
"Chelsea asked if he could come in and our kit lady took him in and they shook hands, he is fine.
"As far as we are concerned the matter is closed. He has been a ball boy here for six years with no incidents here at the stadium."
Chelsea manager Rafael Benitez said that Hazard's actions would be dealt with internally by the club, but it is another blow to the London club's reputation in a season already including the John Terry racism scandal, the Mark Clattenburg affair and the unpopular sacking of Roberto Di Matteo.
He said: "The ball boy has been in the dressing room talking with Hazard and they have apologised to each other. They know they were wrong, that's it.
"He was wasting time, Hazard was frustrated, he wanted to get the ball back quickly so they have both made a mistake and we cannot say too much.
"We will deal with this internally. We will analyse and wait to see if there is any action from the FA."
But Benitez reacted angrily when he was accused of attempting to condone Hazard's actions.
"I do not know what you expect from me," he said. "Do you think we are not disappointed with the situation, that we do not regret what happened? Do you think they have not apologised? They have done it so what can we do now? Do you want to change things? We cannot.
"The player spoke to the boy and he said sorry because it was a mistake so what else would you expect? We know it was a mistake but we talked with the player and the boy so what do you expect?
"The boy was with us in the dressing room and everybody was clear and we know there was a mistake.
"I think the police will do nothing."
A Chelsea spokesman added: "The boy was asked and he told the police he was not going to press any charges."
Chelsea also apologised for a tweet issued on their official Twitter site following the incident.
It read: "Has football gone mad? Hazard is sent off for kicking the ball under a ball boy attempting to smother the ball rather than return it,"
They soon apologised, tweeting: "Apologies for earlier ballboy tweet. Hazard has now met with the ballboy and has said sorry. #CFC"
Swansea would not confirm the identity of the ball boy but Press Association Sport understands he is Charley Morgan, the son of Swansea director Martin Morgan.
He had posted on his Twitter account just hours before the game: "The king of all ball boys is back making his final appearance #needed #for #timewasting".
And he appeared to suggest he had only been asked to work at the game due to the heavy snow in south Wales preventing someone else getting there.
"Haven't been doing it this season been ask to come back to run them because the person can't come in cos of the snow #manager", his tweet read.
The incident completely overshadowed Swansea's achievement of reaching a major cup final for the first time in their history, as they go on to face npower League Two side Bradford at Wembley.
Manager Michael Laudrup admitted he had never seen anything like Hazard's sending-off throughout his lengthy playing and managerial career, but refused to criticise the 21-year-old.
He said: "Obviously I know that will take some headlines but I just want to say with a situation like that you have to try and understand what is going through the head of the one committing the offence.
"I was a player, so I can understand when you are frustrated and your pulse is high and you just want the ball, and in this case there is a ball boy who keeps the ball.
"Up to a certain point I can understand it but there are certain things you can never do, you can never kick another person but I am sure when he (Hazard) sees those images he will regret it.
"We now have to leave it to the player and see his reaction when he calms down and sees it.
"I don't think any of us would disagree that it was a huge mistake but let's hear from the main person."
But the Dane praised his side for creating history.
"To be in a final for the first time is fantastic," he said. "If you add that we have beaten the European champions over two legs then it is incredible.
"There were times when they have dominated but that's what you expect, they had chances but the way we started gave me the belief we would do it."
---
Click here for completely free £10 bet with Sky Bet & £5 free every week
---