Bradford manager Phil Parkinson believes his players will go down in history in the same way as the club's 1911 FA Cup-winning side after they reached the Capital One Cup final.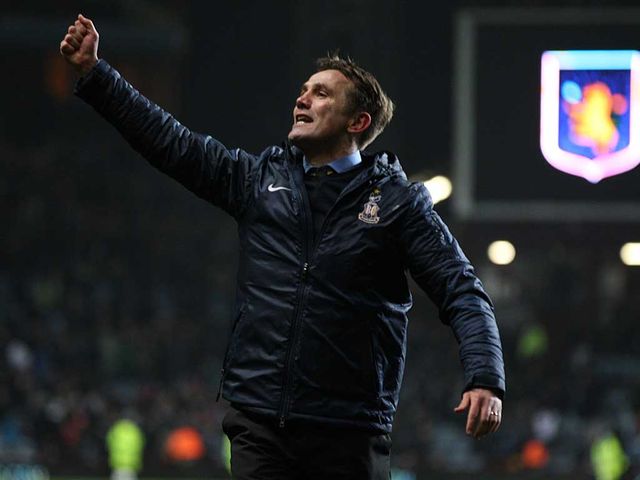 The npower League Two outfit overcame Barclays Premier League side Aston Villa 4-3 on aggregate despite losing the second leg 2-1 at Villa Park.
Former shelf-stacker James Hanson scored the decisive second-leg goal to set up a final meeting with either Swansea or Chelsea. Christian Benteke and Andreas Weimann netted for Villa.
Parkinson said: "We said to the lads before that there was a chance to make history but, while we knew that, we had to focus on the key elements in the game to get us there.
"I felt we certainly did that in the second half. These lads will be remembered in the history of Bradford City for years to come.
"There's a 1911 lounge at the club to celebrate the cup victory of that year. Well, in years to come, there will be a lounge named after this cup run and these players because of what they've achieved."
Bradford have twice gone into administration since being relegated from the Premier League more than a decade ago.
Hanson is the only player at the club to have cost a transfer fee - £7,500 when he moved from Guiseley three seasons ago.
But Parkinson is confident the current cup run, in which Bradford have also knocked out Wigan and Arsenal, will help to make the Bantams financially secure for the foreseeable future.
He said: "Financially, the money we have earned up until this point has been fantastic.
"But to go to Wembley is going to keep the club going for quite a while, I imagine. For the city of Bradford, it's massive and I really feel that this can galvanise the area.
"Our supporters have stuck with the club through some really tough times. Over the last 10 years there hasn't been a great deal to cheer about being a Bradford City supporter.
"I'm so pleased tonight that we've given them something so they can go into work tomorrow and hold their heads up high and be proud of the club."
Parkinson admitted: "This has been the highlight of my career. It's got to be, to take the club to a Wembley final.
"A lot of players, a lot of managers, never get this opportunity to be in a semi-final. To take a team from League Two to Wembley is a dream and we are going to savour every minute."
Hanson defied a broken toe to score the winner.
Parkinson said: "He hasn't trained for 10 days. He's had a crack in the bone in his toe. He trained yesterday for the first time, he had an injection five or 10 minutes before kick-off.
"He's a very unselfish player and I'm so pleased for him that he gets the headlines. It shows what can be done."
Hanson said on Sky Sports 1: "I can't believe it, it really hasn't sunk in yet.
"The lads dug in in the first half and I thought we were going to have our backs to the wall tonight.
"But we were actually pretty comfortable in the second half and we held on well."
Bradford goalkeeper Matt Duke will realise a "dream" of playing at Wembley.
"I'm speechless. The lads had a fantastic game tonight and the fans as well, it'll be a great day at Wembley for them," he said.
"Everyone had a great game. At 3-1 up, if we scored we fancied out chances and we fancied ourselves from set-pieces.
"As a kid playing football, you dream of Wembley and we're going to do it.
"We're going to take a League Two club to Wembley, we're going to take a massive following, it's going to be an amazing day and I'm looking forward to it."
Duke was still struggling to comprehend Bradford's efforts as they became the first club from the lowest tier of English football to reach the League Cup final since Rochdale in 1962.
"I've still got to believe it. When we scored we had a chance," he added.
"You could smell it in the dressing room before, could smell the chance.
"Full credit to the manager, the staff and everybody at the club.
"The fans came out in numbers to support us - it's fantastic."
Villa manager Paul Lambert admitted his side had thrown away a golden chance to reach Wembley.
He said: "I am absolutely gutted, disappointed, hurt, everything.
"Everyone is hurt. You will never have a better chance to get to a cup final throughout your whole career, even the young lads.
"It may take them 10 or 12 years to get even close to one again. That's the hurt.
"I am every bit as hurt as what the fans are. It's my responsibility. I know exactly what it's like and I know exactly what they're feeling because I am feeling the exact same."
Bradford fans chanted 'you're getting sacked in the morning' but Lambert is adamant he remains the right man for the job of rebuilding Villa.
He said: "Am I still the man for Villa? Yes, absolutely. When you ask managers that, they will tell you they just get on with it. Until you hear anything different you have to run with it.
"There are two ways - you either lie down and take it or you come out fighting. I am certainly not going to lie down."
Lambert was reluctant to talk about the need to bring in new players before the transfer window closes.
He said: "I will talk about the game. I don't want to talk about January or players coming in. I know the situation of it. I know what's happening."
---
Click here for completely free £10 bet with Sky Bet & £5 free every week
---