Sheffield Wednesday manager Dave Jones has called for Leeds fans to be banned from "every away ground" after trouble marred Friday night's Yorkshire derby at Hillsborough.
Championship. Click here to bet.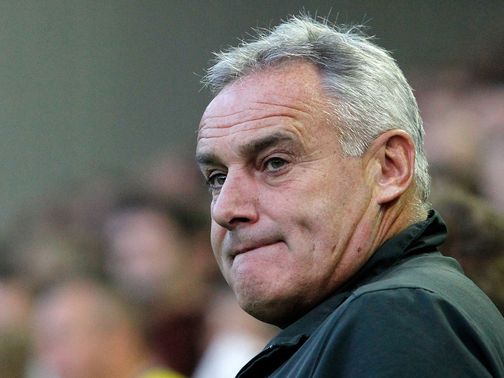 Jones' goalkeeper, Chris Kirkland, appeared to be punched by a Leeds fan who entered the field in the wake of Michael Tonge's 77th-minute equaliser, while unsavoury chanting also marred the night.
A large number of the Leeds fans housed in the Leppings Lane End sang about the child abuse charged which were dropped against Jones in, while former broadcaster Sir Jimmy Savile, now the subject of a similar police investigation, seemed to be heralded in song.
The Wednesday fans also stoked things up with songs about the two Leeds fans killed in Turkey in April 2000, with the Leeds supporters responding by throwing bottles onto the field and clashing with police.
"They are vile animals," Jones said. "You talk about racism, the chanting, that's a form of racism. And then (for the Leeds players) to go and wave at them... not in my book. You don't wave at them after that.
"I thought it had gone out of our game. The authorities have to look at it and sort it. I'm talking about an incident when we should be talking about the football. We're talking about vile animals. That's what they are. We talk about racism, but that, we need to sort that."
Leeds issued a statement after the game pledging to hunt down the man involved in the Kirkland incident.
It read: "Leeds United Football Club would like to publicly apologise and condemn the action of the fan who came on the pitch and attacked Sheffield Wednesday goalkeeper Chris Kirkland. The club will fully co-operate with the police and the football authorities in identifying the individual concerned.
"After the week football has endured there is no place for this type of behaviour and the majority of Leeds supporters will be ashamed of his actions."
Kirkland carried on after receiving treatment, with Jones adding: "He's sore. If he'd have stayed down, I wonder what would have happened. I have an ill goalkeeper. They should be punished."
Jones went on to criticise opposite number Neil Warnock for allowing his players to clap the fans at the end of a game which finished 1-1, adding: "We talk about morals and they go and wave at them..."
Refusing to accept just one Leeds fan had been in the wrong, regarding the chants which rang out midway through the first half, Jones said: "It wasn't just one chanting. That was from their area too. I've had it for 12 years. It's just upsetting that they're allowed to do it. They should be banned from every away ground."
Warnock called for Kirkland's assailant to be given a prison sentence as he described the events at Hillsborough as "an absolute disgrace".
The former Sheffield United boss told Sky Sports 1: "I felt embarrassed to be a manager when I saw that.
"I thought it was an absolute disgrace.
"I think they should get the guy and prosecute him and put him in prison.
"He (Kirkland) went down like a ton of bricks but that doesn't make a difference. Nobody should be on the pitch doing that.
"I hope we can make an absolute issue of it.
"He spoiled everything for everyone. I've not enjoyed that when I see a moron like that.
"I am not proud of being Leeds manager when I see that. I don't mind the rivalry between us - there was a great atmosphere.
"To see things like that on the field of play there is no place for it - I am absolutely embarrassed."
Warnock added: "They had a enough security.
"If they have got a person like him with a five-year-old mentality they can't stop that. Sheffield Wednesday can't do anything about. It just gives them more opportunity to have a go.
"Dave (Jones, Wednesday manager) was saying we shouldn't thank the crowd but our crowd were fantastic but we've got one moron and I can't tolerate that.
"I've not seen anything like that since my mate Paul Evans got something thrown at him at Burton Albion in an FA Cup game many, many years ago.
"All of them apart from one moron were excellent tonight."
In his initial comments given to Sky Sports after the match, Warnock had said he felt Kirkland had gone down too easily, but in his post-match press conference, he stood by his club's statement and called on the culprit to be jailed.
"It's just so sad and disappointing. If anything it stopped us winning the game. I thought at 1-1 we would get in the driving seat and that made everyone... for one moron," he said.
"The club has made a statement and I'm pleased, we don't condone that. I hope the authorities and constabulary take the appropriate action."
Having sensed a tense atmosphere in the first half, Warnock also claimed to have asked police if they wanted him to address Leeds' fans in order to calm tempers.
"There were some early on, they (the fans) went towards each other, the police said they didn't think it would be right. It looked to me.... I was disappointed in certain aspects of being manager tonight when things like that happen," he said.
"I did say to the police, in the first half, did they want me to go over and calm them down but they said that might inflame it even more."
He did not agree with Jones' assessment that he was in the wrong to send his players to clap the travelling fans, though.
He said: "I disagree, Dave is disappointed with not winning the game. I understand his feelings being a manager, it's a pressure game, he felt they could have won it.
"Leeds United coming was the best thing that could have happened to him, if it was a lesser team coming, on the run that they're on, it would have been very difficult, but the crowd lifted them."
---
Click here for a completely free £10 bet with Sky Bet
---