A case of mistaken identity was at the heart of referee Mick Russell's failure to send off Sheffield Wednesday's Jeremy Helan in their derby with Huddersfield, Press Association Sport understands.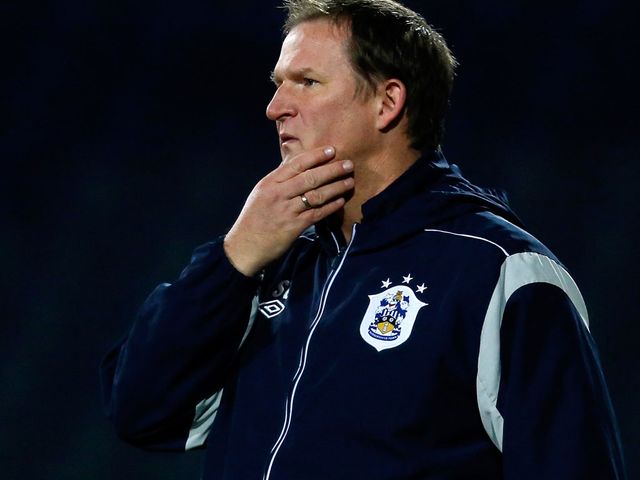 Huddersfield manager Simon Grayson described Russell's blunder in not sending off the midfielder, despite showing him two yellow cards, as "staggering", and called on the Football Association to introduce post-match press conferences for officials.
Helan was shown a first card for diving in the ninth minute and was then given a second for a 26th-minute foul on Adam Hammill.
However, Press Association Sport understands Russell had intended to book Helan's team-mate Michail Antonio for the initial offence, something which will be reflected in his report.
Grayson also fell foul of the confusion, believing the erroneous card was the second one and not the first.
"I think he's probably written the wrong number down in his book, which is staggering, and I also think he should have been helped by his officials, who should be overruling because they all know, when a referee makes a mistake like that, who he's booking," he said.
"The linesman should be helping out. He's not done it deliberately, but you can't make major mistakes like that.
"He's put (Michail) Antonio's number in his book, but he was nowhere near the incident. I don't mind referee's making big mistakes in terms of tackles and sendings off, but something quite simple like that shouldn't be happening in Championship football."
It was later announced on Saturday evening that Professional Game Match Officials Limited (PGMOL) will conduct an investigation.
A statement from the PGMOL read: "Both Professional Game Match Officials Limited and The FA are to conduct an investigation into an incident that took place in the Huddersfield Town v Sheffield Wednesday game in the npower Championship on Saturday.
"In the eighth minute of the match Mick Russell, the referee, stopped play when Jeremy Helan was adjudged to have simulated an offence inside the Huddersfield penalty area.
"However, it appears that instead of Helan (number 24) receiving a caution, one was given instead for Michail Antonio (number 7).
"At this point the referee recorded the name and number of Antonio in his notebook and advised the fourth official over the communication system that Antonio, number seven, had been cautioned.
"In the 25th minute Helan was cautioned following a foul challenge. As the referee had not previously recorded his name he did not issue a red card for receiving a second caution in the same game.
"The official has subsequently admitted making a genuine error and PGMOL and the FA need to determine why this arose and what sanction, if any, should be administered to the match officials."
Amid the chaos, though, it appeared Town defender Anthony Gerrard understood what had happened.
Gerrard told Press Association Sport: "I didn't really notice to be honest. I thought he had booked two different players.
"I thought the first booking for the dive in the box was (Michail) Antonio and the second one was Helan, so I didn't concern myself with it. If he did make a mistake, so be it, it's just one of those things that can happen in football."
Wednesday manager Dave Jones had also got lost in the mess, believing Helan and not Antonio had been booked for diving.
"I don't know about a first booking, it was a penalty. That's the controversy," he said.
"Helan has been clipped and he's not the type of lad to do that (dive). I think we should have won the game, that's what I'm perplexed about.
"We should have had a penalty and we had the chance towards the end with (Mamady) Sidibe's header."
Grayson admitted that having a man advantage would not have made his side certain winners, but asked for referees to explain their actions in future.
"I'm not going to say Wednesday going down to 10 men would have guaranteed us winning the game, but it would have certainly helped us and what if the lad had gone on to score or created the winning goal?" he said.
"It would have been a massive talking point, which it is already.
"I just think referees in general should be accountable for any decisions and have a press conference after the game, whether good decisions or bad decisions.
"It shouldn't be up to myself or Dave Jones to explain, they should be out and you (the media) should be able to ask questions as to why he made certain decisions.
"I've not seen Dave, but I'm sure if it was the other way round he wouldn't have been so calm and as placid on the touchline as he was."
English referee Graham Poll famously booked Croatia defender Josip Simunic three times before showing a red card during their 2006 World Cup fixture against Australia.
Following that error FIFA president Sepp Blatter indicated Australia could have demanded a replay had they lost and been knocked out.
---
Click here for completely free £10 bet with Sky Bet & £5 free every week
---