Hull manager Steve Bruce is determined to get justice for his son Alex after his side's routine 2-0 win over Huddersfield ended in controversy.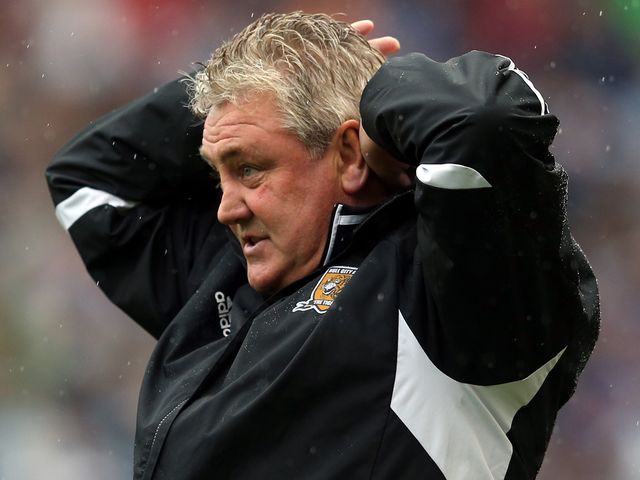 The Tigers defender was sent off after the full-time whistle when he shoved Terriers striker Alan Lee in retaliation to an off-the-ball incident and a melee ensued on the pitch and in the tunnel.
Bruce senior is determined for the right person to be punished, though, and brought a DVD of the incident into the post-match press conference to show reporters footage of Lee clearly offering a forearm smash into the face of his son.
"We are appealing his red, you can understand why," Bruce said. "I knew there must have been something in it for him to react like that.
"I thought it was cowardly by Alan Lee, I thought more of him, I have had a pint of Guinness with him, I have played his guitar and I thought more of him.
"Cheat is the right word for him, I don't use that lightly but that's the right word for him. He's 15-and-a-half stone and he went down like that.
"That has ruined the afternoon, we had the best referee in country in Howard Webb and I have spoken to him. He will report it and hopefully there is some justice.
"Alex is wrong with his retaliation, but he only pushes him in the chest. He's my son but he takes after his mother."
Before that unsavoury incident the Tigers had cruised to a third successive win on the bounce courtesy of Robert Koren's eighth-minute strike and an injury-time second from David Meyler, though the win could have been even more convincing.
"It was an excellent performance and we were the better team by a million miles. Our only Achilles heel is our conversion of chances that we create," the former Sunderland boss added.
Huddersfield boss Simon Grayson admitted Lee deserves punishing if found to have done something wrong.
"I didn't see what Alan has done, but if he has done something he will probably get punished," he said. "I don't know what will happen, but he deserves punishing if he's shown to have done something.
"But it was a stupid way to end the game from both sets of players."
The defeat represents a sixth game in a row without a win for Town and they rarely looked like scoring in a below-par performance as despite having plenty of possession throughout the game, they did little with it.
And Grayson was disappointed with his side's showing.
"It is disappointing because we did a lot of work on trying to match Hull and the way they played and inside eight minutes we were a goal down to something that we had worked to prevent," he said.
"We tried to change formation and get something out of the game, but it was disappointing that we didn't create too many opportunities and when you look back (Hull goalkeeper) David Stockdale has not had too much to do.
"Hull are a good team, we knew that by watching the DVDs. We tried to match them up, but we didn't do to them what they did to us and that was pass and move it. They have got some confidence after some good results.
"It will take hard work to get out of this run.
"We will just have to work hard on the training pitch. We have got a lot of belief and confidence the players have got what it takes to go on a run at the other end of the table and that we can compete in those reaches again."
---
Click here for completely free £10 bet with Sky Bet & £5 free every week
---