Blackburn manager Michael Appleton said the winning goal should be credited to Jordan Rhodes after watching his side beat Ipswich 1-0, their third successive win in all competitions.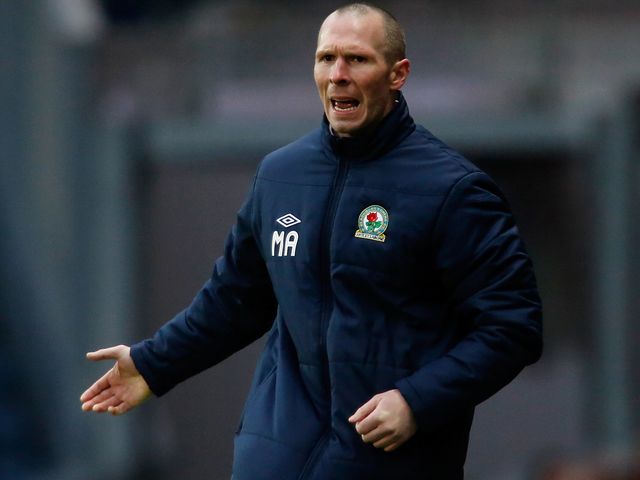 The goal came after 58 minutes when Danny Murphy's corner was prodded goalwards by Grant Hanley. The ball was cleared by Aaron Cresswell and ricocheted in off unfortunate keeper Stephen Henderson, with the goal given as an own goal by the latter.
But Appleton said Rhodes got a touch before Cresswell cleared, and that the ball was over the line.
"He had the last touch on the ball before Cresswell tried to clear it and it's one of them," Appleton said.
"If you've got Hawk-Eye, it would be able to tell us if it was over the line or not from the clearance but it's difficult to tell when you look back on the DVD. But like I say, the last touch came from Jordan as it was heading towards the goal so I'm sure he'll get the reward."
The former Ipswich striker was off the pitch in the first half after a clash with Tommy Smith left him with a bloody nose and Appleton said: "He broke his nose in the first half but if you're a professional footballer and have not broken your nose once there's something wrong.
"When he was off the field, it gave them a bit of impetus in the game and it took 10 minutes for us to regain our composure."
Were the goal to be reallocated to Rhodes it would mean he had scored in seven consecutive league games, equalling a club record set by Eddie Quigley in the 1954-55 season.
After successive wins and clean sheets in the league, Rovers are just four points off a play-off place but Appleton insists that is not in his thoughts just yet.
He said: "We're not concerned about it at the minute. If with six games to go, we're in and around it, maybe I'll allow myself to think we've got half a chance."
Town boss Mick McCarthy described the defeat as 'galling' but was pleased with his side's performance, despite it being their second consecutive away defeat.
"I thought second half we were the better team until they scored, and goals change games and performances," McCarthy said.
"To concede the way we did was pretty galling. From a corner kick, we didn't mark properly and Hendo gets an own goal.
"We had to throw caution to the wind and I thought we had good chances towards the end to get something.
"I was pleased overall with our performance, to be honest with you. I can't ask for any more effort, it's just when you get the chances to put one away.
"I've said all along since I walked in that it'll go right to the end. It'll take 50 points to stay in the league and everybody's scrapping for them.
"We've had our good run or we wouldn't be above the bottom three. It's a matter of starting again next Saturday."
A quiet first half had only two chances of note - Markus Olsson headed brother Martin's cross onto the roof of the net and a Luke Hyam volley whistled just wide for Ipswich.
The first chance of the second half produced the debated winner after Hanley's shot was cleared by Cresswell onto his own goalkeeper, but Rhodes wheeled away claiming it.
Appleton's men went close again after 72 minutes, when Martin Olsson delivered a testing left-wing cross to Rhodes but his flicked header drifted past the far post.
Substitute DJ Campbell produced a wonderful swivel and volley to put the ball in Rhodes' path and his shot produced a terrific fingertip save from Henderson.
Ipswich almost drew level in the final minute when Anthony Wordsworth headed into the path of Guirane N'Daw 20 yards out. He unleashed a sweetly struck volley that drifted just past the post.
Rhodes and Ipswich's Richard Stearman both had great chances in injury time, but both directed headers wide.