Brighton manager Gus Poyet admitted he could barely believe his luck after escaping from Blackpool with a point thanks to a scrappy Ashley Barnes goal.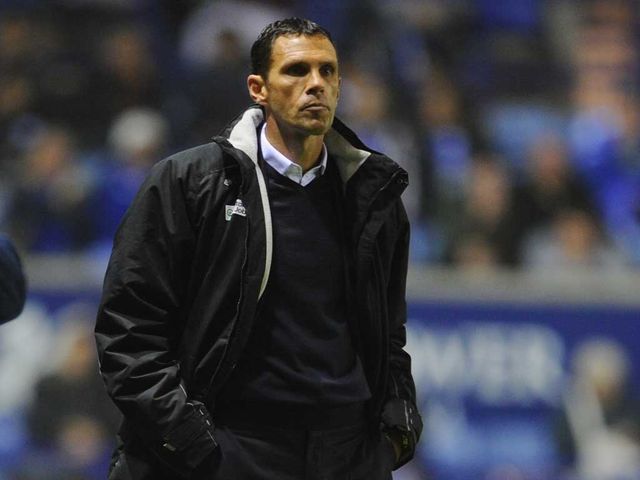 Blackpool dominated the contest but fell behind when Barnes poked home from inside the six yard after on 56 minutes.
The Seasiders laid siege to the Brighton goal and eventually got themselves back level after 72 minutes through Elliot Grandin but failed to find a winner.
Matt Phillips, Alex Baptiste, Tom Ince and Grandin all wasted good chances throughout the contest and Poyet was quick to accept his side were fortunate to earn a draw.
"I am very happy with the result but I don't think it was a fair result because Blackpool were by far the better team so I think we should be delighted with a point," said Poyet.
"Football is a funny game. Sometimes you can create 10 or 20 chances and get nothing. Here we did nothing and I don't know how we scored.
"You can call it luck I suppose and when it happens you are happy to accept it.
"There was no celebration when we scored. The players didn't run and celebrate with the fans, probably because they were so shocked and so surprised to have got a goal at that stage of the game.
"But I won't complain with a point, I will gladly take it.
"But I also knew we would have to defend a lot and we did that well for a while but I think one point is quite unfair on Blackpool already so I won't say we are disappointed not to get all three because we didn't deserve to."
The Seasiders produced 22 attempts on goal to Brighton's six but their failure to convert them meant they ended the day 10 points off the top of the table.
And Blackpool manager Ian Holloway admitted his side were badly missing the killer touch of veteran striker Kevin Phillips, sidelined with a calf injury.
"Normally we take more than that and having made such a good start we really needed one of those to go in," he said.
"Brighton have been going through a rough time but I give Gus Poyet massive credit for the way his team is playing.
"But our goals have dried up and I think we need Kevin Phillips back because some of our finishing looked a bit erratic.
"The goal we let in was as soft as a wet potato but that is down to a lack of communication and not dealing with things.
"We made a great comeback though. It was a fantastic ball from Matt Phillips and that really lifted everybody.
"That is our fault for not taking our chances. Had one gone in earlier it would have changed the game
"I will have to scratch my head, start again and see how we go from here."
---
Click here for a completely free £10 bet with Sky Bet
---