Post-match reaction to Reading's 4-2 victory over Fulham.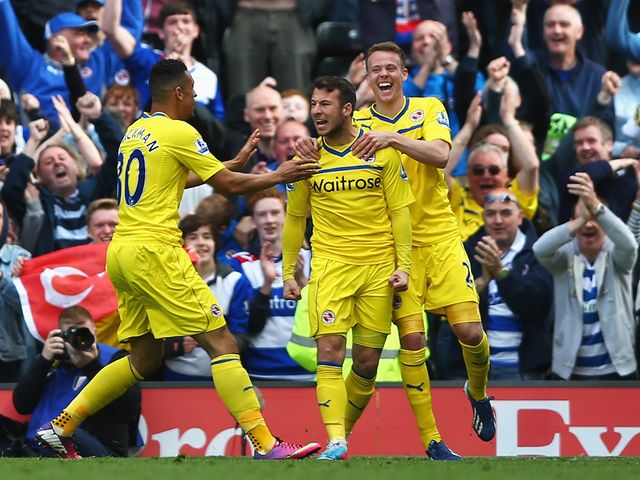 Martin Jol wants Fulham to head into their remaining games with a different mentality after a fourth successive defeat meant survival is not yet assured.
Talk just a few weeks ago revolved around a top-10 finish, but a poor run of form looks to have put paid to that.
Saturday's 4-2 home defeat to already-relegated Reading compounded a miserable run that has left the Whites just five points off the drop zone.
Jol has been frustrated by his side's recent displays and wants them to play with more passion in their remaining games against Liverpool and Swansea.
"That is disappointing," the Dutchman said. "We had 40 points at a very early stage, so that was remarkable.
"After that the pressure was a bit off us and now you see all these teams like Aston Villa and, before Monday, Sunderland with Paolo di Canio picking up points.
"They got spirit from that and that is what we need as well, because I feel you need to take things into your hands and you need another three points.
"The first half I was disappointed, but the second half we never gave up and were in it until it went 4-2.
"But it wasn't the best performance, of course. People were shouting to get Bryan Ruiz off and then he scored two goals after that.
"I was really happy because he is a good player, but it was not the best performance - not as a team, not as an individual."
Asked if his players relaxed too soon in the season, Jol said: "That is the question you ask me every week and you are right, you are entitled to get an answer.
"But, on the other hand, against all these teams - Newcastle away, Chelsea, Arsenal - we can't fault them for having no application.
"I think we wanted to do well, but it is more like that pressure you need to perform and get a result probably wasn't there the last three or four weeks."
While Fulham peer nervously over the shoulder, the fate of opponents Reading was already sealed heading into today's game.
The Royals and QPR were both relegated after a drab 0-0 draw last weekend, but the Royals responded well by the Thames.
Hal Robson-Kanu's brace was complemented by goals from Adam Le Fondre and Jem Karacan, meaning Ruiz's double was only a consolation.
"We know where we are in the division," manager Nigel Adkins said. "The attitude and application from the players since I joined the club has been first class.
"We saw today another steady progression in what we've wanted to do over a short space of time.
"It is evolving well, which I think is important. To score four goals away from home in the Barclays Premier League is no mean feat.
"I thought it was an entertaining game for the supporters - really, really good.
"We are delighted because we've got that winning mentality, winning feeling back, which is important.
"Again, it is the progression of moving forward, which we are looking to build on.
"I am asking the players to play a way where we can build out from the back, build through the field of play.
"The players have controlled the ball better in that respect and it is about progression."
The win was Reading's first since February 2 and first since Adkins replaced Brian McDermott at the helm.
"We've had a couple of clean sheets in the five games that we had and could have won some," the Royals boss added.
"Today we took the chances and it is down to the players and the hard effort they have put in.
"They are buying into what we're asking them to go do, we're challenging them in a certain way and they are certainly working very hard and trying to take it on board."