Spain coach Vicente del Bosque admitted it was a hard fought victory after seeing his side edge 1-0 past Croatia to claim a place in the Euro 2012 quarter-finals.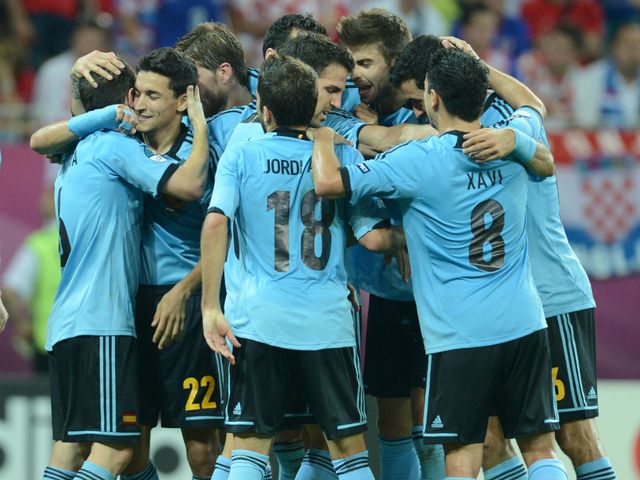 Substitute Jesus Navas scored a late winner for the reigning European champions to send them into the knockout stages.
Croatia showed plenty of tactical acumen and ability as they nullified Spain's attack for large periods and created several good opportunities of their own to score.
Leaving Del Bosque relieved to see his side get the win.
"It was a difficult game for us, we had a high percentage of ball possession and we proved we can control the game," said del Bosque.
"We were fighting for a victory, not a draw and we have taken a step forward here by qualifying, this is motivation for the quarter-finals.
"The team played well, even though things didn't go according to plan.
"It was a very tense match, very tough. They closed ranks at the back very well and didn't give us much space.
"We threw on Cesc (Fabregas) because we needed not only possession of the ball but someone to get forward into goal scoring situations."
Spain's opponents in their last eight clash will be decided on Tuesday but the former Real Madrid coach has no preference about who they face.
"We have no preference whether it is France, England or Ukraine, we have to be ready to take whatever comes," he added.
Match winner Navas congratulated the Croats for their sterling display while acknowledging the attacking instincts of his countrymen which helped them prevail.
"It was a tough match and they managed to play their game well. It was difficult to penetrate their defences," he said.
"We are the kind of players who go all out for victory because that is what we believe in and what we want."
Slaven Bilic lamented Croatia's lack of luck as they crashed out of Euro 2012 against reigning champions Spain.
The Croats deployed a tactically astute plan to contain the free-flowing attack of the Spanish, which worked for the majority of the game.
Indeed, the display of Croatia against the best team in the world evoked a sense of pride in the former West Ham and Everton defender.
But his sense of regret was still acute in the aftermath of their defeat.
"The game plan was to thwart Spain in the first half and have a go at them in the second," said Bilic.
"It worked and we did everything right except score. We came here to go all the way and we failed because we lacked that tiny bit of luck that makes all the difference."