Roy Hodgson is unhappy with San Marino goalkeeper Aldo Junior Simoncini after his challenge in England's 5-0 World Cup qualifying victory at Wembley put Theo Walcott in hospital.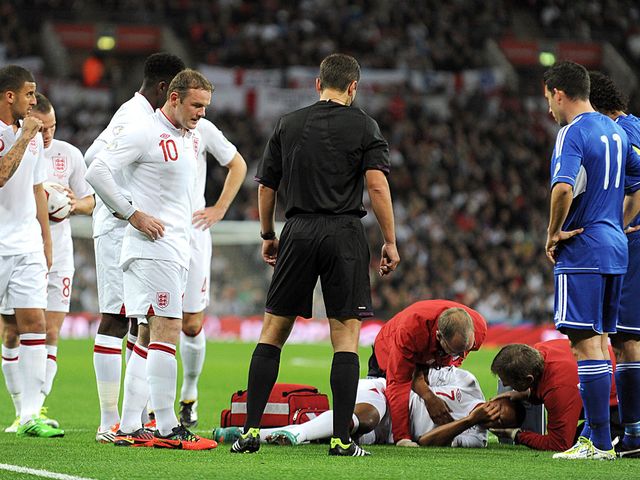 Walcott was undergoing a scan on Friday night for a chest injury following the collision with Simoncini and looks likely to miss Tuesday's encounter against Poland in Warsaw.
Captain Wayne Rooney and Manchester United team-mate Danny Welbeck both netted twice with Alex Oxlade-Chamberlain scoring his first senior England goal but it was the injury to Walcott which soured an otherwise satisfactory night for Hodgson.
Hodgson said: "If I described it as reckless I would be being kind. It was a very fierce challenge although I don't think for one minute there was any malice in it when he went for the ball. Irrespective of that it was a very bad challenge.
"It has put Theo Walcott in hospital. We have to wait now and find out the extent of his injury. When your goalkeeper does that you are very lucky to still have him on the field and not to have a penalty given against him.
"He's having a scan. It didn't look too good, but until they have X-rayed it and scanned it we really don't know. It did put a dampener on the evening."
The good news for Hodgson was that Ukraine, who held England to a draw at Wembley last month, could only draw in Moldova where England have already won 5-0 in Group H.
Hodgson added: "There are a lot of positives. There were almost 85,000 people, I thought that was fantastic. The type of football we played would have entertained them.
"There could have been a lot more goals but there was a lot of goalmouth action and a lot of quality passing in the game.
"We were patient, we probed and created chances on a regular basis throughout.
"They were two extremely positive aspects. The third positive aspect happened in Moldova where Ukraine only succeeded in drawing, not winning, which most people expected them to do.
"It means our three points here and the three points in Moldova weigh that bit more heavily."
Hodgson also saluted the performance of Rooney whose two strikes, his first coming from the penalty spot after Simoncini had brought down Welbeck, saw him overtake Tom Finney, Nat Lofthouse and Alan Shearer with 31 England goals, fifth on the all-time list.
Hodgson said: "He (Rooney) still has a lot of years of football in him. I thought all the Manchester United players played with enormous confidence, the inter-passing between them was good throughout.
"They were responsible for four of the five goals and Tom Cleverley set up Oxlade-Chamberlain for the fifth."
On Rooney he added: "There was never any doubt he was a good captain.
"There was no question in my mind that he would captain the team well but I'm looking forward to seeing Steven Gerrard back in the team on Tuesday and still have hopes that Frank Lampard's injury is not serious so he has a chance of joining us there.
"A few other players didn't start the game today which means we go to Poland with a good strong squad with some players who will be quite fresh because they did not take the field. The one negative was Theo, that was a bad injury."
Hodgson, however, refused to call for San Marino, the joint-worst team in FIFA's world rankings, to be excluded from football's top tournaments.
"It's up to UEFA and FIFA to decide which countries they allow into their tournaments," he said. "San Marino have been in the Euros and World Cup for a good many years.
"I don't think we can accuse them of playing a dirty game of football, there weren't too many vicious fouls in the game, unfortunately there was one and that was the one that bothers us, but I wouldn't want to go as far as to say they shouldn't be allowed in the competition."
Rooney spoke of his pride at moving fifth on England's all-time goalscorers' list.
He told ITV1: "There are some great players there and to be in the England top five is something to be proud of.
"I am only 26 so hopefully I will score a lot more.
"We created some good chances and maybe there was a bit of poor finishing but it's not that easy when they put 10 or 11 men behind the ball.
"It's difficult to break them down and we had to create chances and we managed to do that, so obviously we'll take the positives and it wasn't a bad result."
Patience was also the key for Rooney's Manchester United team-mate Welbeck, who struck his first goal of the season.
He said: "I want to score a goal in every game and this was my first of the season, but I've been playing in different positions and it's all good experience for me, so I'm definitely happy."
San Marino coach Giampaolo Mazza defended his goalkeeper.
He said: "It was unfortunate, just an accident. Obviously the goalkeeper didn't do it on purpose. We are really sorry for Walcott and hope he will recover for Tuesday.
"Despite the result it was a great game, one of the best in the qualifying round for us. We played with a lot of fair play.
"Considering the technical quality of England I think we put on a great performance. England are one of the strongest sides in Europe. Despite losing 5-0 tonight we have taken confidence for the future games."
---
Click here for a completely free £10 bet with Sky Bet
---