Craig Levein insists there is no reason to be worried about Scotland's 2014 World Cup hopes despite the 1-1 draw with Macedonia at Hampden leaving his side with two points from two games.
World Cup. Click here to bet.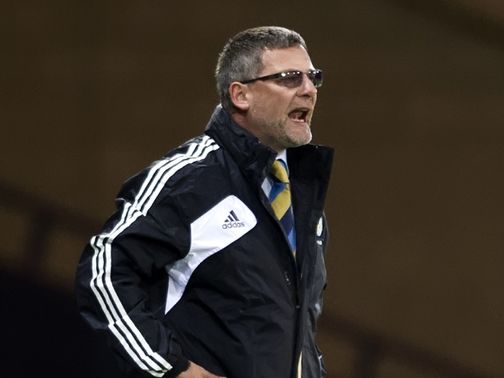 The common consensus was that six points were needed from the opening double-header at home but the goalless draw against Serbia on Saturday followed by this result means the Scots are two points behind Serbia, Belgium and Croatia.
Nikolce Noveski opened the scoring for the visitors in the 11th minute before Kenny Miller levelled just before the break but the boos at the end of the game suggested the Tartan Army already believe their chances of reaching Brazil in 2014 are slim, if not gone altogether.
But Levein, with three victories from 10 competitive games ahead of the double-header away to Wales and Belgium next month, remains confident of qualifying.
"Yes I am," he said. "I look at the situation just now. There are three teams on four points, we are two points behind and for me there is no need to get worried about the situation just now.
"If you look at the table it doesn't look damaging at all, does it?
"It isn't as bad as people might make out.
"I am very positive about where we are going.
"You look at Serbia on Saturday, did you think they were better than us? I didn't.
"And I didn't think there was much between the teams tonight at all.
"I don't think we handled the counter-attack very well and that is more about personnel than anything else.
"We will have to get victories from somewhere, I accept that and playing away from home and sitting in might suit us.
"We would much rather be sitting with four points but what's done is done. The important thing is picking up points in the next match.
"I don't know what it will need, I don't know how many points it will take to qualify, what I do know is there are 24 left.
"I also know we have players to come back who will make the team stronger, particularly in the midfield area."
Levein added: "We struggled to get going. The second-half was better than the first but it was a struggle.
"You saw in the last two games that this group is going to be tight indeed.
"We would loved to have all six points or four, but that's football, it happens.
"We played against a decent side and we probably played into their hands a little bit by playing so many attacking players and leaving ourselves vulnerable on the counter-attack.
"We didn't get our game going in an attacking sense and losing that early goal put us on the back foot and it was a bit of a struggle after that."
Asked about the Tartan Army's reaction, Levein said: "I thought the fans were great. They supported the team and at the end of the game they vent their frustration, I can completely understand that. They were great."
However, Miller felt unusual negativity around Hampden did not help.
The striker has seen his hero status with the Tartan Army diminish suddenly over the past week, mainly because of the emergence of Jordan Rhodes, whose name has been chanted before coming on as a substitute against Macedonia and Serbia.
But there was widespread and general booing early in this game and Miller, despite admitting the team had themselves to blame for failing to raise the tempo of their play, was disappointed with the feeling among the 32,400 crowd.
"There has obviously been a lot of negative things from Saturday, rightly or wrongly, it's not up to me to say, but it's definitely a stranger atmosphere than I've ever played in at Hampden," Miller said.
"You (normally) have everyone pulling in the same direction and for whatever reason it didn't seem like that tonight.
"I have never played at a game at Hampden when they have not been behind us. I'm not having a go at the fans, I understand the frustrations.
"We had two home games and were looking for six points and if not four, so I can understand the frustration.
"But I think that can be let known towards the end of a game but not during a game. It can transmit down to the pitch."
Miller, who slotted home from a Jamie Mackie pass before going off in the 58th minute, added: "Listen, I'm not making excuses. But any other game the fans are there to the end and the Tartan Army have been superb in my time as an international.
"Tonight it was a different feeling. I don't know if they have turned against the manager or turned against the team or whatever, but there was definitely a different feeling and that maybe transmitted on to the pitch."
Miller backed Levein, who bore the brunt of the jeers towards the end of the game.
"That doesn't change since I spoke about it yesterday just because we put in a poor performance," the Vancouver Whitecaps player said.
"We believe in everything that he's doing, be it systems or personnel.
"He freshened it up tonight and other lads were given a chance.
"We believe what we're doing is the right way to go but it's up to us to do that.
"Once we cross that white line it's up to us to go out and perform and for some reason tonight we severely under-performed."
Macedonia boss Cedomir Janevski, whose side lost 1-0 to Croatia in their opener, was disappointed not to have won the game but noted that Scotland keeper Allan McGregor was named man of the match.
He said: "That McGregor was man of the match says everything.
"I think we played well and my players deserve my congratulations but it is a pity that we don't go back to Skopje with three points because we had three clear opportunities and hit the post.
"I can be satisfied with the performance of my players but I am not satisfied with the point, we should have more points after the two games."