Barcelona coach Gerardo Martino has insisted his team will abide by their usual attacking philosophy when they host Atletico Madrid in the first leg of their Champions League quarter-final tie at the Nou Camp.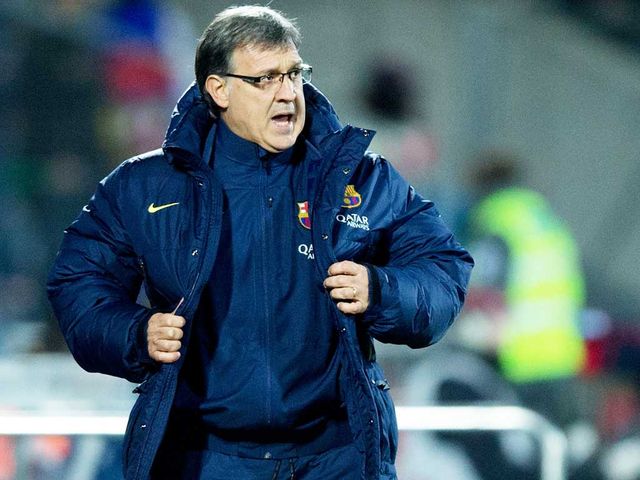 Tuesday's match will mark the fourth time the two teams have met this season, with each game so far ending in a draw.
Atletico are one point ahead of Barcelona at the top of the Primera Division and Martino recognised the strength of Diego Simeone's side, in particular the energy they bring to games, but believes his team will be best placed to qualify if they stick to their ideals.
"The secret of the game will be to match Atletico in intensity so that they don't overcome us, and our biggest strength will be to play like Barca always do," Martino said.
Asked whether Barca would be brave against Atletico, Martino said: "If this team wasn't brave these boys wouldn't have been able to achieve everything they have done in the last few years, and this club wouldn't be where it is now. That requires bravery, and it's guaranteed, because very few teams play the same way we do.
"I can't imagine we'll spend the game running behind the ball, we can't forget that we are Barcelona."
However, the coach admitted his team would be wary of Atletico's ferocity on the break.
"We will be careful we don't give the ball away and allow them to run into space on the counter-attack," he said. "I don't think it will be an open game. We need to remember it's a two-legged tie played over 180 minutes. The last thing we need to do is play with desperation."
Martino's counterpart and compatriot Diego Simeone has long painted his team as the underdog this season even though his team lead Barcelona and Real Madrid at the top of Spain's Primera Division.
But Martino insisted he was not fooled by Simeone's discourse.
"The way Atletico play makes me think that he says something different to his players inside the dressing room to what he says outside it," the Barca coach added.
Full-back Dani Alves was more cavalier than his coach in his press briefing, laughing off the suggestion the Catalans would settle for another draw against Atletico.
"I play to win, not to draw," he said.
"No-one is going to give you an easy ride, and if you want something, you have to go all out for it. I will never go into a game looking for a draw, we only play to win."
Alves also claimed Barca had been paired with "the ugliest" team in the quarter-final draw, but added: "We accept the challenge, we live for the biggest challenges, that's what motivates us."
The Brazilian also sneered at suggestions Barca had received favourable refereeing treatment recently - after overcoming Espanyol last weekend and Real Madrid a week earlier thanks to hotly contested penalties - while at the same time dismissing critics who had written off the team's title chances after losing at Valladolid.
"When we win it's because of the referees, yet when we lose people say we are at the end of a cycle. The good thing is we keep starting new cycles," Alves added.
Barca have confirmed that goalkeeper Victor Valdes will be out for seven months after undergoing knee surgery in Germany and, with the player set to leave the club when his contract expires in June, has likely played his last competitive game for the Catalans. Captain Carles Puyol joins Valdes on the sidelines, while Alex Song and Pedro have been passed fit after recovering from light problems.
With the exception of suspended midfielder Raul Garcia and injured right-back Javier Manquillo, Atletico coach Simeone has a full squad to choose from.
---
New Sky Bet customers: Free matched bet up to £30
---