Lazio technical director Igli Tare is curious to know where Roma head coach Zdenek Zeman's true loyalties lie, as Italy prepares for the first 'Derby della Capitale' of the Serie A season.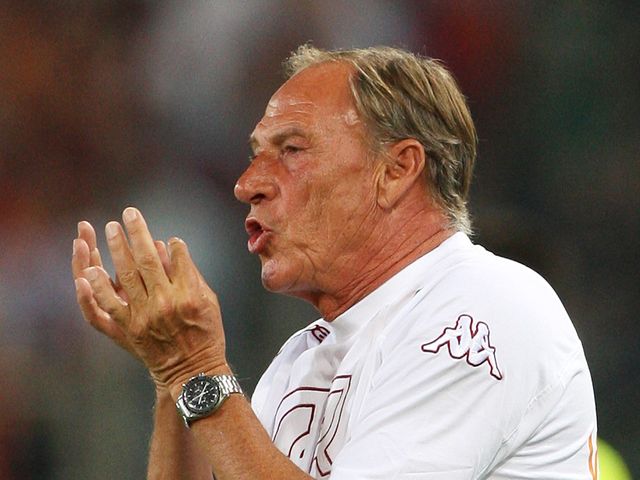 The Czech tactician has been on both sides of the fiery inter-city derby, spending three years with the Biancocelesti and winning this clash twice, before controversially switching allegiance in the summer of 1997.
Zeman could only manage one derby victory in his first spell at Roma, though, so Sunday's game offers him the opportunity to match his Lazio record.
Tare used this fact to needle Zeman ahead of the game, telling Sky Tg24: "He's already part of the history of the derby.
"He's a coach that has lived through it on both sides and I'm sure a little bit of his heart will be with Lazio on Sunday.
"But honestly, I'm not really thinking about Roma.
"Respect is due, they're a good team and a big club, but we're playing 'at home' in front of our fans. Victory is all that matters.
"We know they play a very attacking system and we also understand where their weak spots are, and how to punish them."
The Rome derby is always fierier when there is more than just bragging rights at stake, and Lazio go into tomorrow's game with a two-point advantage over their rivals.
Giallorossi director of football Walter Sabatini teased Lazio president Claudio Lotito, suggesting the club have a larger percentage of followers in the capital.
He told the Corriere dello Sport: "AS Roma is the club for the people of Rome.
"It is a faith that is passed from father to son, through families.
"There are a lot less Lazio fans and they suffer from some sort of complex when they come up against Roma."
But Tare replied: "We may have less numbers but we are noisier.
"The fans have shown great loyalty and they will certainly give us a boost on Sunday.
"We have a great team, one that can compete for the top four or five places.
"It will be difficult to repeat the good things we've achieved over the last two years but this team has the potential to get even better results."
One further fillip to Lazio's hopes could be the significantly healthier state of their playing squad.
Roma now have grave concerns over the availability of their influential captain, Francesco Totti, who pulled up in training yesterday, with Daniele De Rossi and Pablo Osvaldo struggling for fitness after injury.
Conversely, the Biancocelesti can usher German striker Miroslav Klose back into the starting XI following suspension.
Klose scored the winner in this fixture last year, with Lazio managing to win both the derbies of the 2011-12 season having suffered five defeats to Roma without reply.