Victor Montano has ruled out the possibility of Montpellier qualifying for Europe through the league this season, but he does think the future is bright for Jean Fernandez's young side.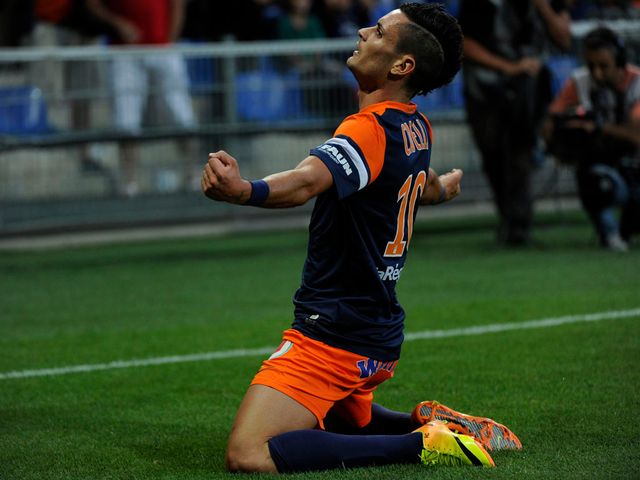 Montano cemented his place in Montpellier history last Saturday when he scored his 50th goal for the club in their 2-2 draw at Evian.
The 29-year-old returned to Montpellier this summer after a three-year spell with Rennes, who are the visitors at La Mosson on Thursday night.
Montano spent the majority of his first five years at Montpellier trying to get the club out of Ligue 2, but since he departed the team have won Ligue 1 and have played in both major European competitions.
Montpellier have made a fairly solid start to the season, losing just one of their opening six games, and Montano believes things are looking good for MHSC.
"We are a young team that is able to do some beautiful things," the striker told Montpellier's website.
"Sometimes there is a lack of experience, and maybe malice, but the group is able to do even better.
"I am confident that if we continue to work like this and if everyone gives a little more, we'll have a great season.
"Let's not get pretentious, we will not finish in the top five for sure, but if we have a good run we can start looking up the table."
Montano scored 16 goals during his three-year spell at Rennes, who competed at the top end of the league throughout the Colombian's stint with Les Rouges et Noirs, but he is glad he took the chance to rejoin Montpellier in the summer.
"This club is in my heart," the 29-year-old said.
"It's nice to have scored 50 goals for the club and I hope there will be more to come."
There was a tinge of sadness to Saturday's landmark for Montano, however, as Montpellier had to settle for their fourth draw of the campaign after surrendering a two-goal lead in the second half.
A second win of the season would boost morale at the club, but Rennes go in to the match on the back of a four-game unbeaten run.
The biggest game in the club's calendar - the Brittany derby against Nantes - takes place on Sunday, but manager Philippe Montanier insists he will not lose focus on the task in hand.
"We are aware of the importance of the derby but it is not our concern," the 48-year-old Rennes manager said.
"We know that there will be a great expectation on Sunday, but now we are concentrating on Montpellier. We cannot be deceived.
"If we do a good result there, we will in good condition for the match against Nantes."
---
Sky Bet Free Bet Club: £10 free bet - £5 free every week
---