Sami Hyypia has been backed to turn around Bayer Leverkusen's fortunes after the club had a fortnight to forget.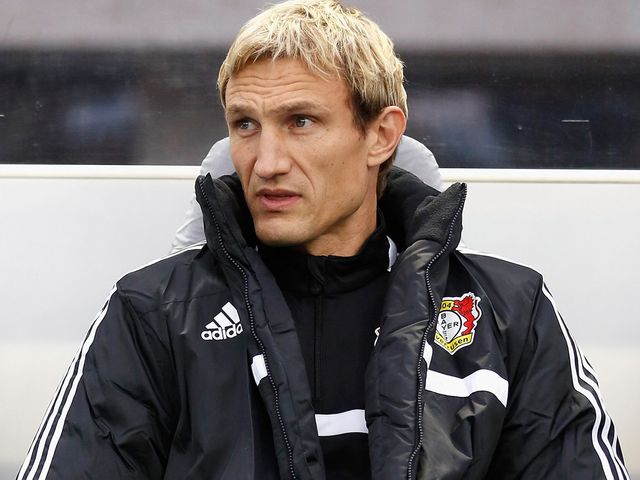 Leverkusen have lost twice in the Bundesliga, been eliminated from the DFB-Pokal and seen their Champions League hopes practically ended by a 4-0 defeat to Paris St Germain.
Nevertheless, Hyypia can rest assured of his job as coach, even if they do not turn the corner against Mainz on Saturday.
"I have a great deal of faith in him," said the club's general manager Michael Schade to the Express newspaper. "At this moment in time, there is no need to lead a discussion about the coach."
Leverkusen have lost seven of their last nine competitive matches, although they remain second in the Bundesliga going into Saturday's clash with ninth-placed Mainz.
"I don't want to make our situation out to be any better than it is, but we only have a crisis of results, not a club crisis," added Schade, who said his club are still keen to extend Hyypia's contract beyond 2015.
Leverkusen's current form is not going to lead Mainz coach Thomas Tuchel into thinking his side will pick up three easy points this Saturday, however.
"This game in Leverkusen is going to be even harder than the one against Schalke," said Tuchel, whose side shared a goalless draw with Schalke last weekend.
"We're really going to have our work cut out."
Mainz are without the suspended Nicolai Muller, although Leverkusen have two players banned in Emir Spahic and Gonzalo Castro.
Christoph Moritz should be able to play again with a protective head mask, like he did against Schalke.
"He's trained with it on all week and he's getting used to it now," Tuchel added. "If he now goes and scores with it on, he'll probably keep it."
---
New Sky Bet customers: Free matched bet up to £30
---